As the year comes to a close with the Covid-19 still lurking in the dark, we are probably not quite ready for social interaction. However, the internet has practically become the hub for meet and greet, and contrary to popular beliefs, virtual events slowly but surely have achieved higher registration and participation rates than their physical counterparts.
Virtual events are comparatively cheaper to attend, safer and more accessible- all the reasons for driving more attendees, as long as it's fun and stimulating.
And with a little bit of creativity and the right virtual event platform, you can organize an interactive Christmas party for literally any conventional setting and bring people together in the same space.
How exactly do we organize a virtual Christmas party?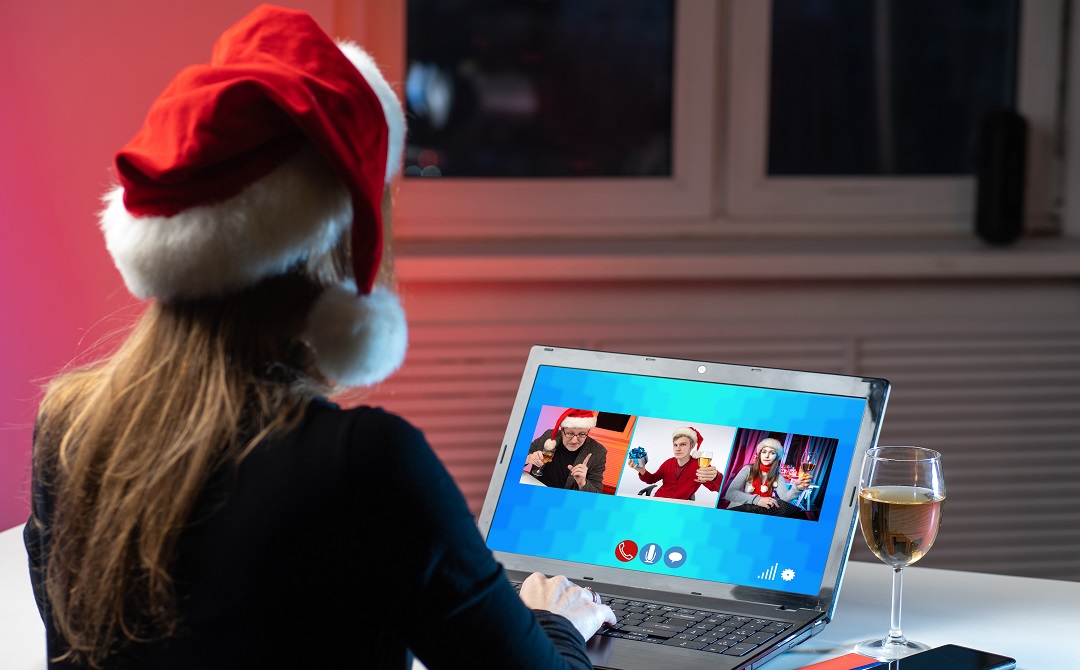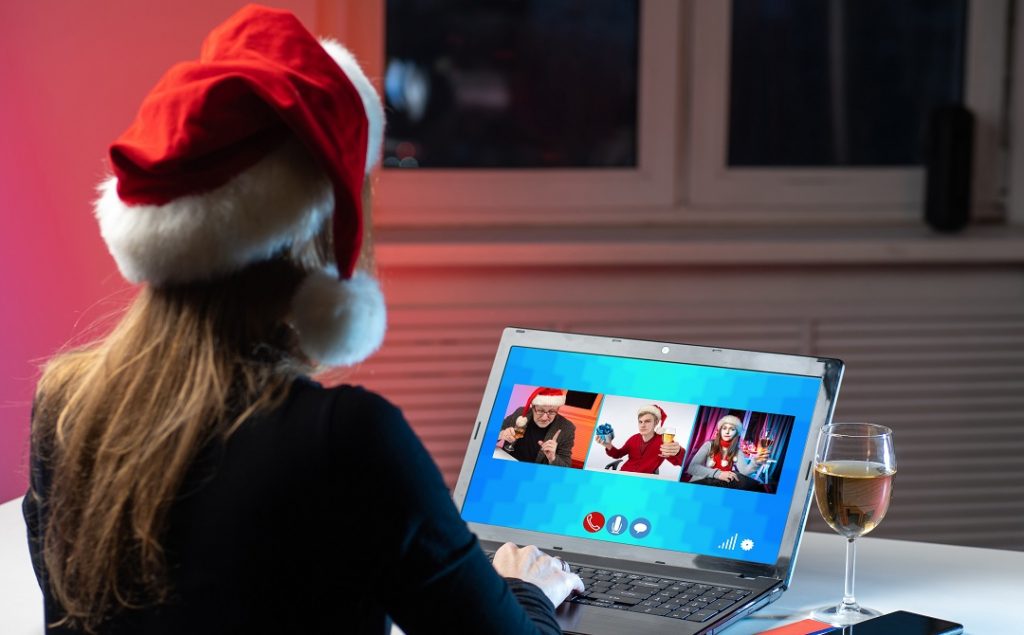 Organizing a virtual Christmas party is more than just video conferencing with the attendees.
The best part of virtual holiday events is that virtual events promote inclusivity. Through a virtual event platform, attendees connect to events with multi-session content and virtually enjoy a series of event sessions. Unlike any traditional Christmas party, virtual parties are designed to make the event full of fun activities to keep the attendees on the hook till the very end. In addition, as the organizer, you can leverage many community engagement tools to keep the attendees engaged and interactive to make all attendees feel included.
Steps of Creating a Successful Virtual Christmas Party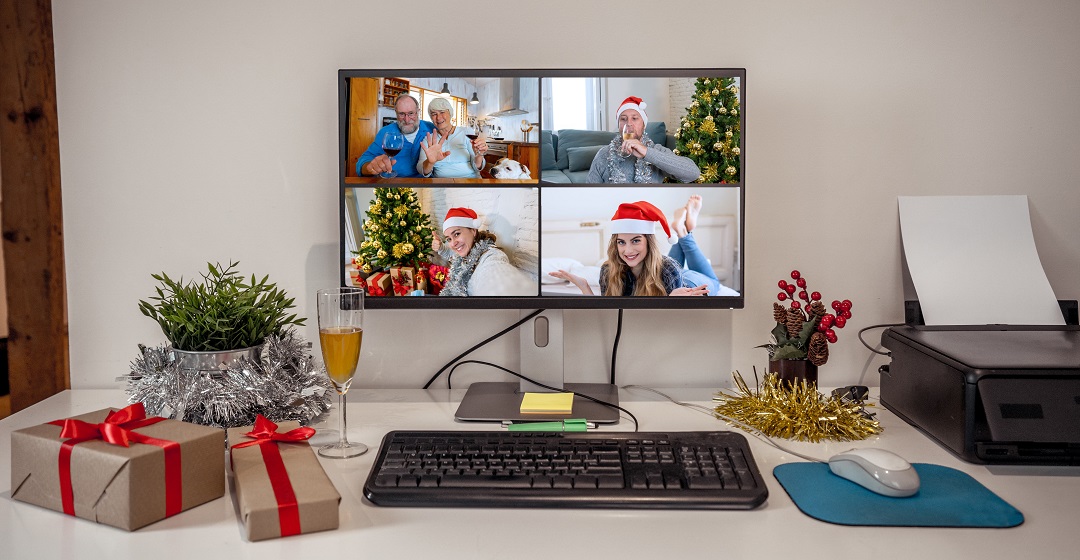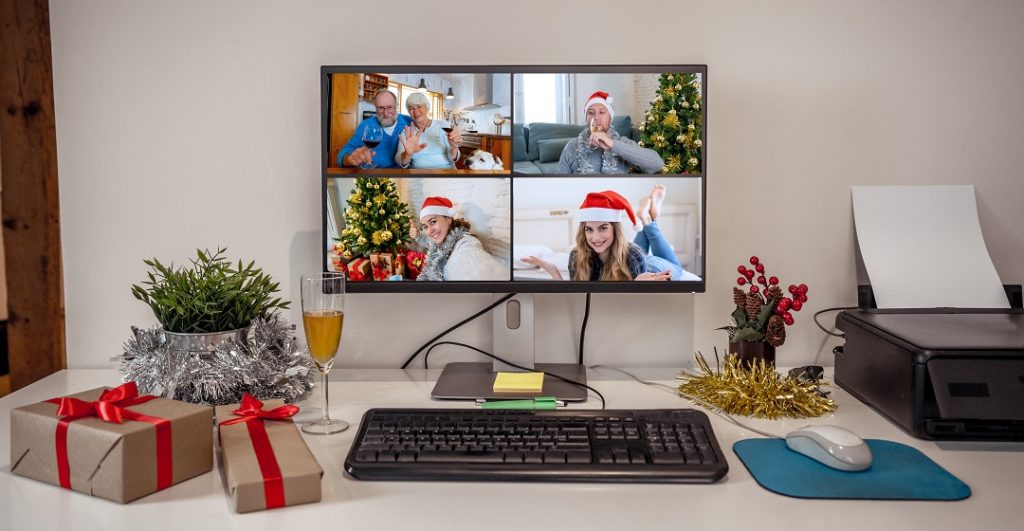 Remember the old days when all friends and family would gather around and play trivia games? While planning a virtual Christmas party, think of it as a series of super fun questions and puzzle games accumulated into one virtual event, only with more added excitement and control over the activities as a host! It might seem like a scary ordeal, more prone to a total bust. But, once you prepare an event checklist with a virtual event platform, everything will come to place.
And here's how you can get started.
Step-1: Define Your Event Objectives
It's never too early to start your Christmas party, especially when it's online. First, ask yourself the following questions.
Do you want to keep your party super fun and interactive? Or do you want to leave some room for a bit less-casual Christmas meet and greet? Just keep in mind that after a long year of coping with a remote lifestyle, people simply want to have some quality time during holidays. So your event should be a sweet distraction from the burned-out days, not add more to it. If your objective is to host a small, intimate virtual Christmas party, you may have to keep your creative mind rolling with more interactive activities. For a broader audience with a high-end virtual premise, you may have to incorporate AV gadgets, a studio for live streaming or recording, etc.
Step-2: Prepare a Potential Attendee List
In virtual events, the number of attendees plays a significant role. Who are your target attendees? What is the maximum number of guests attending your Christmas party? Based on the attendee type and number, prepare an attendee list to target.
However, if you want to host an office Christmas party, you can easily ist of the number of guests, along with contact details like phone numbers, social media links, email addresses, etc. and/or faster and more efficient invitation management, you can make sure you have the collected information of each of the attendees using tools like Excel or Spreadsheet.
Step-3: Set a Budget
While in-person Christmas party budgeting mainly focuses on event budgeting, virtual event budgets are about event software, branding, promotion etc. So, virtual Christmas party budgeting might primarily seem like a lucrative project for a fraction of the cost, but this assumption might lower your event's production value. Regardless of the number of guests or event production, opting for an all-in-one integrated virtual event hosting platform can help you have full control over budget allocation and overall spending.
Step-4: Send Virtual Invitation Cards
This is when the fun part of hosting an online Christmas party begins! You can get to design virtual invitation cards with stunning animations, pictures, small notes and a virtual conference link using standard URLs through which they can join the party. Besides, there are many email invitation tools with exciting templates and personalization features that you can use with ease. You can also create email invasion cards that go with your Christmas party theme; just make sure the date, time, and event link are properly highlighted.
Step-5: Plan Out a Number of Engaging Online Activities
Activities are the core of any online holiday event you can think of.
In other words, online events encourage gamification models. And here is a list of Christmas team-building ideas you can try-
Holiday Bingo
Christmas Karaoke
Virtual Christmas Trivia
Photo-video Montages
Virtual secret Santa exchange
Gift Revealing session
Christmas Scavenger Hunt
Holiday Wine Tasting
EventBookings- The Best Virtual Holiday Hosting Partner
The success of your online event primarily depends on the event platform you are using as a medium. With a dedicated, all-in-one event hosting system, Eventbookings emulates in-person gatherings and the multifaceted nature of events.
Tailor-made event page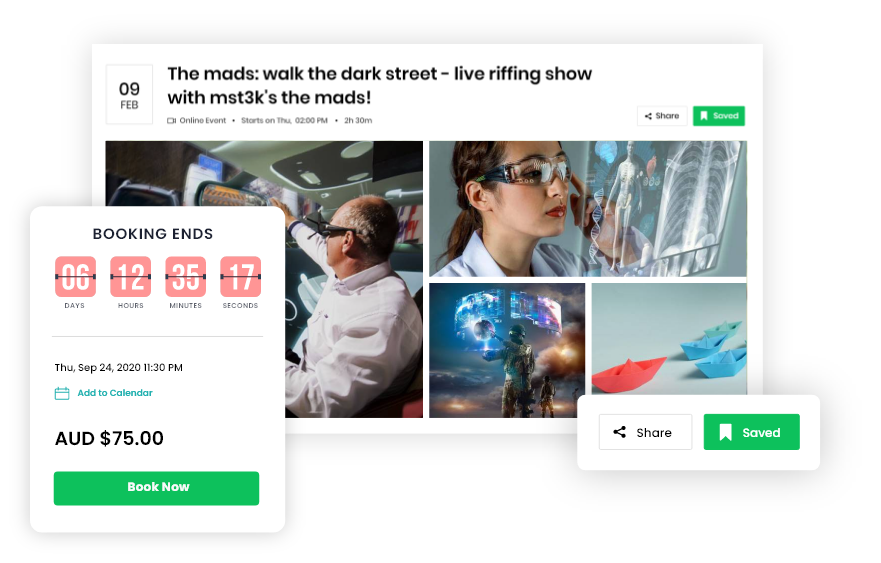 Event landing pages can directly drive event ticket registrations and sales like no other. EventBookings allows organizers to create a customized, highly conversion-focused event landing page with a powerful CTA from four different template categories, with wider access to free marketing via social media. With EventBookings, you can incorporate your event brand logo, featured images, social media buttons etc., making it visually enticing to the potential attendees.
More event promotional opportunity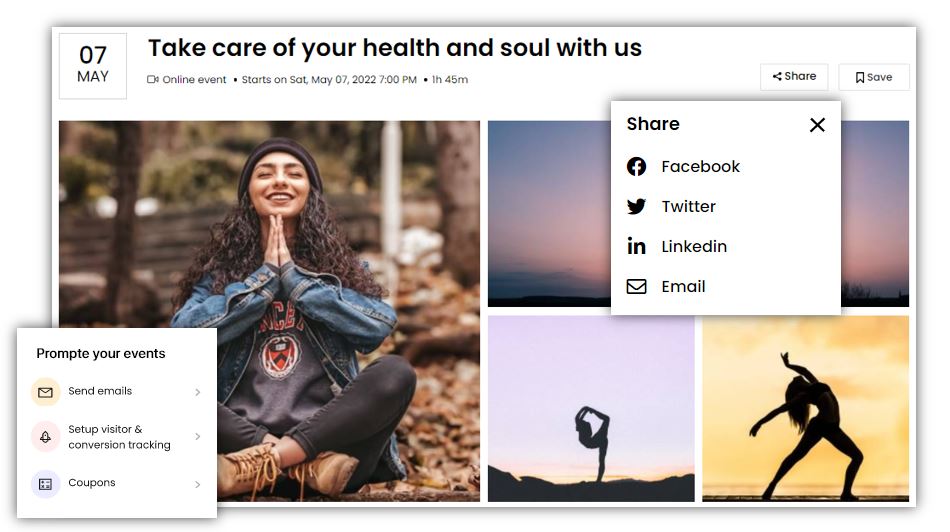 The holiday season is the peak season for the event management industry. Without powerful event promotion opportunities, your event may never see the light of day. But with EventBookings, organizers can utilize every single event promotion opportunity. All the visitors coming to your page can follow your social accounts and get notifications about the latest event updates. Sharing the event landing page is equally as easy- embed the event page URL within your organization website, copy, paste and share your event page via email or social platforms!
Integrated video conference platform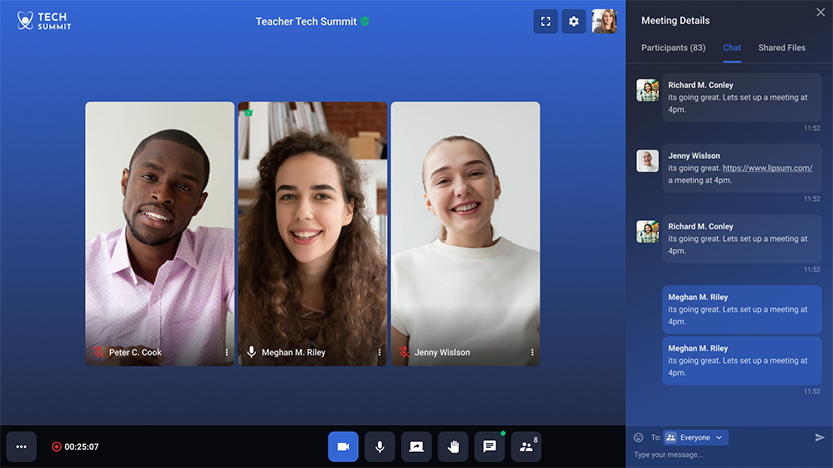 Once your attendees subscribe to your virtual holiday event, they are all set. No need to switch to another system for video streaming, EventBookings has its very own, fully controllable integrated video conference platform, compatible with all devices with HD video streaming, branded web room and many other collaborative tools for up to 50 attendees.
Event analytics at the fingertips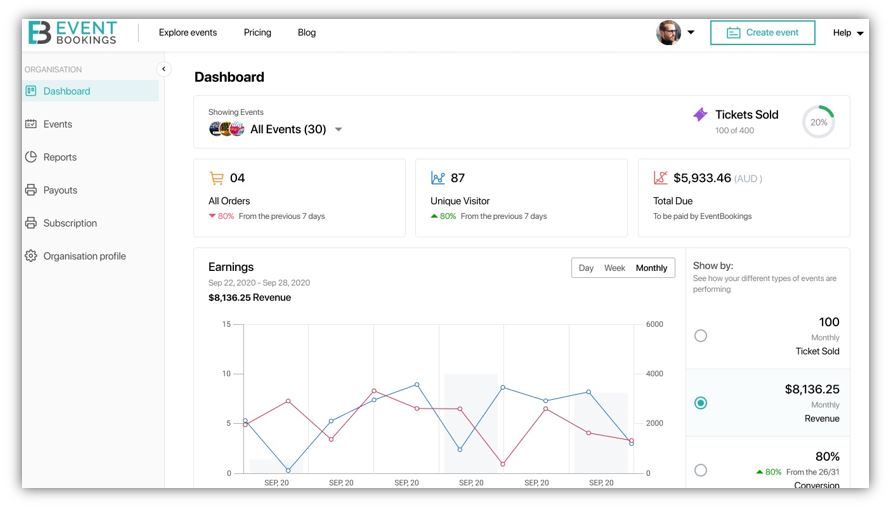 Virtual events are the hub of invaluable data that outpace physical events, especially during holidays. There will be thousands of online events taking place during the Christmas season, and you need to know what entices visitors to sign up for an event or what keeps them invested in an event they are attending. With EventBookings, you can track your event attendees' interactions, access attendee analytics and intelligent reporting in the dashboard. For example, you can directly see which sessions have more responses, how long your attendees watched and participated in each session, and more. You can use the data to identify attendee preferences, optimize your content consumption KPIs for future events and use it to reach out to a broader audience or make bigger event hosting decisions in the future.
If you think of hosting a virtual Christmas party not as a frail attempt to replicate a traditional Christmas celebration, but as a fair adjustment of the Christmas spirit with the modern event fraternity, you can actually gain measurable success with a virtual room full of happy attendees. As an online event hosting platform and integrated event registration system, EventBookings can help you to provide an effective, engaging experience not just for attendees but also for planners alike.