Event registration  software made easy
The future of event ticketing is here. With powerful features it can help make your next event a success. Try out EventBooking's innovative event registration platform in 2 minutes.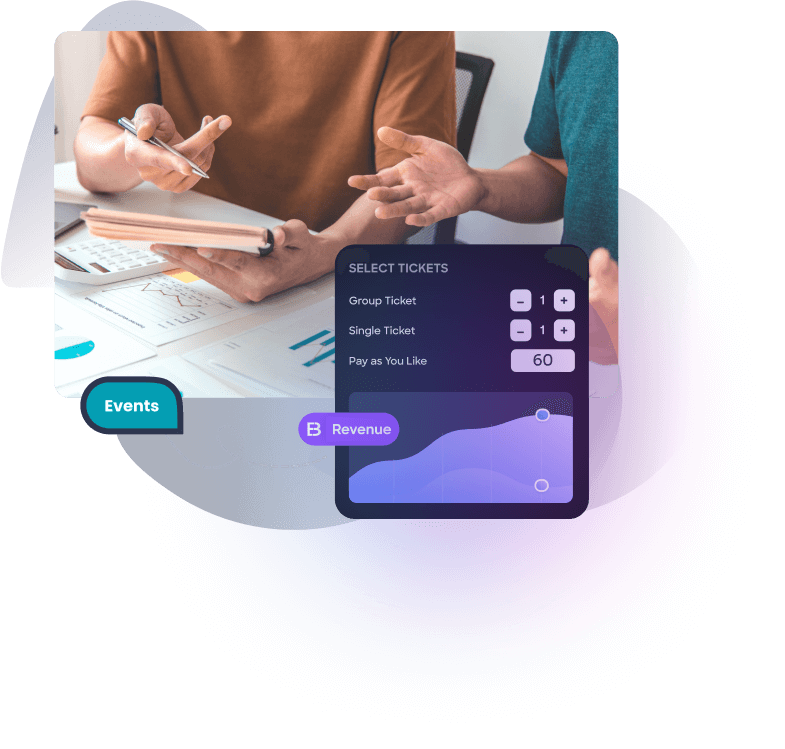 Events created by thousands of organisations around the globe





Affordable yet simple event registration and ticketing system with everything you need
Industry-leading low
fees costs less than Trybooking
In Australia, while Trybooking charges 2.5% and 50 cents per ticket, our fees are just 2% and 30 cents.
Includes credit card processing fees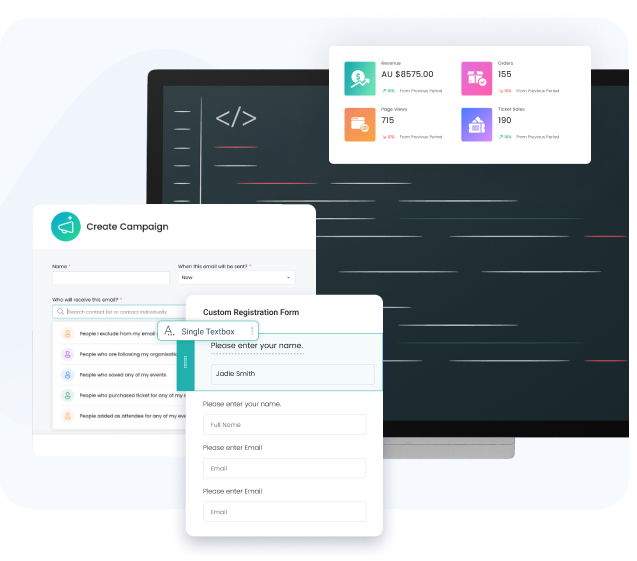 Say goodbye to manual event registration.
Say hello to a hassle-free experience.
Whether you're hosting a business seminar, concert, conference, or community event, EventBookings has you covered. 
Our user-friendly event registration app makes it simple for you to set up and manage your event, while our advanced security measures ensure the safety of your attendees' personal and financial information.
Take advantage of our free online event registration system and see the difference it can make for your event success. 
Sign up now and join the thousands of satisfied event coordinators who trust us for their event registration needs.
five-stars
New leader in event management
Sleek, user friendly experience with enough free options available to make running a large event much more simple. Customer service is brilliant with a keen willingness to improve upon their platform and take action on suggestions/feedback.
Switched From: Eventbrite
Reasons for Switching to EventBookings: For the features we required additional costs were required, resulting in a far greater loss of revenue per ticket sold. Eventbookings has features on their free plan that are only available to Pro Eventbrite.
five-stars
Easy to use platform for event ticketing and management
Eventbookings has allowed my riding club to take online bookings for events with no cost to our non profit enterprise. Credit card fees are low and can be charged to the person booking the ticket. The website is easy to use and highly customisable. I have submitted several support tickets and have always received fast and effective support from local customer service agents.
The software is highly customisable with minimal experience required
Alternatives Considered: TryBooking
Reasons for Choosing EventBookings: Lower fees and more customisable interface
five-stars
Excellent ticketing system and customer service
Eventbookings met my expectations and I found everything I needed.
The software is highly flexible and has customisable solution packed full of great features. It is so simple and easy to use . The customer service experience is phenomenal. I would definitely recommend this ticketing system to anyone who is looking for affordable and seamless Ticketing solution
Switched From: Eventbrite
Reasons for Switching to EventBookings: Eventbrite was too was expensive and the customer service was poor.
Piyush G.
Application Developer
five-stars
Customisable order forms was key!
Excellent service from [sensitive content hidden], he was thorough, responsive and extremely knowledgeable.
The ability to customise order forms with drop down fields, multiple choice, and the extraction of this data was key for us. It enabled customers to select exactly what they wanted for entree, main and dessert, which meant we could produce exactly as per orders.
Reasons for Choosing EventBookings: The customisable order form!
five-stars
Great cheaper alternative to more established platform
In the process of organising an international conference, we were looking for a cheaper alternative to EventBrite etc (we saved almost $2k compared to what would have been the cost with EventBrite for an event with ticketing worth approx $40k) and happy to support a local company. Getting started was fairly straightforward even with no experience at all setting up ticketing. The support was excellent throughout the whole process.
five-stars
Easy way to Sell tickets to your event. Safe and secure
We are looking at holding another event next year and will be using them again. No complaints, just great service.
I like the tools to load the event, and also the quick customer service. [SENSITIVE CONTENT] was my personal customer care agent to help, and was on the phone to me quickly if I needed help. Very helpful and also friendly
Reasons for Choosing EventBookings: We researched different products and companies who did this and the reviews were good for Eventbookings.
five-stars
A cheap and excellent alternative to Eventbrite
It's really simple to use and user-friendly. Plus they cover all the basic features and over the last couple of months they've included some cool ticketing features to their product. All of these within a really competitive pricing plan.
I mean, there are other cheap ticketing applications in Australia but this one truly is the bang for the buck for event organisers.
Christopher F.
Online Marketing Executive
five-stars
Excellent Product
Communicating better with our customers and product launches.
User friendly and affordable for a first-time user.
As a first-time user, I just referred to help desk and staff. No problems after that.
Reasons for Choosing EventBookings: Features suited my needs better.
Gabrielle B.
Administration
five-stars
Excellent Service!
Excellent service. Highly recommended!
Set-up was quick, pricing was excellent, software was great.
Reasons for Switching to EventBookings: Pricing.
five-stars
This makes ticketing for events so easy!
User friendly and with all the features we need, our last event using this was just so much easier to administer!
Madeline S.
Events Co-ordinator
Streamline your event registration with EventBookings - your all-in-one registration platform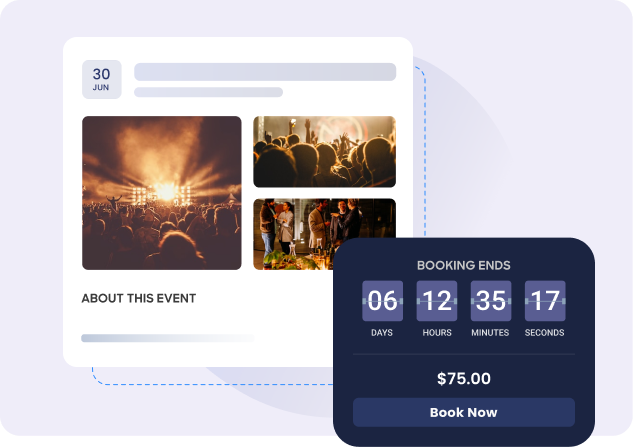 Our event registration page is designed with you in mind. It features a modern, mobile-friendly design and intuitive user experience.
Control access to
your event
Choose between public or private registration options, allowing access only to those you have personally invited.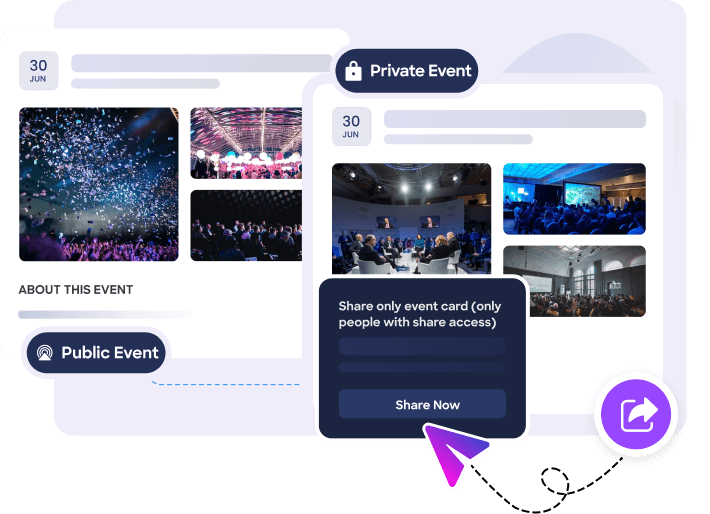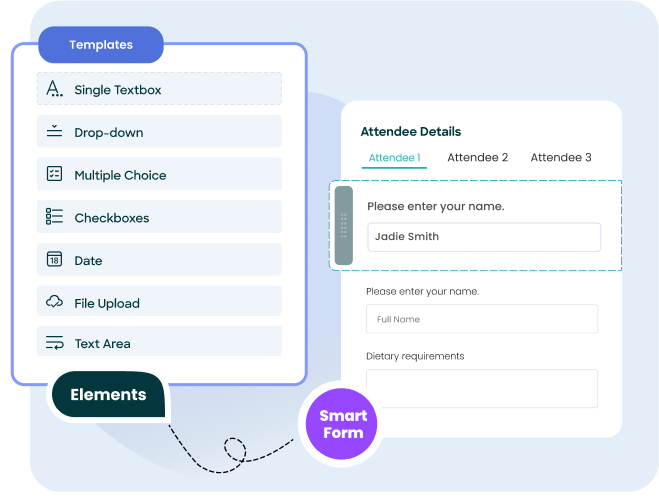 Fully customisable registration form
Build your perfect registration form using our drag-and-drop builder, including fields such as text areas, dates, numbers, file uploads, and single or multi-select options. Tailor it to meet your specific event needs.
Efficient event ticketing with 
free event registration software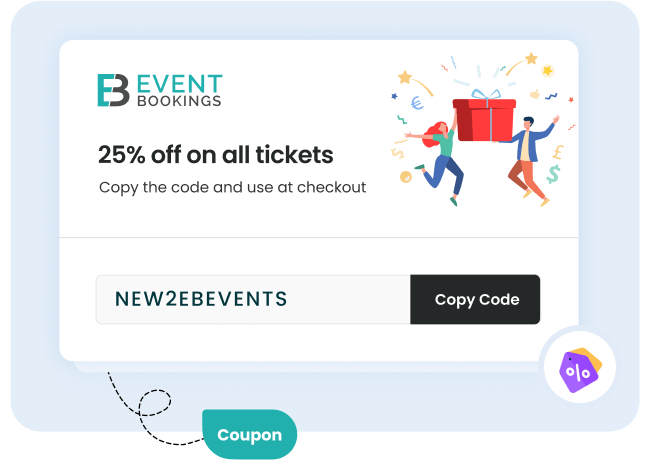 Generate good will and drive ticket sales by offering coupon codes to loyal attendees. Boost your audience with last-minute coupon promotions.
Increase ticket sales with discounts in either a percentage or fixed amount. Customise your discounts to meet your event needs.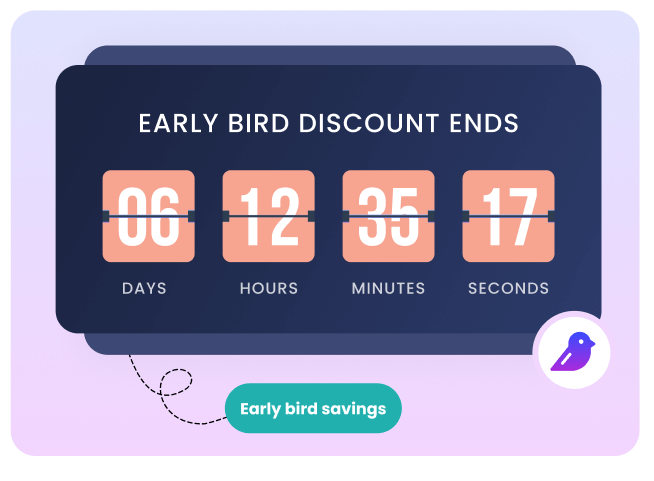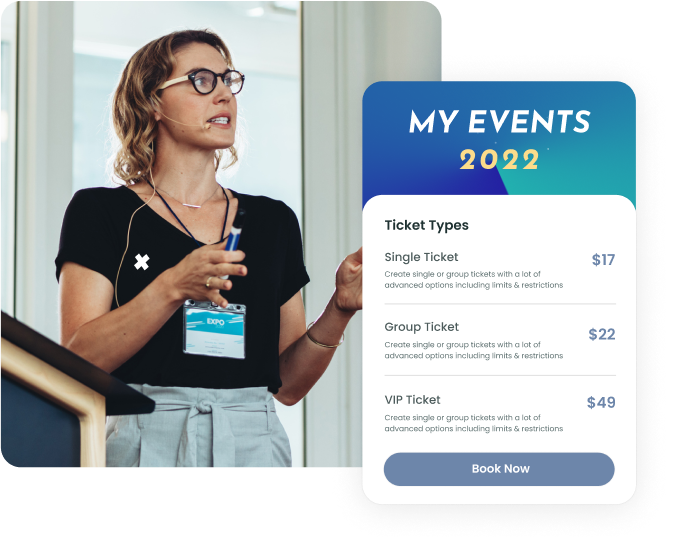 Create single or group tickets with custom instructions. Control ticket sales with flexible restrictions or offer unlimited tickets. Set prices to match demand and offer unlimited ticket types.
Elevate your event 
with expert promotion
Maximise ticket sales and attendance by promoting your event on popular platforms like Facebook, Twitter, or LinkedIn. Simply share the event registration link with one click.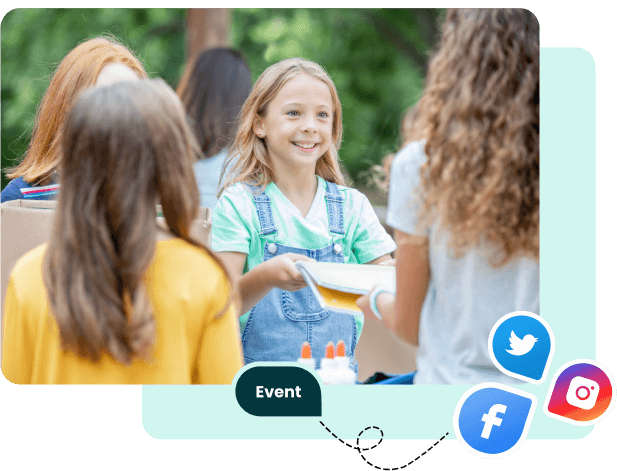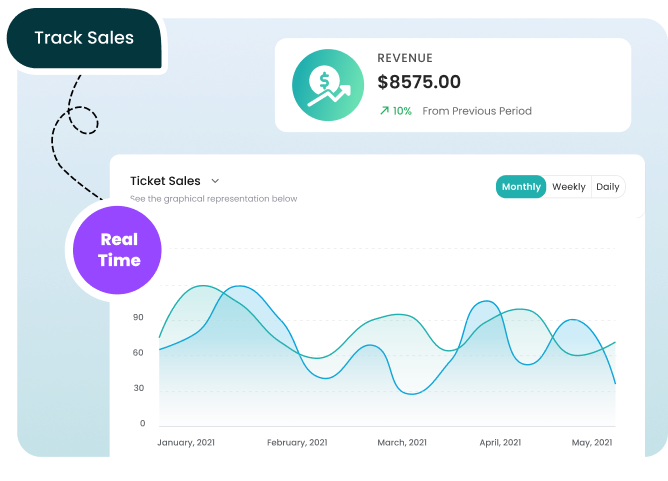 Event metrics and analysis
Gain insights into your event's performance with data on page visitors, audience demographics, and sales. Use this information to make informed decisions and increase revenue.
Create attractive emails using our website's pre-designed templates. Send invites, reminders, and updates to your audience or selected attendees.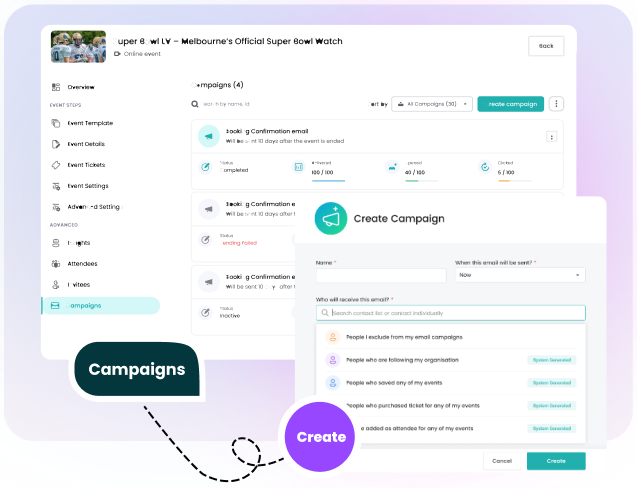 Perfecting your event, every
detail managed
Ensure only ticket holders attend with EventBookings' easy-to-use check-in app. Keep track of all guest information in one convenient location.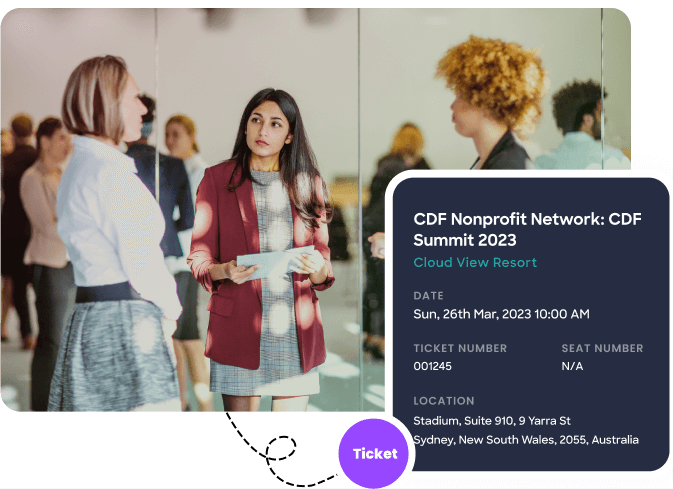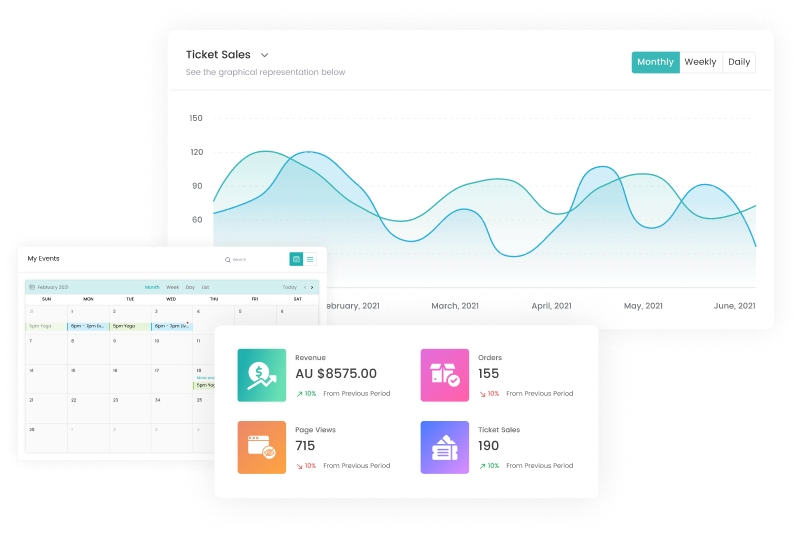 Informed decisions through analysis
Access valuable insights on your events with our advanced reporting features and grow your revenue by selling more tickets.
Seamless team coordination
Collaborate efficiently with your team from anywhere, using a single platform. Assign tasks and build a strong team experience through our clean dashboard.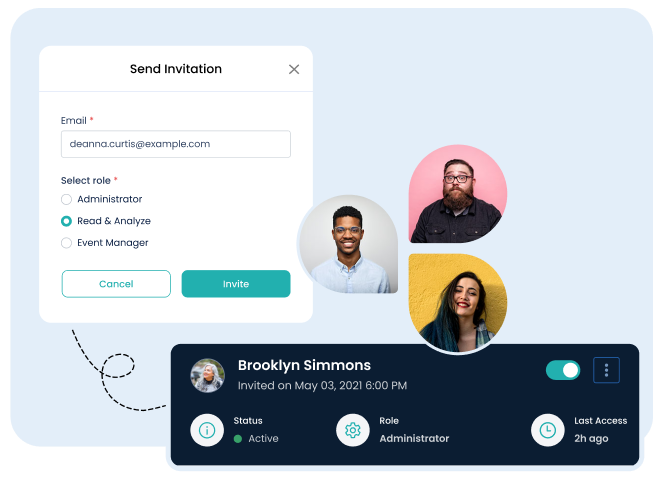 The ultimate event ticketing experience