Leaders in the Event Space are Making the Switch!
Discover why EventBookings is becoming the top choice for event organizers. While many platforms devour up to 15% in ticketing fees, EventBookings ensures you retain more of your hard-earned money.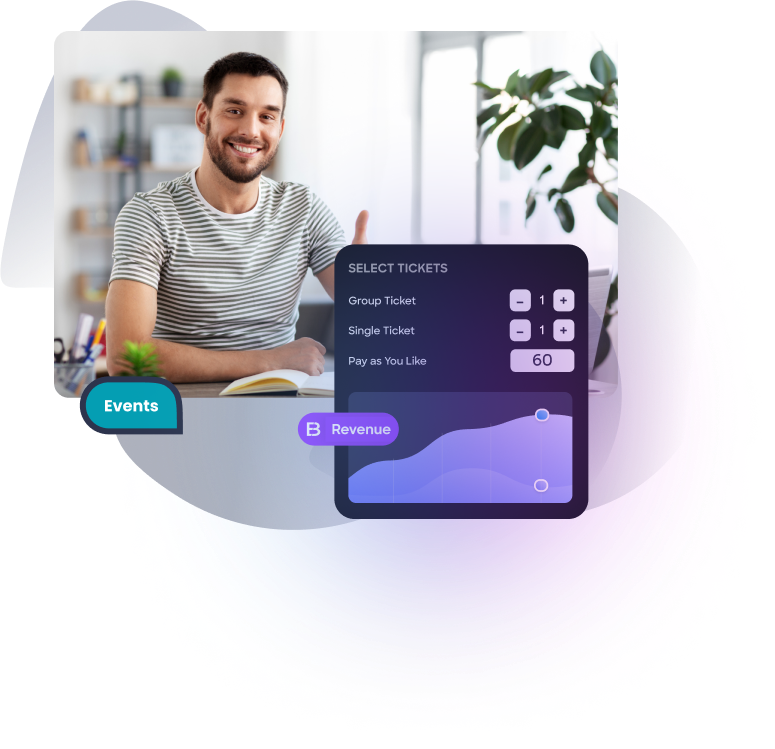 Events created by thousands of organisations around the globe





More Affordable Ticketing Fees Than Ticketleap
Exdplore Your Savings: Adjust the Sliders to See How Much You and Your Attendees Can
Save by Switching from Ticketleap to EventBookings.
Feature comparison EventBookings vs Ticketleap

Ticketleap
Service Fee (Per Ticket)
Service Charge for Free Events
Hassle Free Refund and Cancellation
Built in Virtual Event Platform
Yes. No third party tools required.
Ticket Scanner App
Payouts During or Before Event
4-7 business days after event ends
Purchase Protection
Fundraising Options
Order Form Customisation
Survey Form
Event Promotion Tools
Customised Page Layout
Uncover your exact charges with EventBookings
Recognizing the distinct requirements of every event and organization, we've designed an in-depth Pricing Calculator. This empowers you to meticulously calculate precise fees, unveiling both the
per-ticket cost for attendees and the expenses you'll incur.
7 key benefits of using EventBookings
Manage everything on a single platform
EventBookings presents an all-inclusive ticketing solution. Its intuitive design comes with an array of exceptional features that can enhance your event experiences. Learn more about
these features in comparison to Ticketleap: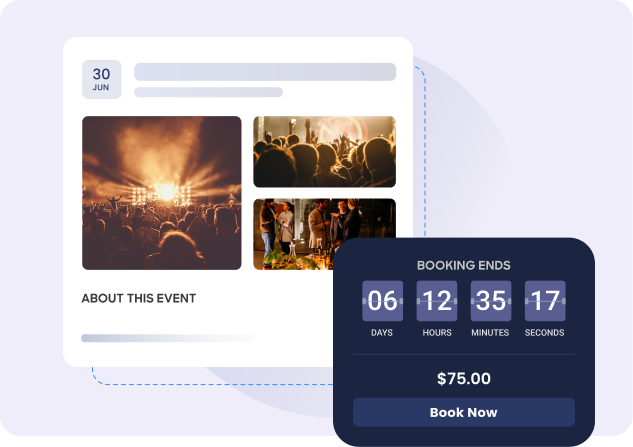 Customizable and high-converting event page
Tailor your event's appearance to match your branding with EventBookings. Alongside an irresistible event description, you can add texts, images, videos, PDFs, event thumbnails, and event tags and use smartly positioned social buttons, booking times, and call-to-actions. Whereas Ticketleap restricts to a fixed event template allowing only a hero image and accent color.
Cost-effective ticketing system
Choose EventBookings for affordability compared to Ticketleap. Our fees are 1% + 30¢ on a global scale and 2% + 30¢ per ticket within Australia, while TicketLeap offers pricing at $1 plus 2%, with an average credit card fee of a total of 3%.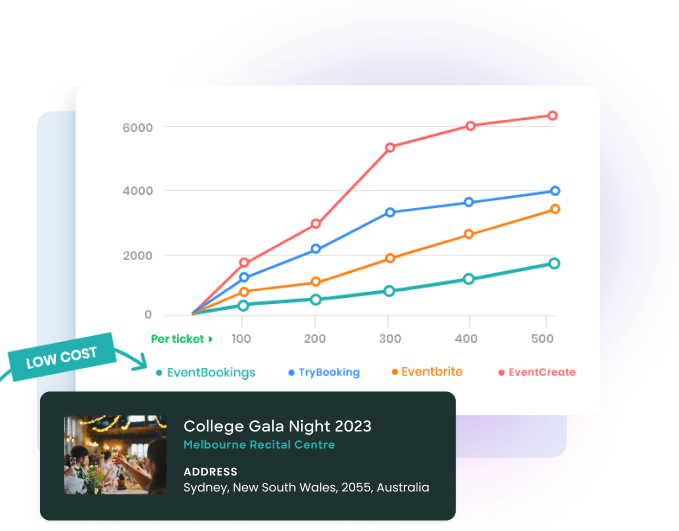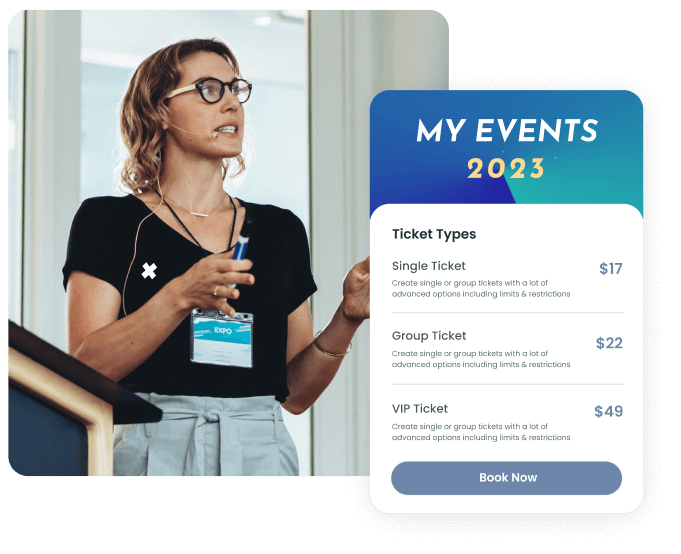 EventBookings gives organizers the flexibility to cover event service charges by themselves or pass them to attendees, keeping their revenue intact. But Ticketleap controls all displayed ticketing fees and does not allow additional fees, reducing potential revenue.
Zero-cost inbuilt video hosting
Say goodbye to the hassle of third-party video hosting software. EventBookings offers a solution with integrated video conferencing and hosting for all your online events. When using Ticketleap, dealing with complex third-party hosting software can be frustrating.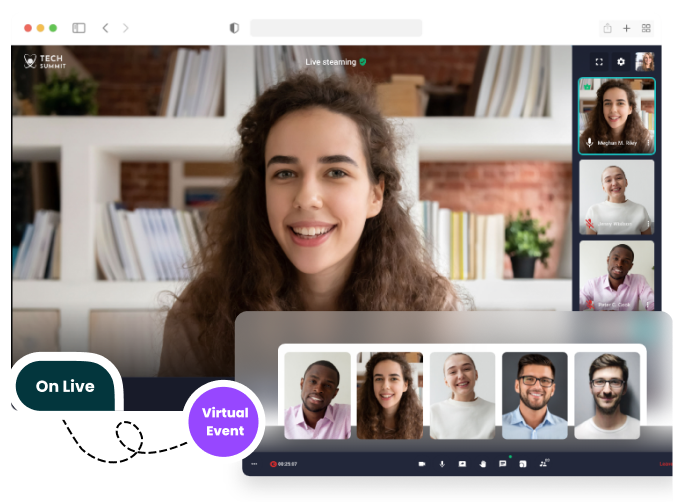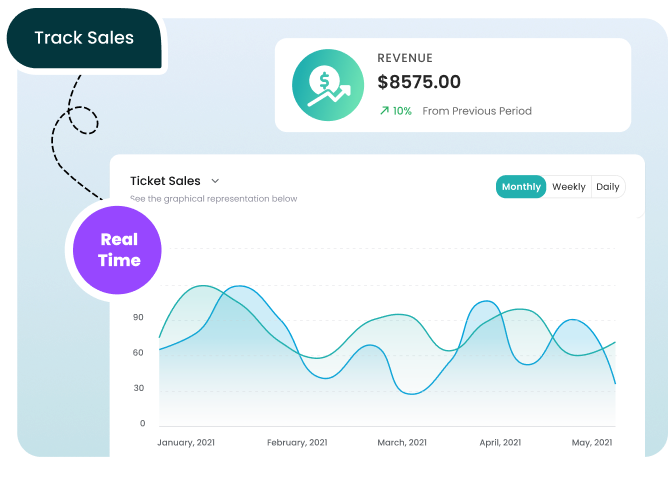 Advanced data analysis dashboard
Uncover event insights with EventBookings's advanced dashboard and get details on attendees, payouts, conversions, ticket sales, revenue, page views, and beyond. Additionally, leverage the dashboard to extend invitations to potential attendees, craft registration forms, and access in-depth visitor and campaign details.
Your privacy is our focus
Switch to EventBookings today