EventBookings
vs Eventbrite
Looking for a better alternative to Eventbrite? Find out why EventBookings is a cheaper alternative to Eventbrite.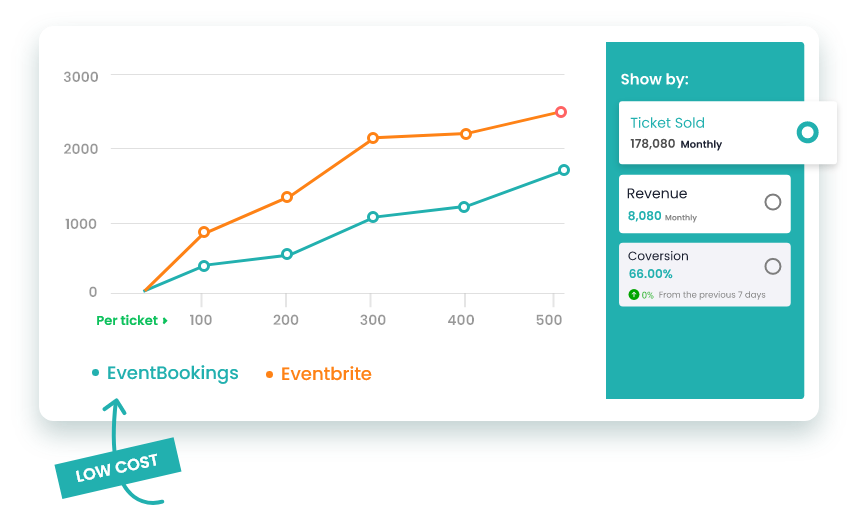 Save Thousands Switching to EventBookings
Don't just take our words for it, see how much you can save when you switch to EventBookings.
Average Entry Fee
$100.00
Pay Less Service Fees with EventBookings
More Reasons to Switch to EventBookings
EventBookings gives you almost all the features of Eventbrite's Professional package at a lower price….and much more!
Apart from being a cost-effective solution, EventBookings offers a more conversion-friendly event page to help you sell much more tickets, free online event hosting and built-in video conferencing software, saving you from integrating multiple complex software run your online events and virtual meetings. The key differences between EventBookings and Eventbrite are explained below.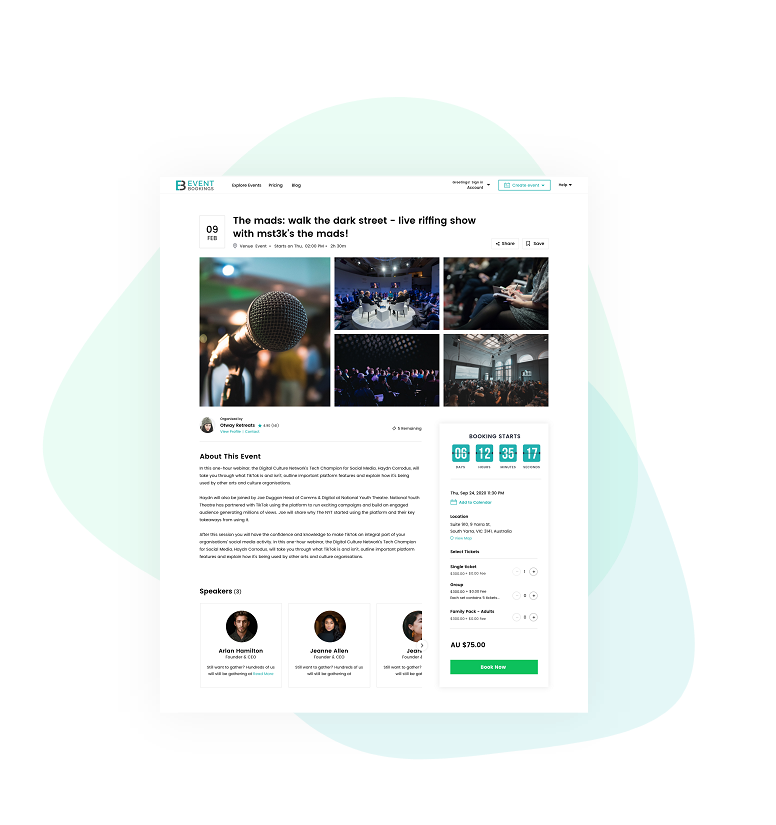 Choose from our built-in event-specific templates to create a stunning event page. Add logo and collage your hero images to give your event pages a stunning view. With EvenBookings, your event page is truly yours. Unlike many other competitors in the market we won't place our logo or any promotional material on your event page. You can set your own logo, slogan, hero image, etc. in your own way. Remember our slogan? "Your event, your way".
Conversion-friendly design
EventBookings offers a more focused and conversion-friendly page design. On the event page, all the vital information (date, time, place, and ticket price) are visible at a glance. Also, the CTA button (Buy Tickets) is positioned strategically right after the ticket price for easy access to the buyers. The social media icons and social share button are also in clear visibility. We've designed the whole thing in a way that the organisers can sell more tickets without hassle.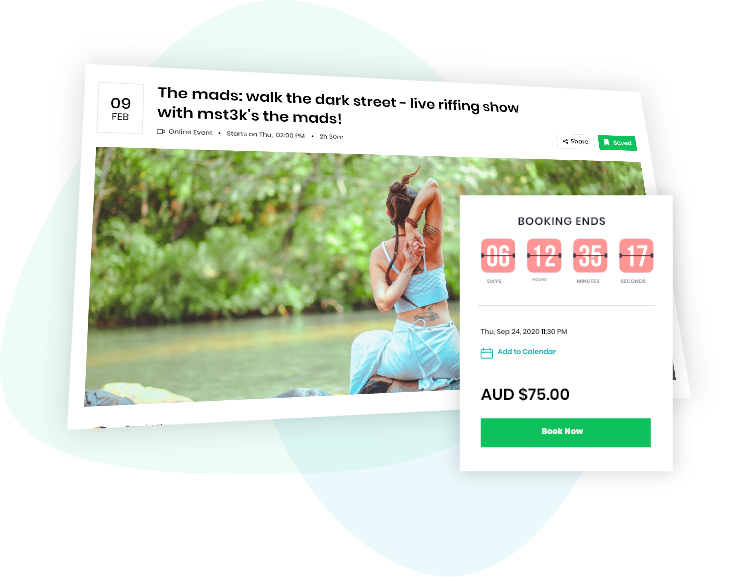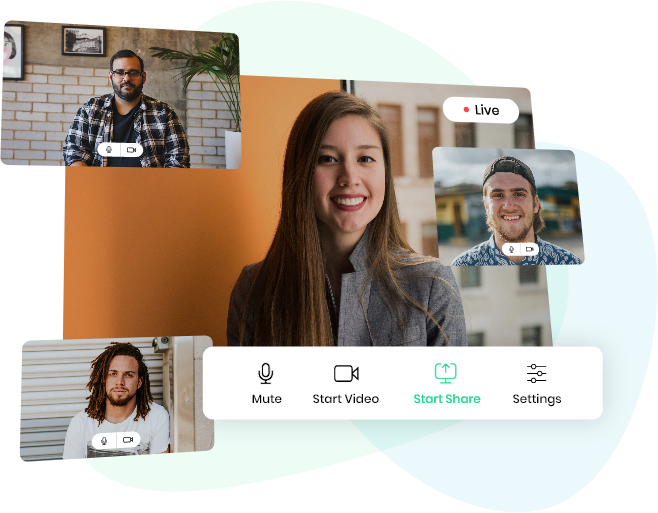 Free Online Event Hosting
EventBookings offers you a completely free hosting facility for your online events. Unlike Eventbrite, you don't have to worry about integrating ZOOM or other sophisticated 3rd party software. Use EventBookings' easy to use built-in virtual event solution to create and host online events while earning more money by selling tickets, all from one place. So why wait? Try EventBookings today and feel the difference.
Creating events with EventBookings, you can utilise your organisation dashboard. The dashboard will offer exclusive insights regarding your event, from reports, subscription to conversion setup, payout and contact list. Along with getting access to certain parts, through EventBooking's dashboard, you can get an overview of your event's exclusive features which includes ticket sales, revenue earned and page views option, which are necessary to get a quick summary of an event.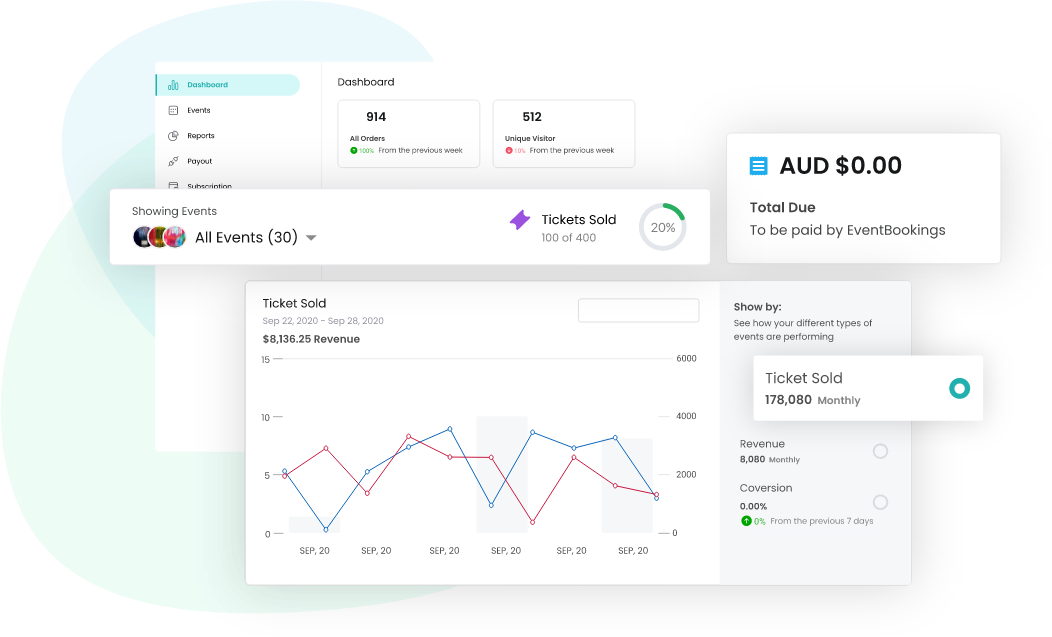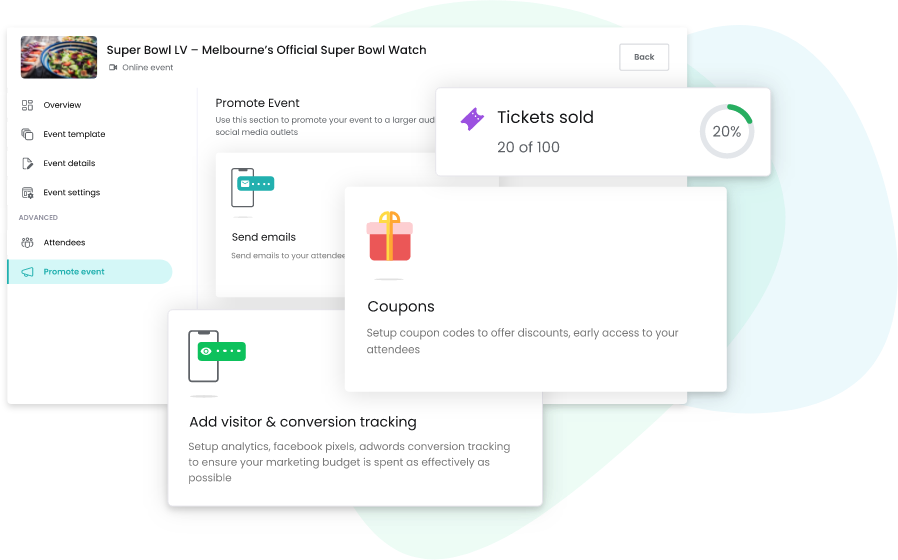 Easy to Promote Your Event
Just click the 'share' button on top of your event banner to promote your event on social media platforms including Facebook, LinkedIn, Twitter and Email or go to the event dashboard to share your event. Also, through the campaign feature of EventBookings, you can create an email campaign to send promotional and customised emails to multiple contacts all at once, scheduling appropriate times and dates to accelerate your ticket sale.
EventBookings Cares about Your Privacy
Get started for free to see how easy it is to create, manage,
and promote your events