Starting up a new business, bringing your concept to life, publishing your paper or book and releasing new tracks all require financial support to help back one up. Unless you are from a wealthy background or get the support from rich relatives and friends, you will have to take a loan from the bank or get into countless meeting to convince investors to fund you.
Thankfully, today, with crowdfunding events, you can raise money on your own. Statistics show that about $34.4 billion was made from crowdfunding, which was twice that raised in 2014. The most appealing is its risk-free nature.
Before we start talking about how to plan a crowdfunding campaign, here is a quick brief about types of crowdfunding.
Donation-based Crowdfunding: Donations given by people expecting no return.
Reward-based Crowdfunding: People contributing to in exchange for a reward or perk.
Equity-based Crowdfunding: Institutional funders or individuals purchase equity as an investment.
Lending-based Crowdfunding: Borrowing money outside of traditional bank loans.
Before you start your crowdfunding campaign, it's very crucial to know the steps and strategies you should follow to make your campaign successful. In this article, we are going to discuss some important facts and steps you should consider while organising such an event for your crowdfunding campaign.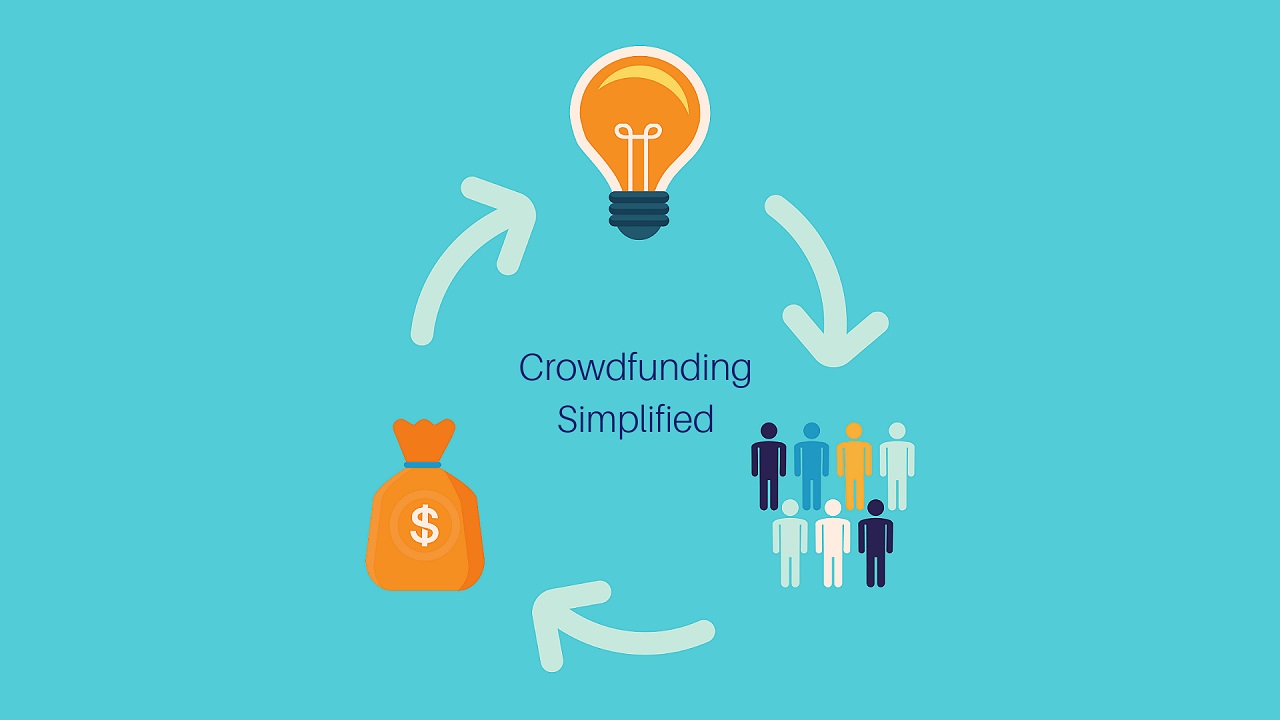 Start With a Proper Plan
As with any big tasks, the first step is proper planning. You need to plan ahead of time to make sure that you are getting enough time to brainstorm your ideas and study similar campaigns. During this phase, you need to decide which category of crowdfunding you will choose if you will be using any platform (KICKSTARTER, INDIEGOGO, AngelList, etc.) and the schedule of your campaign.
But this is not all!
Many of us fail to keep our ego in check. That is, without making any calculation, you aim for a goal that is not achievable at all. An example to make things more clear.
Say you are selling an item worth $10 and the average perk price is $20. Then if you want to raise a fund of $100,000, you will need 5000 funders to back you up. Frankly speaking, without having a massive email list to start, it is quite impossible to achieve. Well, there are those exceptions. Study the best and worst-case scenarios, do the math and set proper expectations.
What's Your Story?
People always tend to invest if you can create an emotional connection with them. You need to keep your stories relatable, relevant and captivating. Your goal is to present your event campaign to people in a way that makes them relatable to your project, and understand why they need to back you up.
One way to build an emotional appeal is through stats.
You are considering to create an organisation that provides food to hungry children. Here, "Children going to bed hungry every night" creates a sad environment and may attract some. But, if you included some statistics like "12 million kids going hungry to bed every night" it helps to establish your story's credibility.
The success of your fundraising campaign is measured by how well the story resonates through your target audience.
Offer Attractive Perks
Not all people get convinced by the story. Some are more into getting rewards for funding your campaign. This theory is backed by statistics showing total crowdfunding raised in reward is $5.5 billion. Whereas, money raised from equity crowdfunding is only $2.5 billion.
If your campaign is for the successful launch of your book or record, then you can give the top donors a pre-order opportunity. And if you are an event organiser, then there are multiple ways you can offer perks to top donators. Use an event ticketing software where you can arrange VIP seating and exclusive discounts. You can also give supporters backstage access.
While offering perks don't leave significant gaps amid pricing tiers. It will widen the range of your potential audience and get more people to claim rewards.
Best Way to Spread the Word
You have spent a significant portion of your time in designing your page and building your story. Now it's time that you spread the word about your fundraiser campaign. There are multiple ways you can get the work done, but the most effective way is through organising an event. With a simple event ticketing platform, you can easily create an event and sell tickets. Starting from a fundraiser event to music, sport, comedy anything can be made into a crowdfunding campaign.
Read on to know some other ways to promote your campaign.
Run pre-launch Facebook ads to collect and build up your pre-launch email list.
Media coverage is important. Reach out to journalist, press and influencers and let them know of your campaign.
Hire professional writers to write a compelling press release through PR Newswire at launch.
Make campaign videos, but not more than 2 minutes long. Don't jumble around; keep your message straight to the point.
Online presence on Facebook, Twitter, Instagram, LinkedIn and all other popular social media platforms is a must. Among your Facebook shares, 12% turn to donations; and for Twitter 3% converts to donations. [Source]
Remember that mailing list you were preparing. Don't forget to communicate these group through direct emailing. People engaged through direct emailing are most likely to give larger donations than any other. From email shares, 53% convert to donations. [Source]
Set a Deadline and Don't Give Up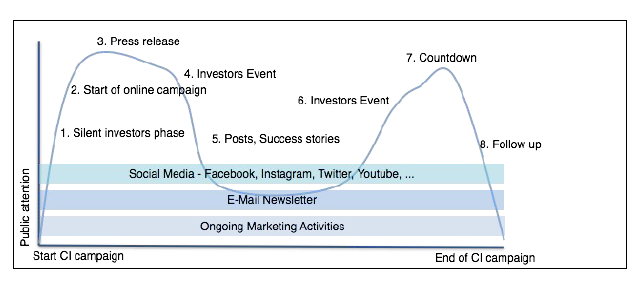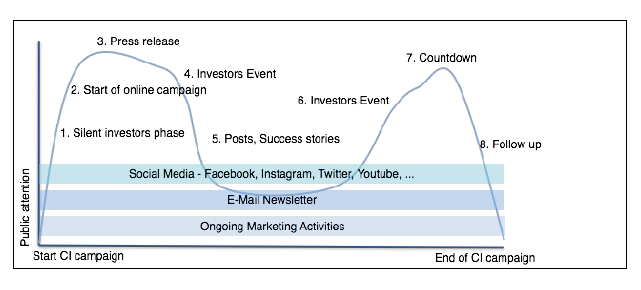 Setting a deadline will create a sense of urgency, making you and your team more active. In general, shorter campaigns ranging from 20-40 days tend to yield a better result. Studying the report of most campaigns reveals a U-shaped curve in funding. The curve signifies that at the starting week there are a lot of donations, but then it suddenly slows down. Then again, during the last couple of week, funding rises with a big push at the end.
In a nutshell, the success rate of a crowdfunding campaign is only 50%, and the reason is lack of project definition and proper planning. But, if you are planning your campaign, creating a strong and enriched database with a stellar story, then crowdfunding can be a great opportunity. Use these advises to organise a successful crowdfunding campaign and get the funding to make your dream project a reality.