With the help of technology today, spreading the word about and event you're organising has never been easier. When it comes to selling tickets, the internet has given event organisers all kinds of options and resources to create virtual ticketing booths and distribute them inexpensively. High-quality online event ticketing systems give you a lot of options to choose from, and you can always find options relevant to your event.
To make a ticket selling campaign successful, the trick is to figure out what types of features your targeted market is looking for, and integrate them on your event page, while refraining from going too far with modifications.
If you make the process of purchasing tickets overly cumbersome with hordes of features and options, it might have an adverse effect.
You can always work to better user experience on your ticket selling website. When people land on a page where they're looking to buy a ticket, they expect certain specific features to be present.
Let's take a quick look at some key features people who are buying tickets online find convenient.
1. User-friendliness
Your ticketing system should be user-friendly, and easy to navigate. Too many forms and pages, and hard-to-see buttons and text, can exasperate a user.
"People navigating websites these days are as impatient as they've ever been; so make sure your virtual ticket booth is set up to make things as convenient as possible for your visitor."
2. Reservation Options
While this doesn't apply to all events, many events are seated, and your attendees will expect that they will be able to reserve a specific place in the venue to sit.
Ideally, your event page will provide attendees with a visual representation of which places are already reserved and which seats are available, so they can then be selected and claimed.
This actually works in your favour, as it encourages attendees to make prior bookings and snatch the best seats before they sell out.
3. Flexible Pricing
Not everyone has the same disposable income. Having a few different ticket levels and prices available is an excellent idea for larger events. Your event booking software should allow you to create various ticket profiles for the same program, whether they differ due to seating location, the age of the attendee, precisely what is included with the ticket, etc.
You should also be able to set up early bird tickets, which encourage people to book early. Providing a few different seating options and prices will also ensure that more people can attend your event.
Finally, you want to be able to change the price easily.
4. Easy Payment Gateway
Like any system taking online payments, your online ticketing system should make the process simple and convenient. As a general rule, the more payment options you can offer, the better.
This could include PayPal, VISA, MasterCard, American Express, Bank deposit, AfterPay, etc. AfterPay, in particular, is becoming increasingly popular and can increase your conversion rate significantly given the benefits it provides for buyers.
The payment system should also be simple to use, with big clickable buttons and fields to make it readily understandable and easy to follow.
5. Responsiveness
Mobile readiness is a necessity for any website or software available today. You never know from which device your website traffic is coming. This is especially important for a booking website.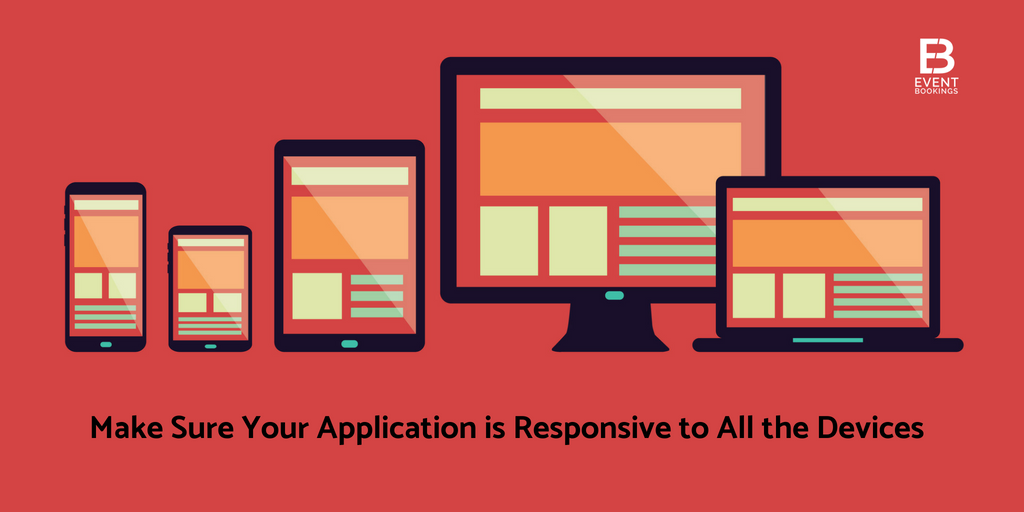 Users need to be able to access your page and go through the process seamlessly from any device; tablets, mobiles or desktops. Additionally, cross-browser compatibility is something you need to ensure for your website as well. Your site should be able to run without errors on every modern browser.
A poor user experience is going to make it very difficult for you to sell tickets.
6. An Attractive Page
Your event page needs to feature your branding and be attractive if it's going to convert visitors into attendees. Ideally, you'll be able to turn your event page into a representation of your company.
Try to match colour schemes and styles, as an event page that is at odds with your website and other marketing materials can be confusing and sometimes misleading for your visitors.
7. Security Features
This is a big issue for a ticket selling page. It should go without saying that any website, especially one which is taking payments, should be safe and secure.
SSL certification is an absolute must – your customers need the assurance that any details they enter into your ticket registration system won't fall into the wrong hands.
8. Sharing Options
Sharing options, be they through email or social media, can be very useful for attendees. They allow visitors to easily share information about your event to friends and family, with whom they may be planning to attend the event.
An email option after the transaction is very convenient for those who have purchased tickets for a group; some event platforms will even allow you to send the tickets to those for whom you have booked, ensuring that they have the details and confirmation of purchase.
A sharing feature for an event helps to spread the word and has the potential to act as a marketing tool.
9. Check-in Options
If you have an automated attendee check-in option, it's going to be a plus. Some event registration platforms will allow you to download an app, which can then be used to scan tickets upon entry.
Your phone essentially acts as a check-in tool, linking up with the platform you are using and contributing to the analytical data you can use to ascertain the success of your event.
This kind of system goes a long way in helping convey the legitimacy and quality of your event. Technology has made this process quite easy indeed!
The needs of your attendees will differ from event to event, but there are certain things that your event registration system should always incorporate to increase the chances of converting a visitor into an attendee.
The advancement of technology has made a lot of processes more accessible. Ultimately, it comes down to making the process as informative and easy as possible, while ensuring your customers have plenty of options.
Make sure your ticketing system addresses the discussed points and you'll be well on your way to a sold-out event.