Planning an event can be an exciting and fun experience, but it can also be overwhelming and stressful. One of the most important aspects of event planning is creating a memorable atmosphere for your guests, and a big part of that is decoration. The right decorations can transform a bland space into a beautiful and inviting setting and can set the tone for the entire event.
In this article, we will provide you with some helpful decoration tips that will take your event to the next level and leave your guests talking about it long after it's over. Whether you're planning a wedding, birthday party, corporate event, or any other type of gathering, these tips will help you create a truly unforgettable experience. So let's get started and make your next event one to remember!
Tips for decorating your event:
Whether you're working with an indoor or outdoor space, there are plenty of ways to add charm and elegance to the surroundings. With a little creativity and inspiration, you can transform any space into a dreamy setting that will leave a lasting impression on your guests.
Indoor decoration tips-
Looking to elevate your indoor event decor? These tips can help you to incorporate unique decor elements for a stunning setup.
1. Define the theme:
Defining a theme is an essential decoration tip that can guide all decor choices. When you have a theme, it helps you create cohesive and visually appealing decor that sets the mood for your event. Your theme can be based on a colour scheme, a season, or a specific occasion. Once you've defined your theme, you can use it to guide all your decor choices, from lighting to table settings, creating a seamless and beautiful event space.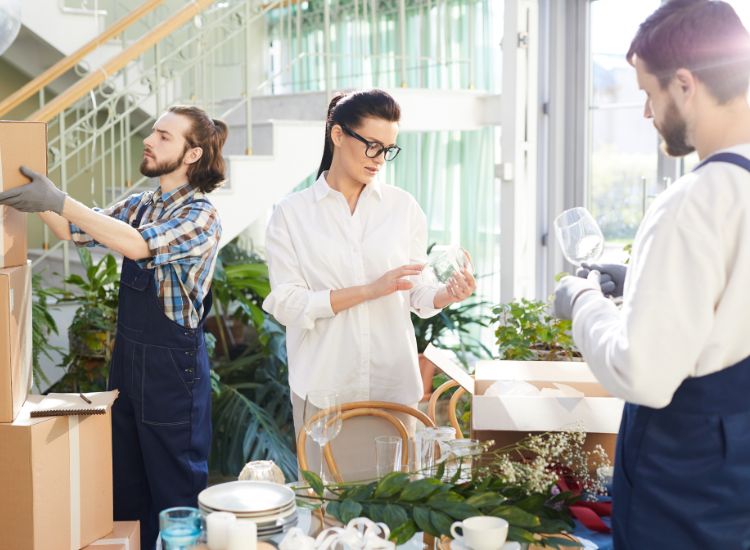 2. Lighting:
Lighting is one of the most important factors in decoration. One popular option is string lights. These warm and inviting lights can be hung from the ceiling or draped around the room to create a magical atmosphere. For a more elegant and sophisticated touch, consider using chandeliers or uplighting to highlight key features of the space. And don't forget about candlelight, which can add a cosy and intimate feel to any event.
3. Seating arrangements:
Comfortable and inviting seating can encourage guests to relax and socialise, while also adding to the overall aesthetic of the event. For more formal events, round tables with tablecloths and elegant chairs can add a touch of sophistication to the space. For a more casual event, consider using comfortable lounge chairs or even floor cushions for a laid-back vibe.
4. Table settings:
Table settings can set the tone for the entire event, from the choice of tablecloths to the selection of cutlery and glassware. Crisp white tablecloths and elegant silverware can create an ambience for formal events, while for more casual events, vibrant tablecloths and colourful plates can add a playful touch. Don't forget about the centrepieces, which can add a stunning visual element to the table. Whether you opt for a simple floral arrangement or an elaborate display, a well-designed table setting can truly elevate the overall look and feel of your indoor event.
5. Wall decorations:
Indoor events can be made more memorable with the right wall decorations. Whether you are planning a corporate event, a birthday party or a wedding, wall decorations can add depth and visual interest to the space. You can use framed art or mirrors to create an elegant feel. For a more whimsical and playful event, colourful streamers or paper lanterns can add a fun and festive touch.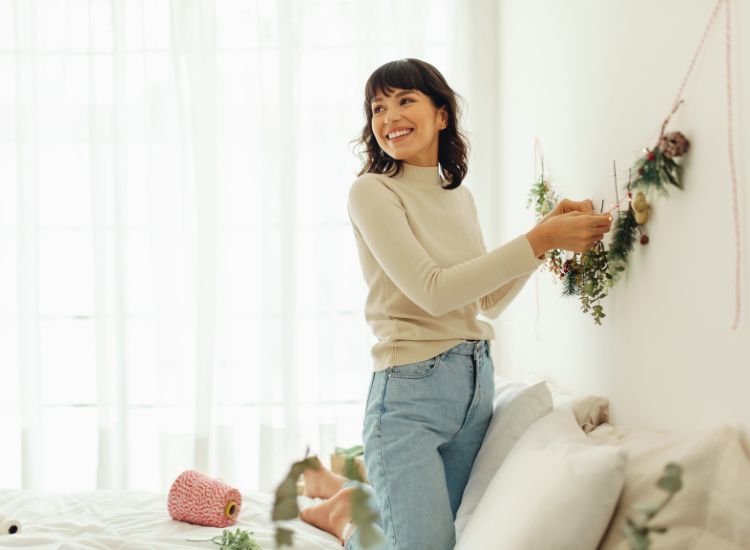 6. Ceiling decorations:
One important aspect of indoor decoration that is often overlooked is the ceiling. Decorating the ceiling can add depth, dimension, and visual interest to your event space that your guests will never forget. You can choose from hanging paper lanterns and chandeliers to draping fabric and creating a canopy effect. Draw attention to your event by hanging multicoloured pennant banners or streamers from the centre of the ceiling to the room's corners. High-ceilinged, compact rooms are where this effect performs best. A lot of money and storage space may be saved over time by using ceiling decorations instead of floor decorations.
7. Backdrops:
Backdrops are a popular and versatile event idea that can transform any space into a stunning visual display. Backdrops are large, decorative panels that are placed behind the main event area to create a specific atmosphere or theme. To direct your guests' attention to the stage, you may choose between a digital background and marquee letters, depending on your event budget. With a wide range of possibilities, including honeycomb variants and basic LED displays, digital backgrounds provide intriguing effects that may appear and fade throughout the presentation. Utilising an augmented experience that incorporates the speaker into the background is another fantastic choice.
8. Choose the right colours:
Choosing the right colours is a critical element in indoor event decoration. When selecting a colour palette, consider your theme, the type of event, and the mood you want to create. Additionally, consider the colours of the furniture, linens, and other decor elements you plan to use and ensure they complement your colour scheme.
9. Giveaway bags:
When it comes to incorporating gifts as event decor, your only limit is your imagination. Small gift bags with appealing packaging can be utilised as a presentation element. A hidden present brings out the child in all of us and can dress up the table further. Conference giveaways are frequently not used. It may thrill visitors, offer a fantastic branding and sponsorship opportunity, promotes your organisation favourably, and be utilised as a decorative item!
10. Catering ideas:
A lasting impression may be made via the art of catering ideas. No, we're not just talking about presenting mouth-watering food; we're also talking about putting food on show to attract attendees. Food may provide a fun touch to your event decorating when it is placed creatively. You want your attendees to remember everything about your event as a planner, including the keynote speaker, breakout sessions, and event decor! You can have a DIY bar, a doughnut wall, and other things. There are plenty of possibilities available.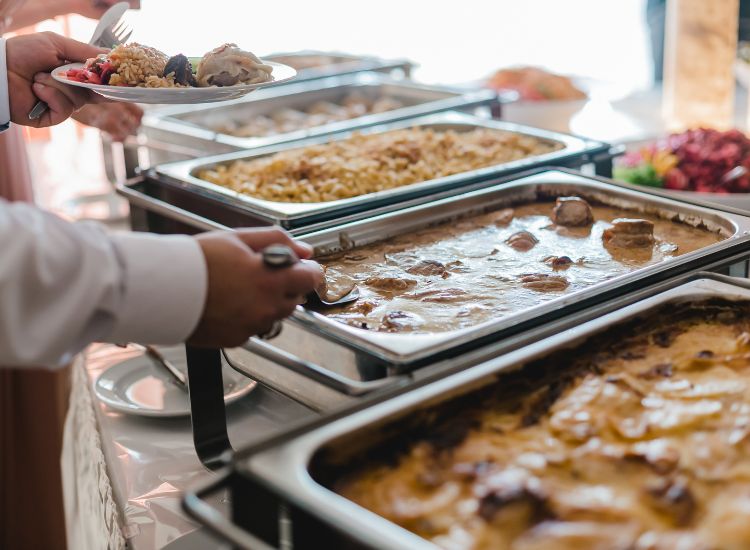 ---
Outdoor decoration tips
Organising an outdoor event can be tricky. To ensure that your event is a hit, you'll need to think about everything from decorations to activities. From decor to activities, we will cover everything you need to know to plan a successful event..
11. Work with the environment:
Instead of trying to fight against nature, use the natural surroundings to your advantage. Incorporating elements such as trees, water features, or rocks into your event decoration can add a unique and natural touch to your design. You can hang fairy lights around trees to create a magical atmosphere or a seating area near a water feature for a calming and serene setting. By working with the environment, you can create an event that looks not only beautiful but also feels connected to nature.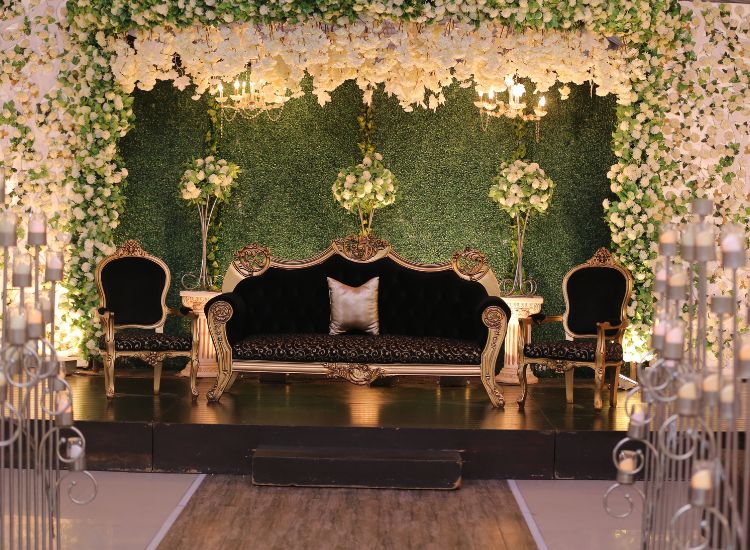 12. Stage decorations:
When constructing a temporary stage, use all of your imagination. You may grab your guests' attention and make the stage stand out by employing a stage or riser. To direct discussions and give interest to the design, choose statement pieces of furniture or more relaxed choices like couches. Modular staging, which is inexpensive and simple to install, may add flavour right away. It is so adaptable that you may use it to hold events at locations without a stage or fit it into your current setup!
13. Digitalisation of decor:
When planning your next event, consider going digital to add a touch of technology. The power of technology and digital media has made it much simpler for event planners to handle event decorating. Using a social wall, which compiles participants' social media posts on a huge display screen, is one of the finest methods to engage visitors and make your event memorable. Encourage attendees to upload images of the event using your hashtag the day of the event, and display those postings on the wall! It will definitely leave a lasting impact and have the floor buzzing!
14. Use a variety of textures:
Incorporating a variety of textures is a great way to add depth and visual interest to your outdoor event decoration. Different textures can be used to create contrast and make certain elements stand out. Using a variety of floral arrangements with different types of flowers and greenery can also add texture and depth to your event decoration.
15. Photo booths:
The ability to take advantage of possibilities that are just unavailable while you're inside is one of the numerous advantages of having an outside location. When it's outside, the photo booth is one of the spots that truly has a chance to shine. You may benefit from the natural light and the outdoors in addition to the additional room.
For a truly fantastic photo memory, you might, for instance, designate a space and give your visitors coloured smoke bombs! Consult this tutorial before pursuing this concept because there are numerous kinds of smoke bombs.
16. Indoor comforts at outdoor:
Bring these inside components to your outdoor site to astound your guests. Numerous amenities often seen in indoor settings are also accessible in outdoor-friendly variations. Consider putting outdoor-friendly rugs down below your dining table layouts. Or place comfortable seats outside to create a homey atmosphere. To further aid create that ambience, use sturdier furniture (such as hardwood coffee tables).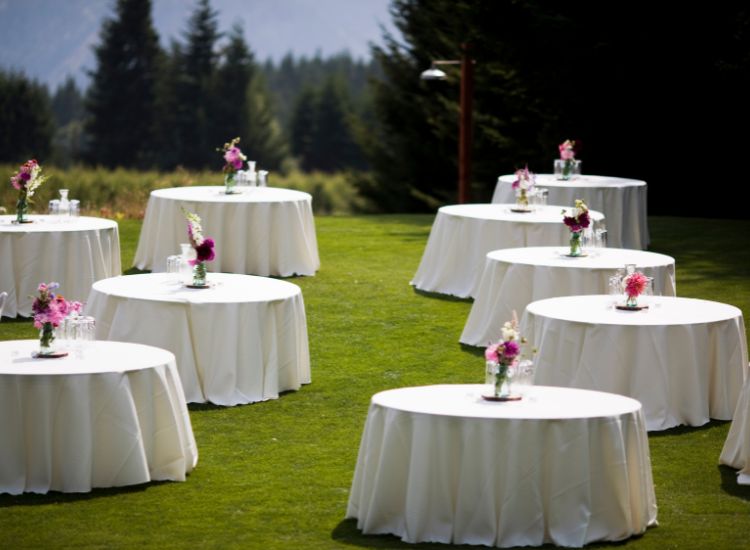 17. Consider the weather:
If it's going to be sunny and hot, provide shade with tents or umbrellas, and choose decorations that are resistant to fading in direct sunlight. If it's going to be rainy, have a backup plan in case you need to move your event indoors, and choose decorations that are water-resistant. If it's going to be windy, avoid lightweight decorations that can easily blow away, and consider securing decorations with weights or stakes.
18. Keep it simple:
Sometimes, less is more when it comes to outdoor event decoration. Keeping things simple can help create an elegant and sophisticated look, without overwhelming your guests or the outdoor environment. Choose key elements, such as a beautiful floral centrepiece or elegant table settings, and allow them to take centre stage. By keeping it simple, you can create a beautiful and memorable event without overcomplicating things.
19. Add personal touches:
Consider incorporating elements that reflect your personality or interests, such as photographs, artwork, or family heirlooms. You could also create customised event ticketing as decorations. On top of that, consider incorporating elements that reflect the interests or hobbies of your guests, such as a themed cocktail or dessert. By adding personal touches, you can create a unique and unforgettable event that reflects your personality and style.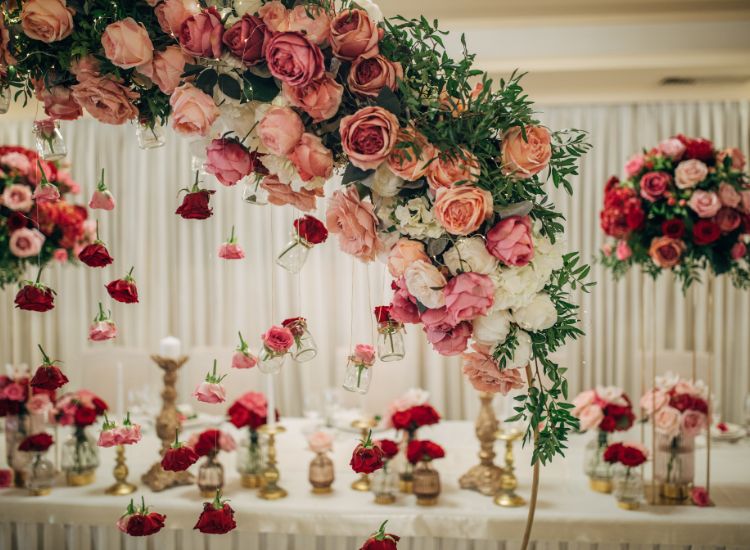 20. Use signage:
Using signage is a practical and stylish way to guide your guests and add an extra element of decoration to your event. You could use signs to display important information, such as the schedule of events or the menu. Using signage, you can create a clear and organised event while adding an extra layer of decoration that your guests will appreciate.
Last words
Decorating your next indoor or outdoor event can be a fun and exciting experience. By following these decoration ideas, you can transform any space into a memorable and inviting atmosphere for your guests. From selecting the right colour scheme to incorporating interactive elements, there are endless possibilities to create a unique and enjoyable experience. Just remember, while decoration is important, the most important thing is the people you're celebrating with.