Sell tickets online in 3 easy steps with EventBookings
EventBookings is the most affordable and easy-to-use event ticketing platform in the industry. With powerful features that cater to your unique needs, you can sell tickets for events in a flash.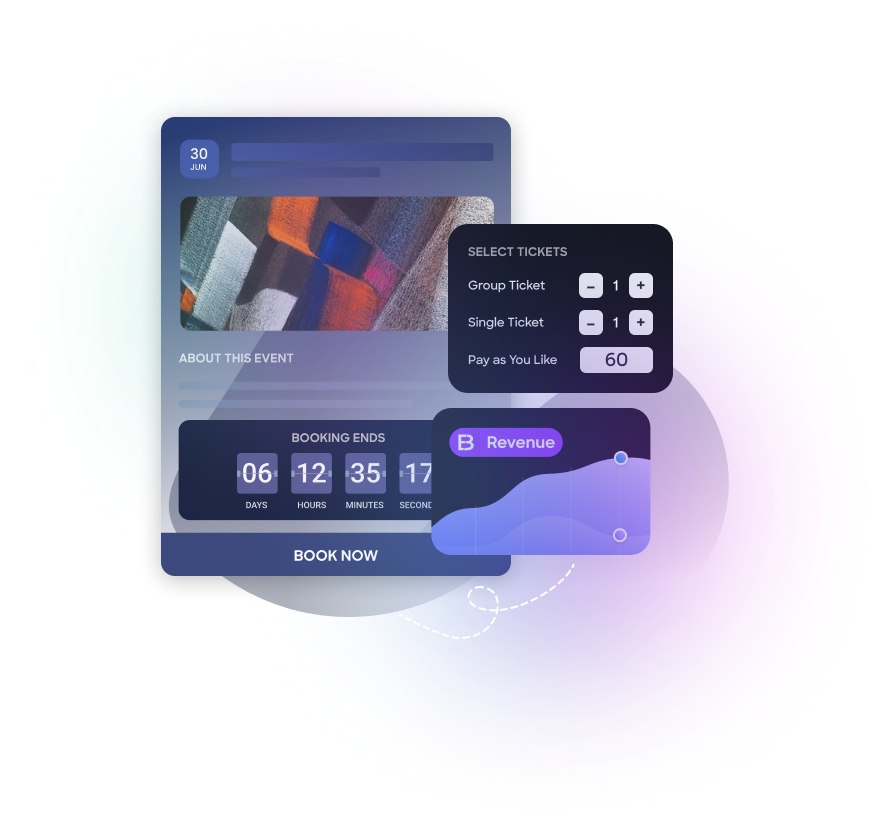 Events created by thousands of organisations around the globe
Create, manage, and sell event
tickets online in minutes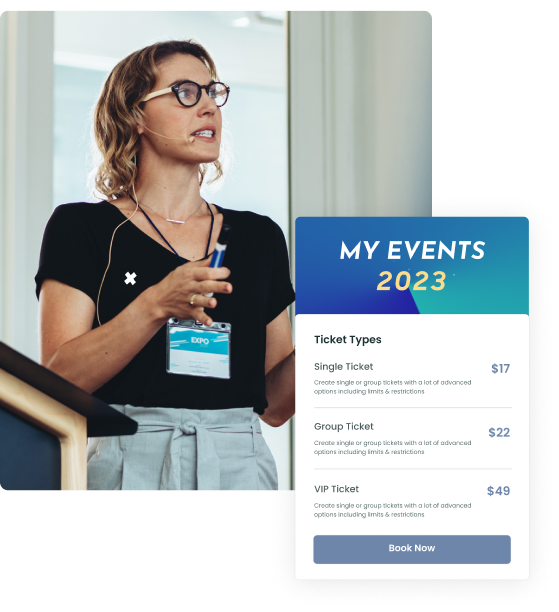 Use EventBookings to create engaging event pages
Boost attendance and ticket sales by designing an attractive event description with our easy-to-use built-in templates.
Promote your event and sell more tickets
Maximise your ticket sales and reach new attendees with our built-in event promotion tools. Foster customer relationships and grow your community using our integrated marketing tools and online ticketing system.
Take control with smart reporting features
EventBookings provides valuable insights into event performance through real-time reporting. Enhance ticket sales and increase revenue with our available tools like coupons, early-bird discounts, group ticketing, and more.
Industry-low fees for  online ticket sales
More affordable compared to Trybooking
In Australia, our fees of 2% and 30 cents per ticket are more affordable compared to Trybooking's 2.5% and 50 cents charge.
Includes credit card processing fees
EventBookings is a cost-effective ticketing solution, with the added benefit of being free for free events. Only pay when you sell tickets to your events, and use our pricing calculator to calculate service fees and estimated revenue.
Selling tickets online just got easier
For every event type and size
No matter what type of event you're hosting, EventBookings has got you covered. From local sporting clubs, to business events, festivals, cooking classes, and more, our feature-rich ticketing platform makes it easy for you to sell tickets for your event. It's everything you need in a ticketing platform.
Need to sell tickets to an event?  No worries. We cater to the following:
five-stars
User friendly and with all the features we need, our last event using this was just so much easier to administer!
Madeline S.
Events Co-ordinator
five-stars
The software is highly flexible and has customisable solution packed full of great features. It is so simple and easy to use. The customer service experience is phenomenal. I would definitely recommend this ticketing system to anyone who is looking for affordable and seamless ticketing solution.
Piyush G.
Application Developer
five-stars
Excellent application. Highly recommended for event organisers.
five-stars
It's really simple to use and user-friendly. Plus they cover all the basic features and over the last couple of months they've included some cool ticketing features to their product. All of these within a really competitive pricing plan.
Christopher F.
Online Marketing Executive
five-stars
Fantastic customer service. I called and talked to real people who was patient and friendly.
Create your event and promote
tickets right away
EventBookings makes your ability to sell tickets online free and easy. Some of the exciting features included are:
Event ticketing just got easier
Create your event in 2 minutes