Run your events smoothly on our market-leading and easy-to-use ticketing system
EventBookings provides an innovative and easy solution to create, manage and sell tickets for your events of every type & every size.
Our straightforward online ticketing system has all the tools and services you need to create an event, sell more tickets, and manage a successful events business. Our all-in-one event management system, gives you unparalleled access to the global ticketing marketplace to sell tickets online to everyone, everywhere.
Use our built-in event templates to create a professional, attention-grabbing event page to attract attendees and sell more tickets.
Start selling your event tickets in just minutes. Create engaging virtual and in-person events, and
start generating revenue with our fast, easy checkout.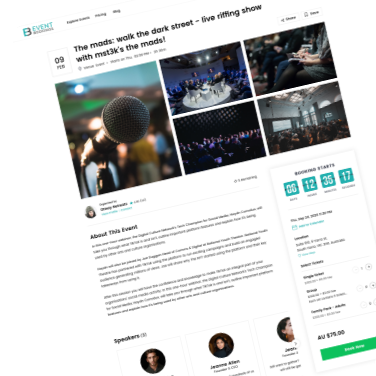 Signing up with EventBookings is super easy and free. Use our built-in event templates to create a professional, elegant event page to attract attendees and sell more tickets.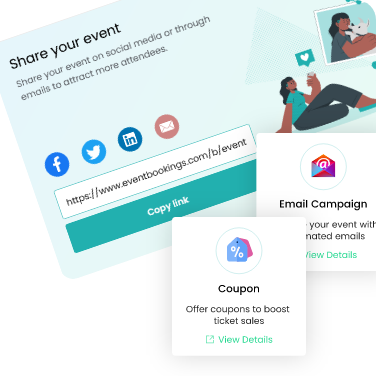 Leverage the power of our built-in event promotion tools to reach and engage new audiences, drive demand and sell tickets online. Build your community and long-lasting customer relationships using our built-in marketing tools and online ticketing system.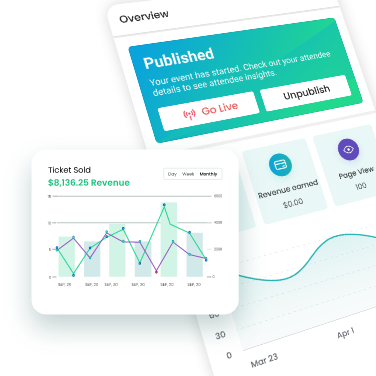 Our intelligent, real-time reporting capabilities provide actionable insights into how your events are performing so that you can focus your time & budget on what's working best. Offer coupons, early-bird discounts, and group ticketing to boost ticket sales.
How EventBookings helps you
to sell more tickets
EventBookings breaks all the barriers when it comes to selling tickets online. Use our innovative event promotion tools to attract customers, drive demand, and sell more tickets.
Create professional event pages and attract more audience

Create multiple sets of tickets for different audience group

Share and promote your events using our built-in promotion tools directly from your dashboard

Offer coupons, discounts, and early bird ticketing to boost your ticket sales

Install Google Analytics to track conversions and ticket sales

Use our secure and easy payment system for fast checkout and grow your revenue

Get 24/7 professional customer support like nowhere else!
EventBookings gives you the flexibility and control
you need to sell your event tickets online
Being one of the most affordable ticketing systems, EventBookings is free for free events; we only charge you when selling tickets to your events. Use our pricing calculator below to calculate service fees and your estimated revenue.
Sell Tickets to Your Event of Every Type & Size
Transforming Thousands of Event Hosts Just Like You
Be part of a winning team. We are continuously thriving to bring the best to our customers. Be that a new product feature, help in setting up your events or even supporting your customers so that they can easily buy tickets and participate your in events. Here is what some of the clients have to say,
User friendly and with all the features we need, our last event using this was just so much easier to administer!

Excellent Product. Communicating better with our customers and product launches. User friendly and affordable for a first time user.

Excellent application. Highly recommended for event organisers.

Fantastic customer service. I called and talked to real people who was patient and friendly.

Excellent ticketing system and customer service. Eventbookings met my expectations and I found everything I needed.

A cheap and excellent alternative to Eventbrite
Online Marketing Executive

Events created by thousands of organisations around the globe
Create your event and start selling tickets immediately,
without needing to speak to anyone.
Frequently Asked Questions