In this article, we show you a detailed guide on how to create your own online event. If you are thinking of hosting your event at a physical venue, please click here.
To continue with an online event, click on the Create Event on the top menu bar and select online event.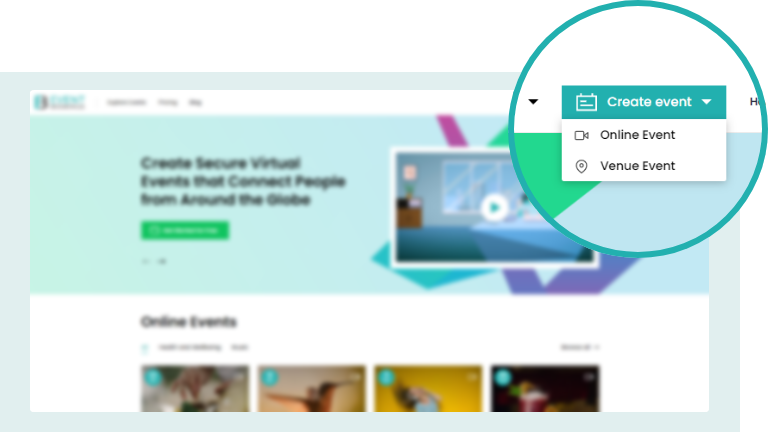 Step 1: Choose a template
Let's start by selecting a template for your event. Choosing a template is necessary because this will set the background and layout of your meeting, so pick a suitable template for your event to elevate your online meeting experience.
**Note: If you need Speakers at your event, you will need to use the Talk Show template.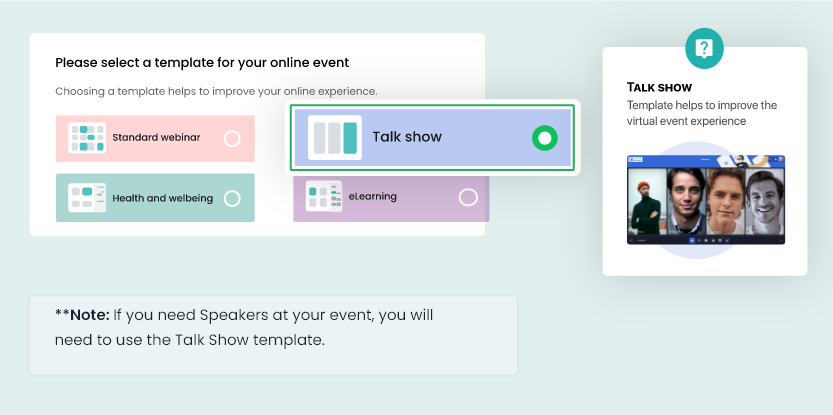 Next, let's give your event a catchy name to make it unique.

Here, at EventBookings, we give you the flexibility to host private events that are only available to the people with whom YOU choose to share the event link with!
In order to do this, simply enable the 'Keep my event hidden' and then your event will no longer be discoverable on Event Bookings and search engines.

But, for your public events, let's move forward to selecting relevant categories, because selecting a relevant category will help you attract the right audience.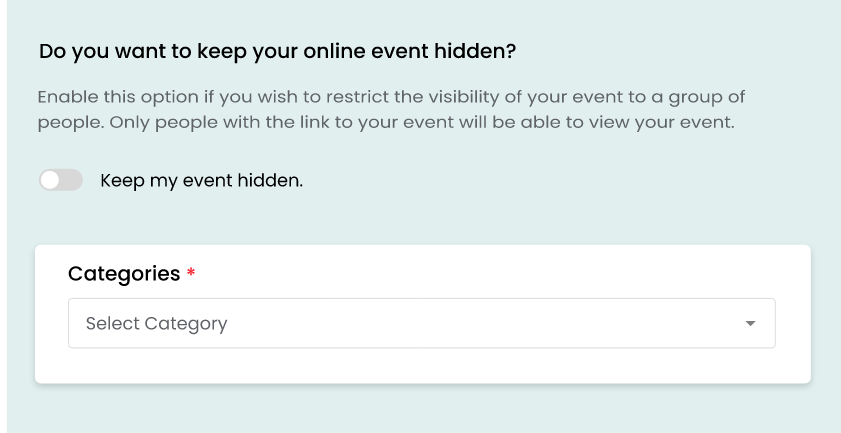 For this next and crucial stage, let's start by deciding whether your event has multiple sessions.  
Do not worry if it does, because by simply ticking the 'My event has multiple sessions' box, you can start adding and customizing your sessions by pressing 'Add Sessions' button.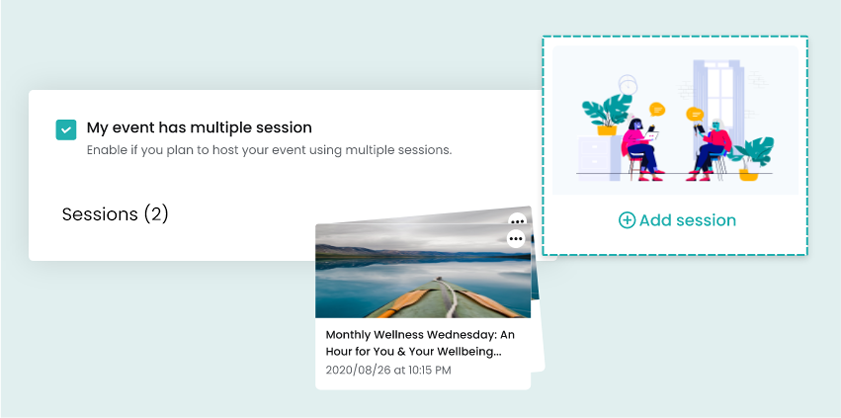 This will generate a form where you can give each of your sessions a title, an image (change the default image simply by clicking on 'Change image') and set the session date, time and duration.
You can also keep using this form to add up to 20 sessions for each of your events!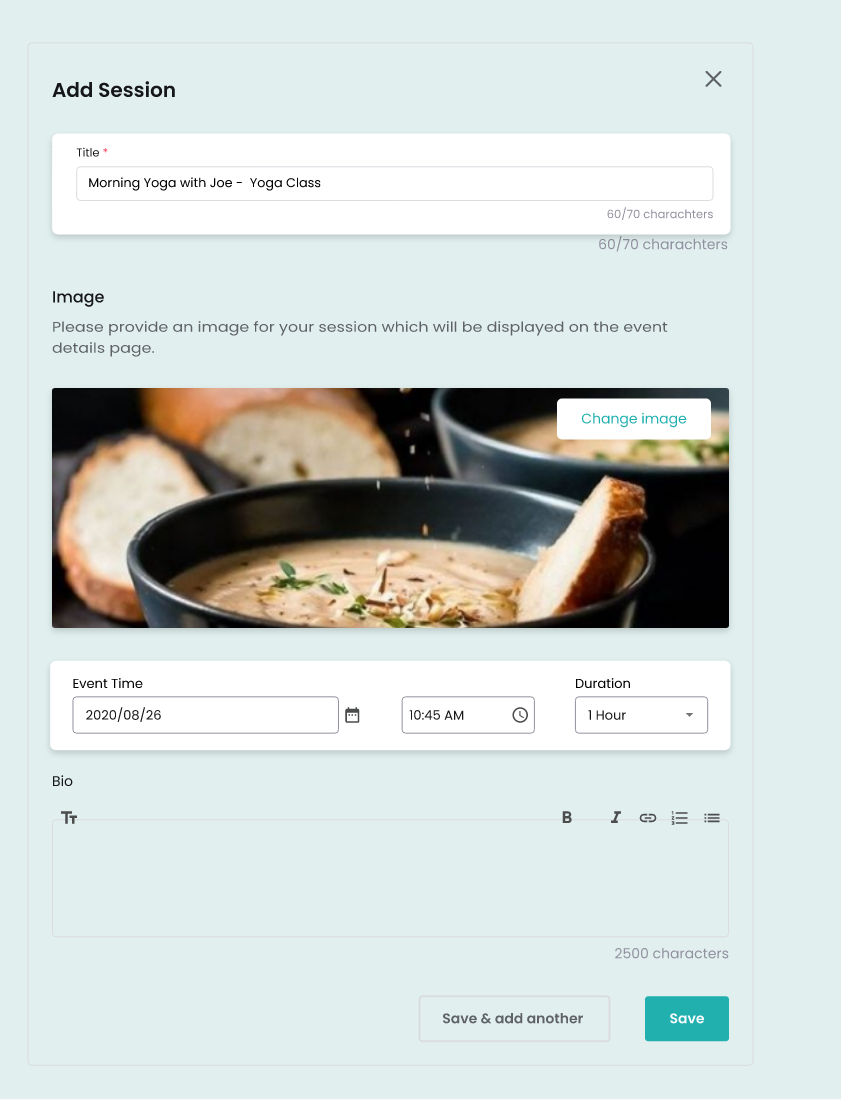 If your event does not have multiple sessions, then it gets even easier because you can simply just use the fields below 'When does your online event start?' to set the Event date, time and duration.
Next customize your online event banner, by setting a dazzling picture (or multiple!) as your event banner.
Simply use 'Change image' to change the default image to your preferred ones.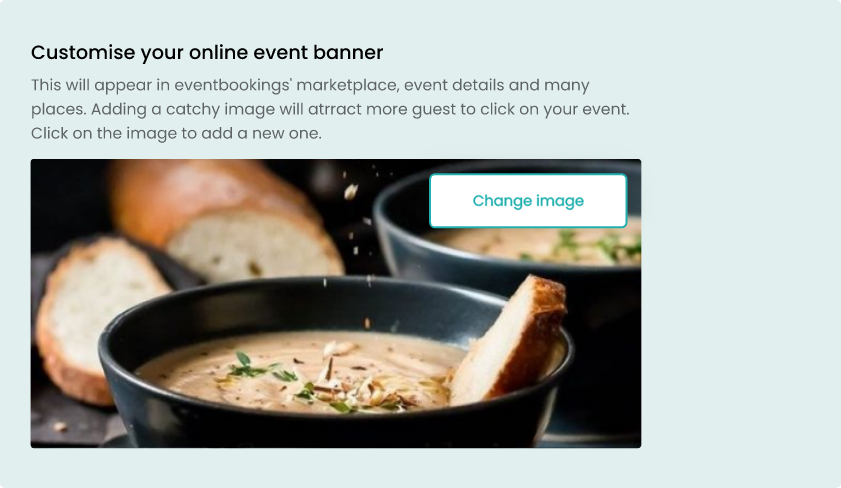 Moving on, here add a description for your virtual event. We suggest writing a clear, elaborate and inviting description for your event, so that the people visiting can easily understand your event and be influenced to attend it too!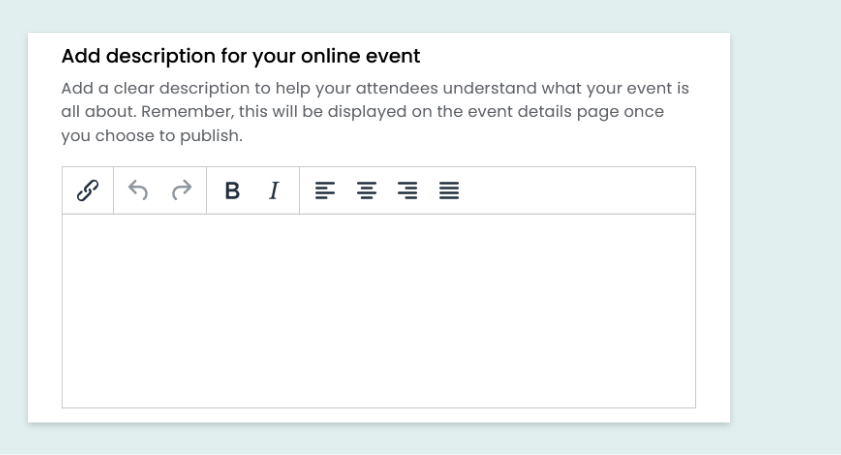 Now that you have an event name, date, banner and everything, let's start by setting a price for your ticket and then limit the number of tickets you want for your particular event.

You can also provide early bird discount services for your customers by enabling "I wish to offer an early bird discount for my attendees".
Then set the amount of discount you wish to offer (select whether a percentage of the ticket price or a fixed amount) and then set the dates until you wish to apply them. 

Next, you can choose to forward the service fee for the event onto your attendees simply by clicking "I want to pass the event bookings' service fee charges to my attendees". Doing this will add the service fee with their ticket price. If else, the organizer can absolve the service fee themselves.

And lastly, you can choose to offer refund services for your attendees and even set the due time until which they are eligible for a refund by ticking the 'I wish to set a refund policy for this event' and then use the drop down menu to select your preferred option.
Once you are done selecting your preferred refund settings, please click on 'Continue' to move forward to the final step.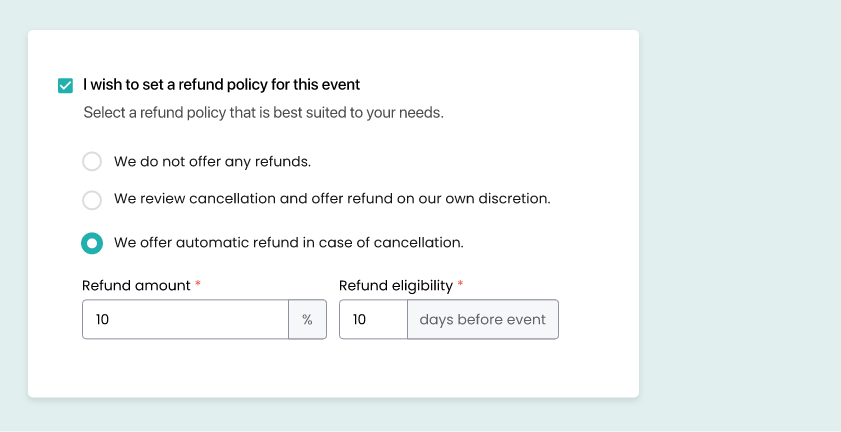 Take a breather, because we are now at the final stage!
Here, in the 'Video/Audio settings', you can set the initial conditions of your event. Enter your event with video and camera off, allow your guests to be able to send messages or allow your guests to unmute themselves by fiddling with the settings here.
Don't worry you can always change these settings later during your event!
Alas! You are now all set so simply press 'Create' to create your event, which will take you to your page where you can publish your event!
** Note: If you had chosen the Talk show template, the final stage would look something like this for you: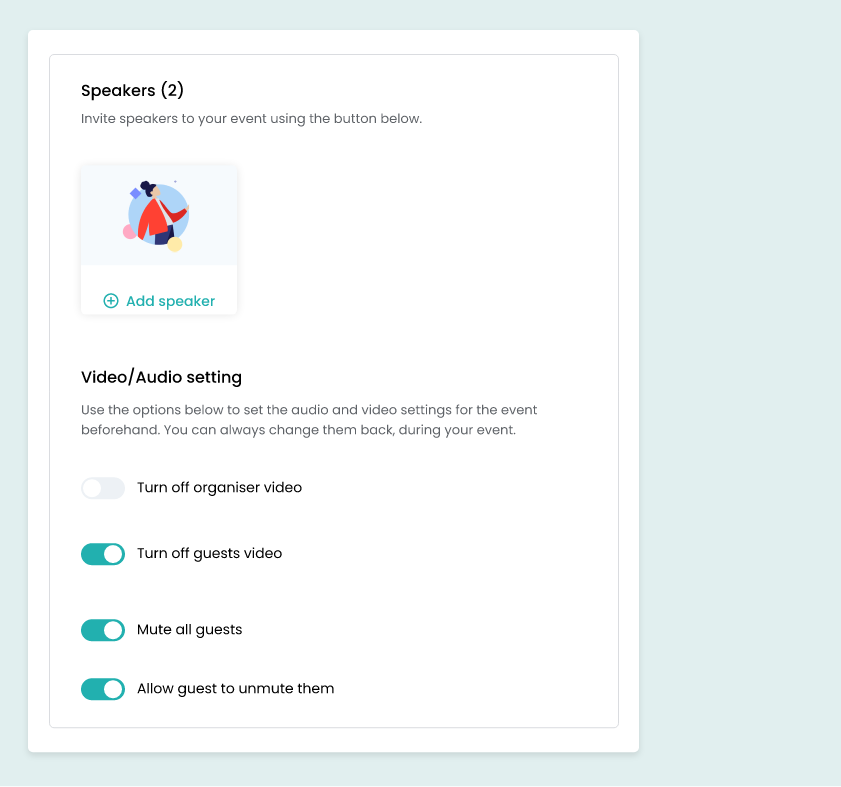 Here, just click on 'Add Speaker' to generate an 'Add a Speaker' form and fill out the necessary details to invite speakers to your event.
Configure the audio and video settings as desired and then create your event by clicking on 'Create' just as before.
Once your event is created and published after pressing the 'Ready to Publish' button, you can directly join your event by pressing the Go Live button from your account.