In this article, we will show you a detailed guide on how to create your own Venue event.
If you are thinking of hosting your event online, please click here.
To continue with a Venue event, click on the Create Event on the top menu bar and select Venue Event.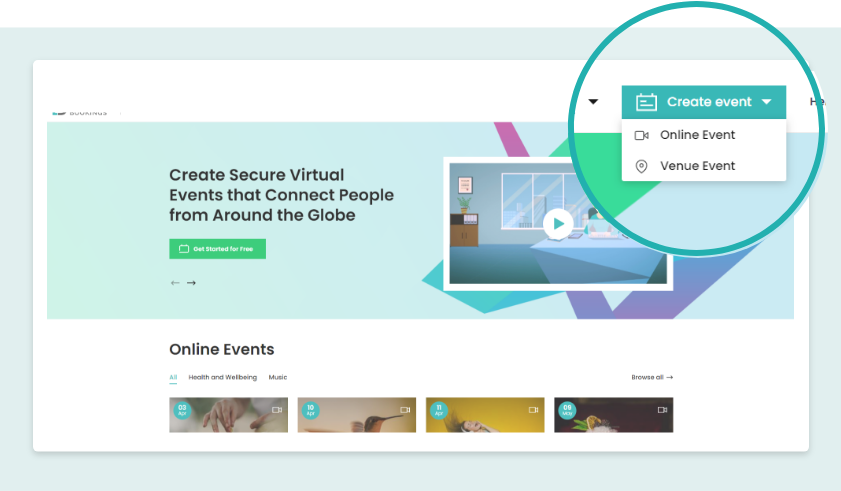 Step 1: Event Preferences
Let's start our event creation, by providing a catchy and unique name for your event. A name to set your event apart from all the others.


Next, let's customise the event by deciding on some factors such as:
whether the event should have a limited number of attendees,
should there be a maximum number of tickets an attendee can buy,
will there be an early bird discount for the attendees, and
if you would like to pass on our service charges to the attendees.
If any of the above points are true for your event, please enable the slider of the respective question and a respective field will be added to your 'Add Ticket' section on the next stage.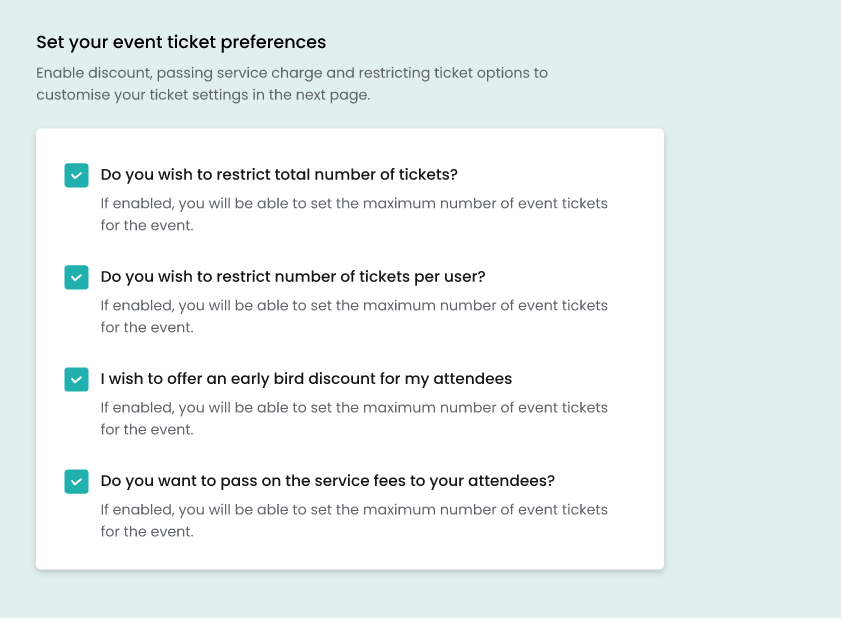 EventBookings also offers you the flexibility to host events, under the veal of privacy.
If you want to host a private event, simply enable the 'Keep my event information hidden' (your event will only be visible to the people YOU want) and click on 'Continue' to proceed to next step.

However, if you do move forward with public events, we have to choose categories for your event.
While selecting a relevant category will display your event under the chosen category, will improve the discoverability of your event on our website. 
Finally, click on 'Continue' to proceed to the next step.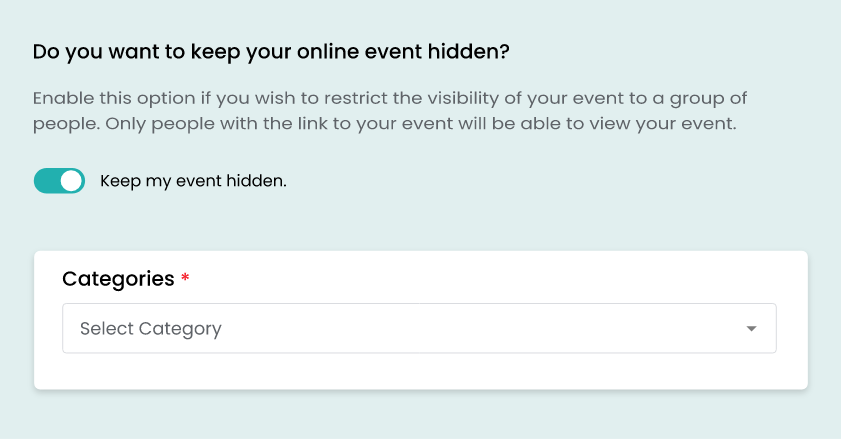 We begin this step by first deciding on the Event Date, Time and Duration.


If you are hosting an event consisting of multiple days, then check the 'My event runs multiple days', which will give you the option to add multiple sub-events to your event, for each day.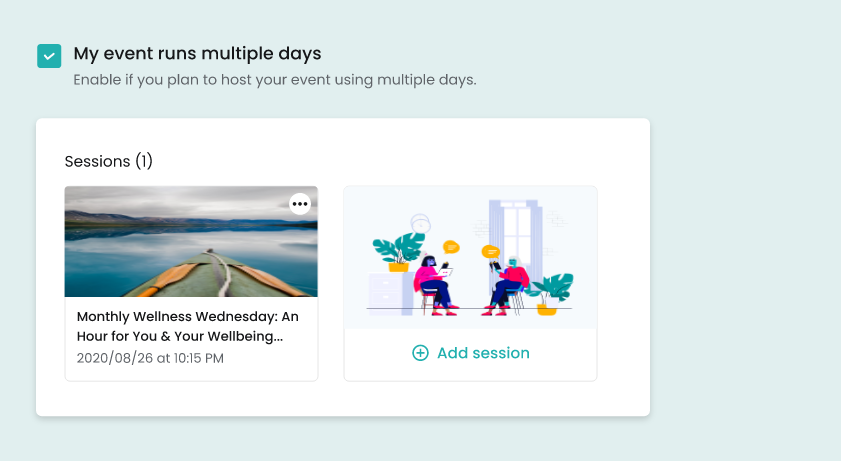 Next, we move onto choosing a venue for your event. Start typing your venue name in the Venue field, and you will see suggestions related to your type. Choose your desired venue from the menu and you will see all the field will be auto-completed. Similarly, the google map link to your venue will be auto-detected.
If however, the google map pin is found in the wrong location, simply click on Update to drag the pin to your preferred position on the map.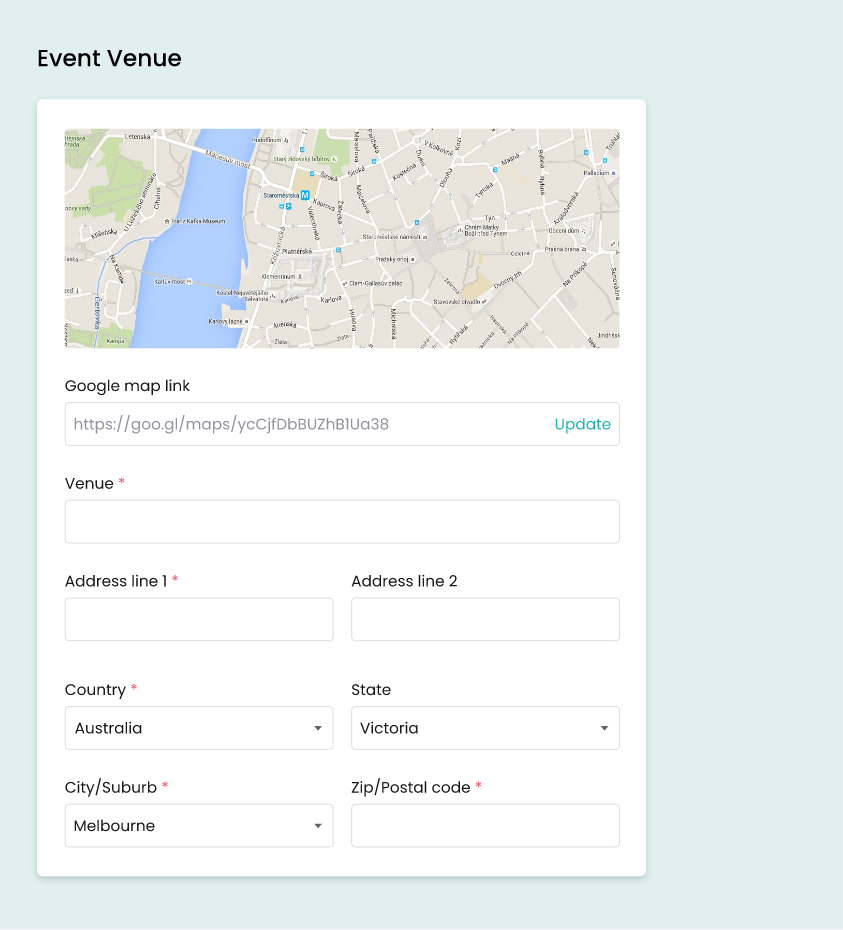 Next customise your online event banner, by setting a dazzling picture (or multiple!) as your event banner. Simply use 'Change image' to change the default image to your preferred ones.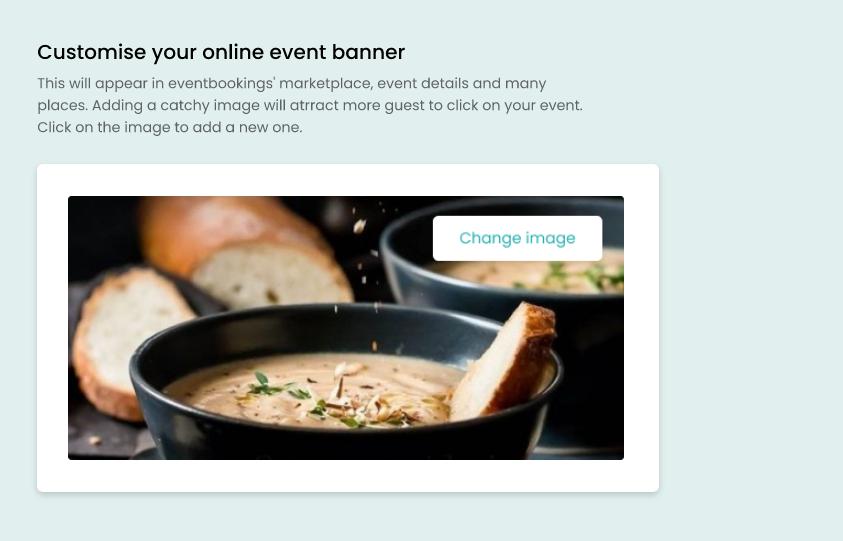 Moving on, here add a description for your venue event. We suggest writing a clear, elaborate and inviting description for your event, so that the people visiting can easily understand your event and be influenced to attend it too!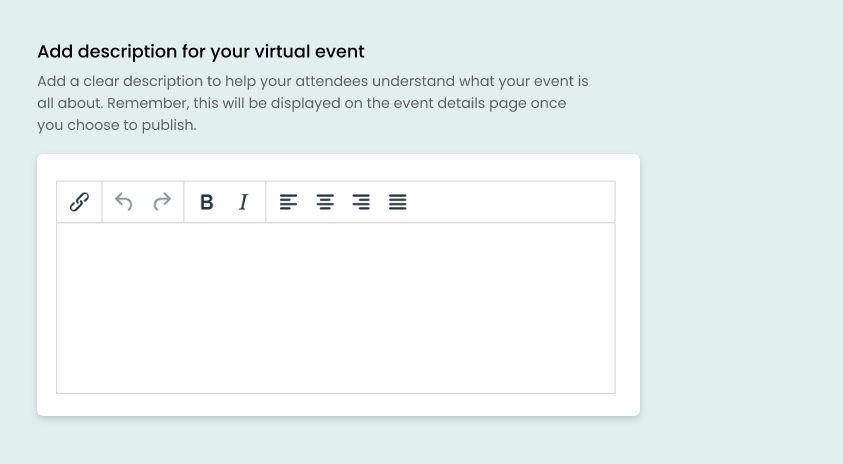 And finally, here you can add the ticket type and their different settings.
First, decide on whether you want a single type ticket (sold individually) or a group type ticket (sold in a pack).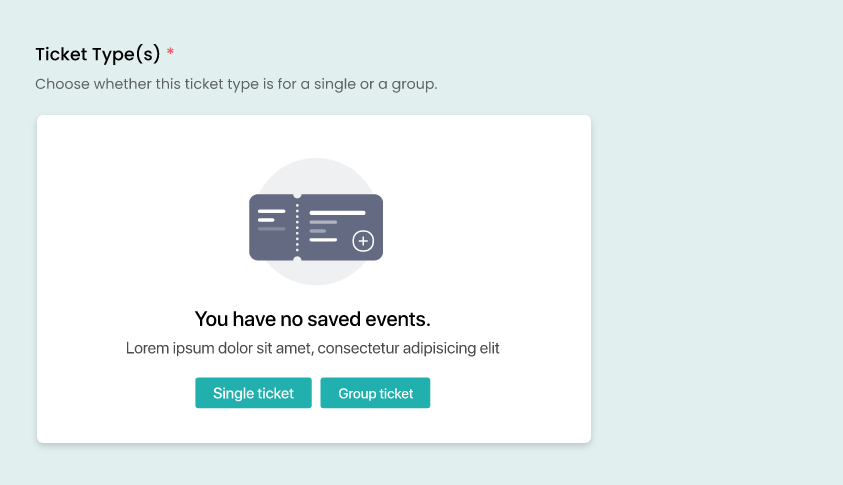 If you choose a Single type ticket, then you can provide the following details:
Name
Base Price
Sort order
Description
**Note: You can also add a sub-type for single tickets to create a sub-categories such as Premium, Standard or Gold. In such cases, the name and individual price of the type needs to be added and the base prices are ignored.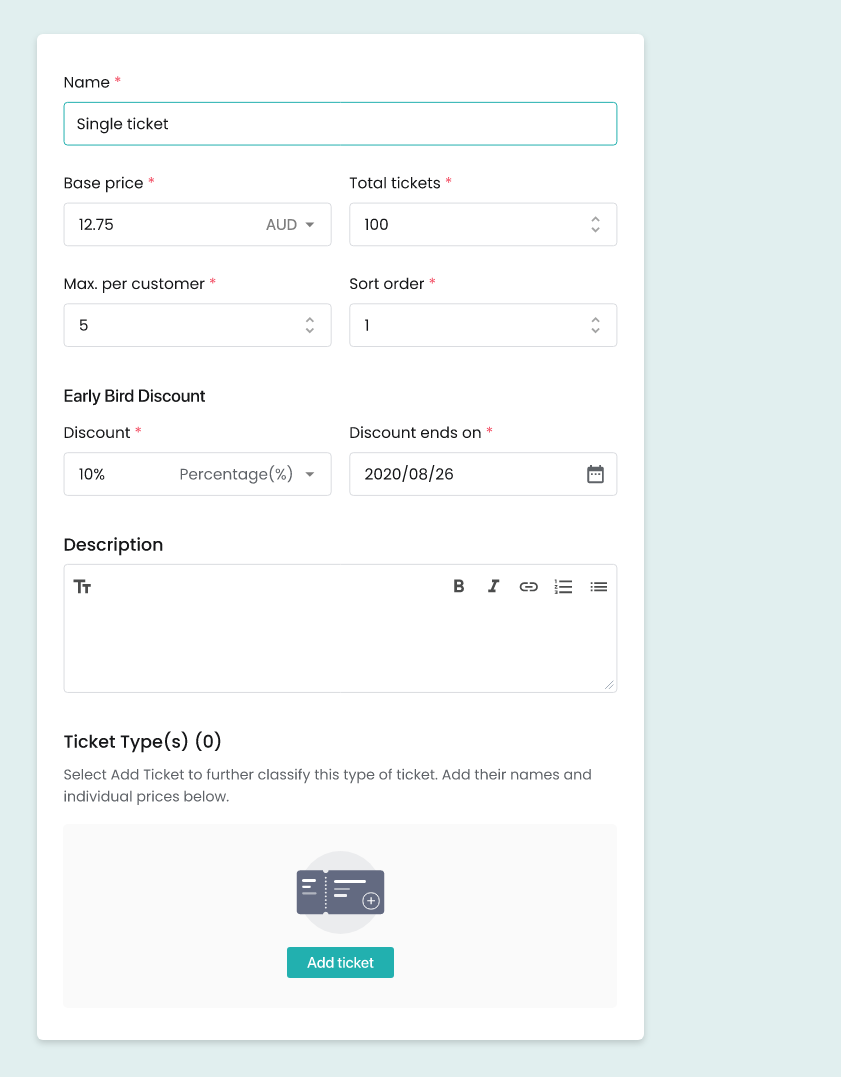 If you choose a Group type ticket, the following information will be asked:
Name
Price
Total number of tickets per group
Order in which they will appear.
Description
**Note: You cannot add a sub category of group tickets.
You can add as many ticket types and categories as you desire, by selecting the type each time and filling out their respective information. You can also add the 'early bird discount' settings individually for each type of ticket.
Once you are done with all of the above, click 'Continue' to go to the third step.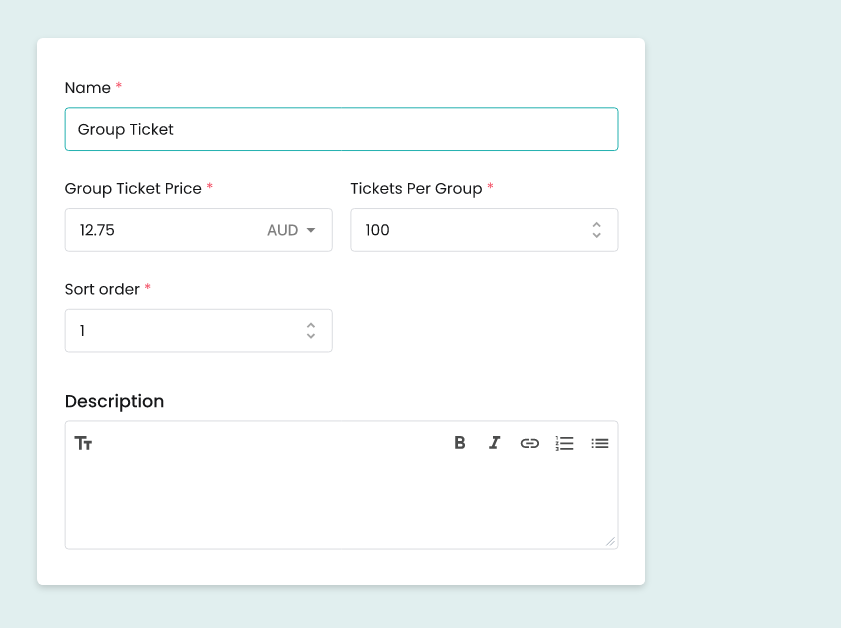 In this step, you can add the final touches to your website.
If you require additional details about your attendees, enable the 'Does your event require additional details from the attendees?'
Enabling this brings forward a form builder where you can add text fields, check boxes and many others and design a form catering to your needs.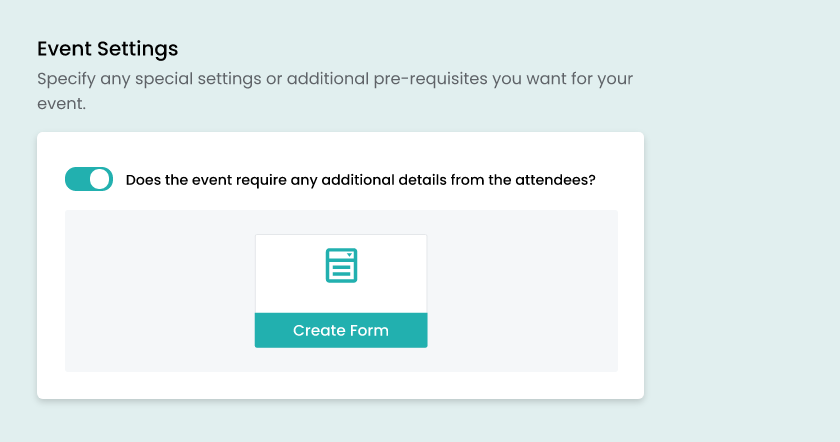 Finally click on 'Create' to create your event. You will be directed to the Overview page, once your event is created and you will be asked to publish your event.
Choosing 'Click here to publish' will publish your event! After publishing your event will be live and people can start buying their tickets.
After the successful publishing of your event, you can still add some additional settings in the advanced settings section, we offer you the chance to add some more minute details to your event.
For example, you can specify the booking start and end date and time through the calendar fields and the drop down menu.
Next, you can also provide additional instructions on your ticket (such as bring an ID, or food items not allowed, etc.) using the text field provided. These instructions will appear on your event's tickets.
Last but not the least, if you want to get some feedback from your customers at the time of booking, enable the 'Do you wish to enable additional comment section at the time of booking?' to launch another form builder.
You can also come back to these pages anytime, through the event Overview page to modify your settings.