When planning outdoor events, shelter is one of the crucial aspects to consider. To ensure that your visitors are comfortable and have fun, whether you're arranging a wedding, corporate event, or festive celebration, you must provide enough shelter. For your demands for an outdoor event, tent rentals offer a flexible and practical alternative. In this article, we will discuss the value of tent rentals and the numerous types of tents available, point out important things to consider, and offer helpful guidance for renting a tent and canopy.
Types of Tents and Canopies:
In the same way that parties and gatherings occur in all different shapes and sizes, so do rent tents. Discover the characteristics of each type of tent to choose which would be the most suitable for your event:
1. Frame tents:
Frame tents are metal-framed with no interior poles and available in various sizes and lengths. Standard frame tents use round aluminium tubing frames, while high-peaked frame tents have a centre pole on top of 'X' cables. Professional installation is required, and they can also be custom-built to cater to unique styles. These tents can range from 8'x8′ to 50′ in size.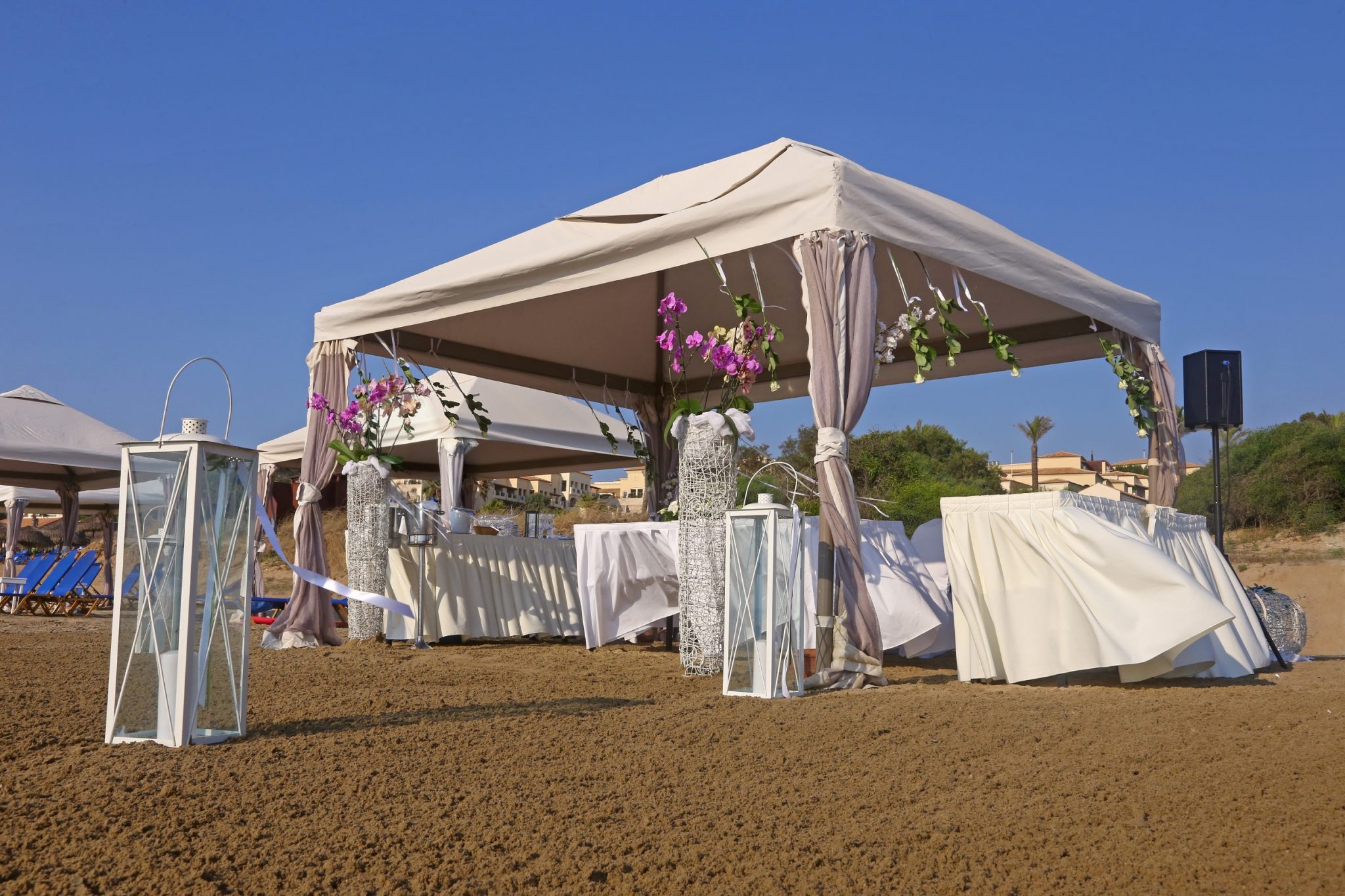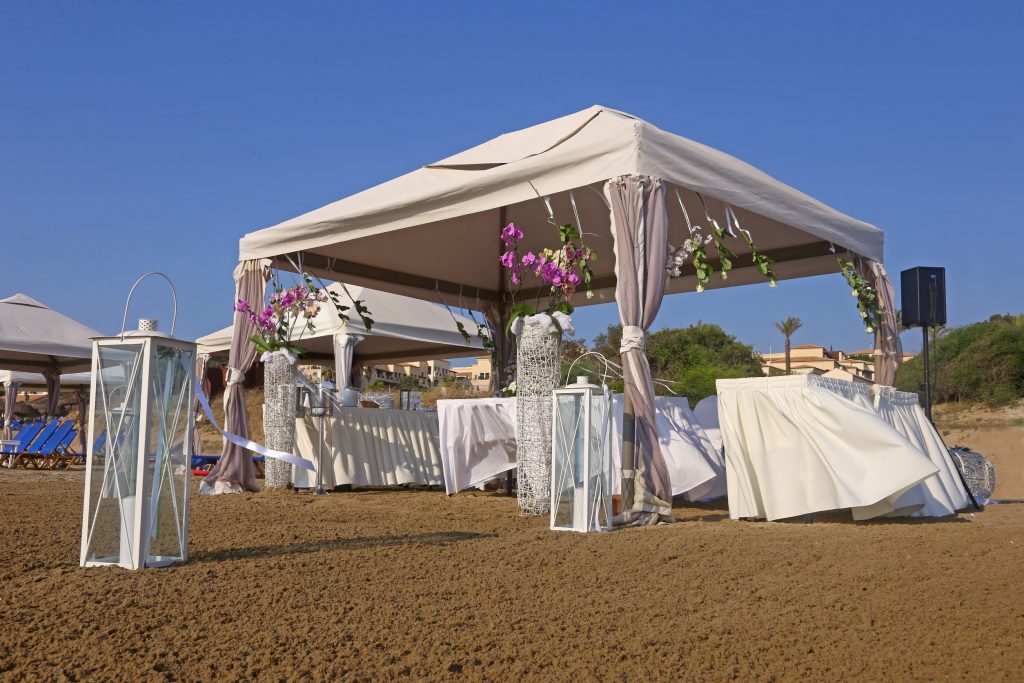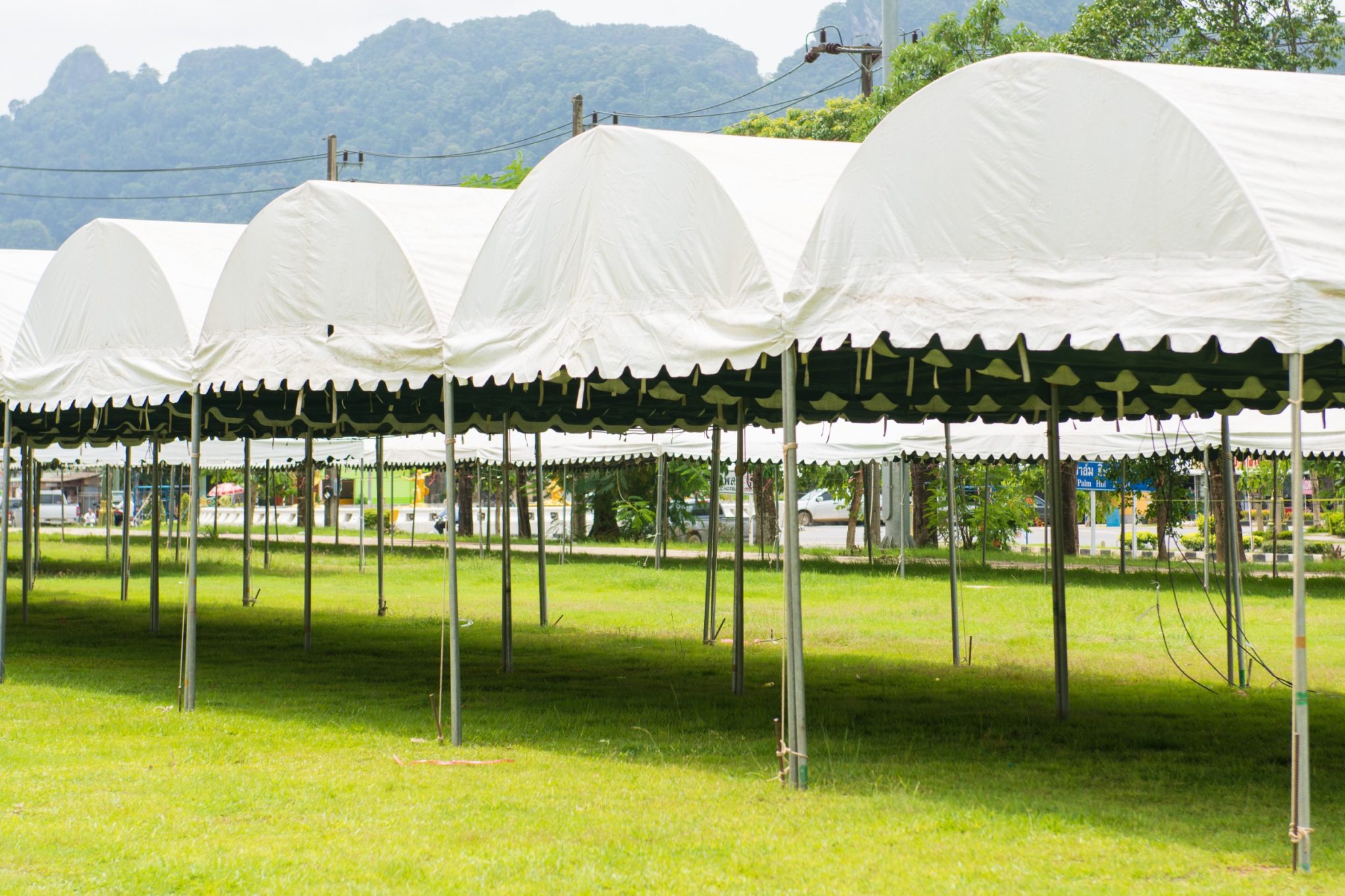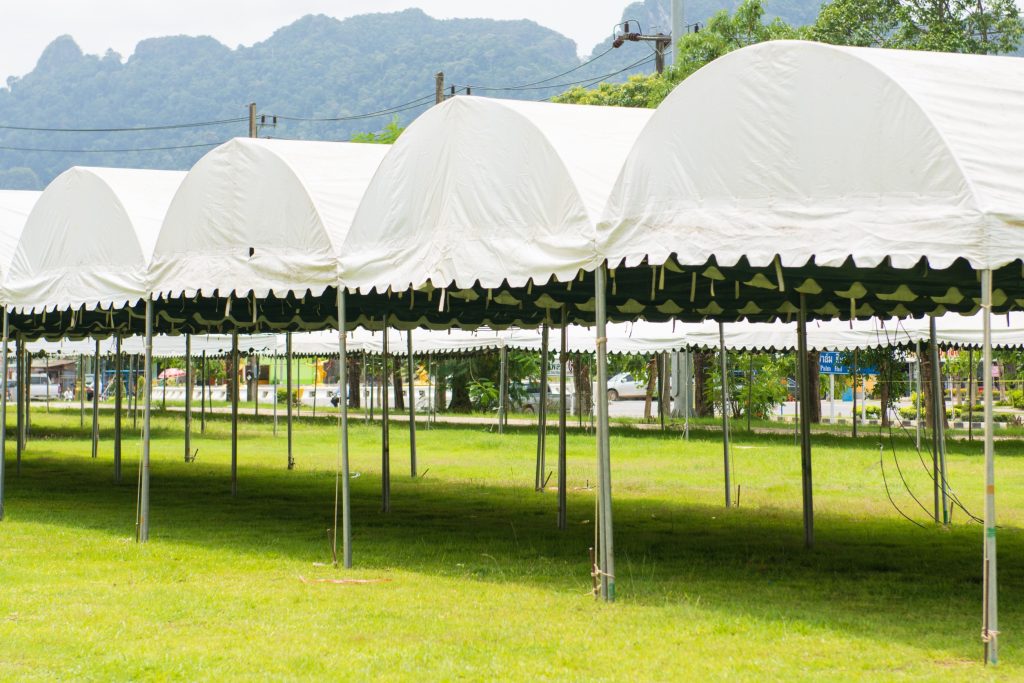 2. Pole tents:
Pole tents are traditional, budget-friendly, and versatile, with interconnecting poles and centre poles for support. They are suitable for various events but are limited in surface pitches and can be pitched on grass landscapes. They come in multiple sizes and are ideal for events like barbeques and small outdoor gatherings. However, due to the centre pole, they lack a clear line of sight, making them unsuitable for focal events like weddings.
3. Clear span tents:
Clear-span tents are ideal for large or small parties, offering a wide-open area for guests, a stage, a dance floor, and an entertainment area. They can be customised to meet specific party needs and come with flooring options like wood or carpeting. These sturdy tents allow sidewalls to be opened or closed as needed and are designed to withstand weather conditions without centre poles. The frame is on the outside, allowing for full use of the space under the tent.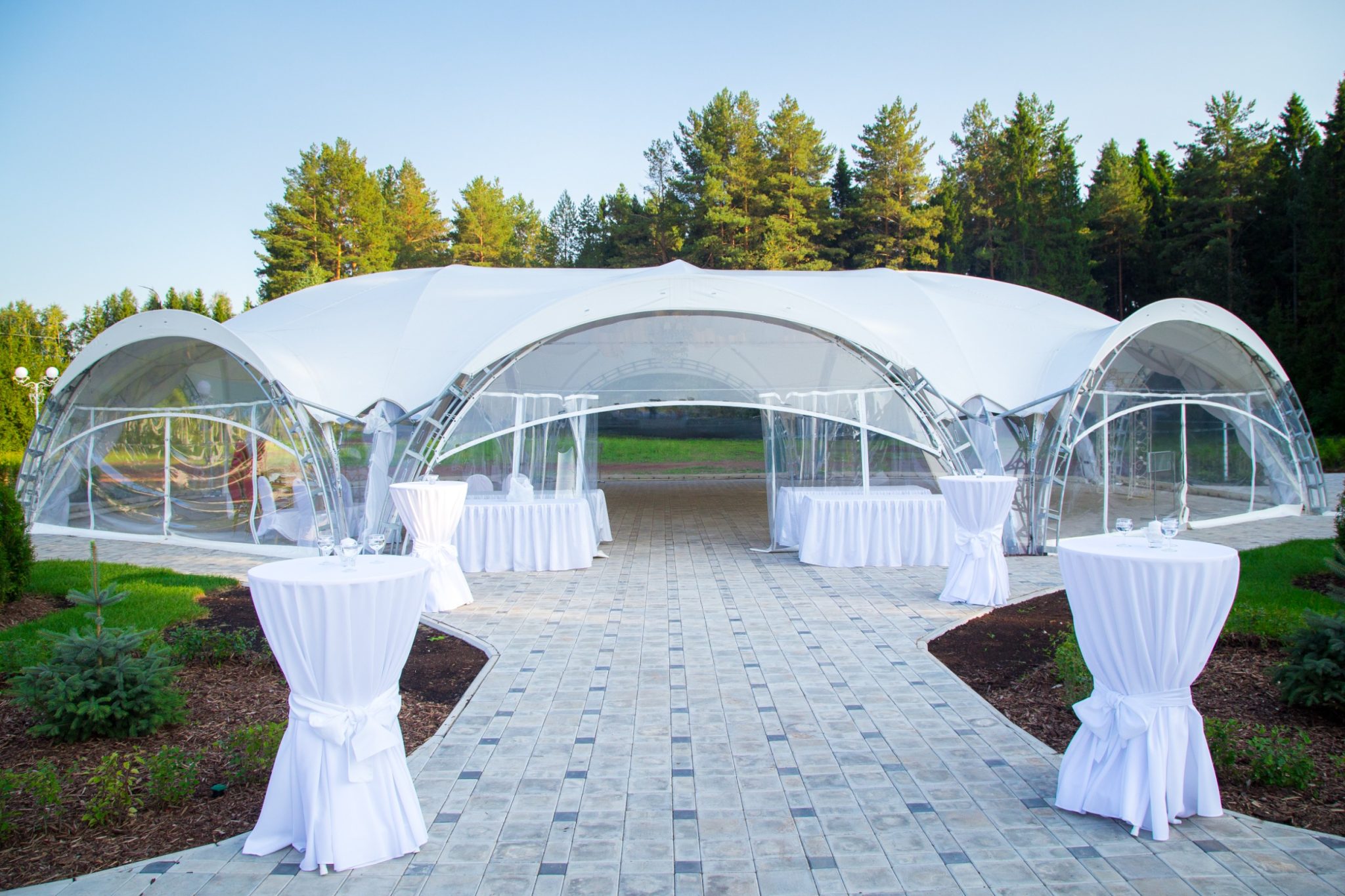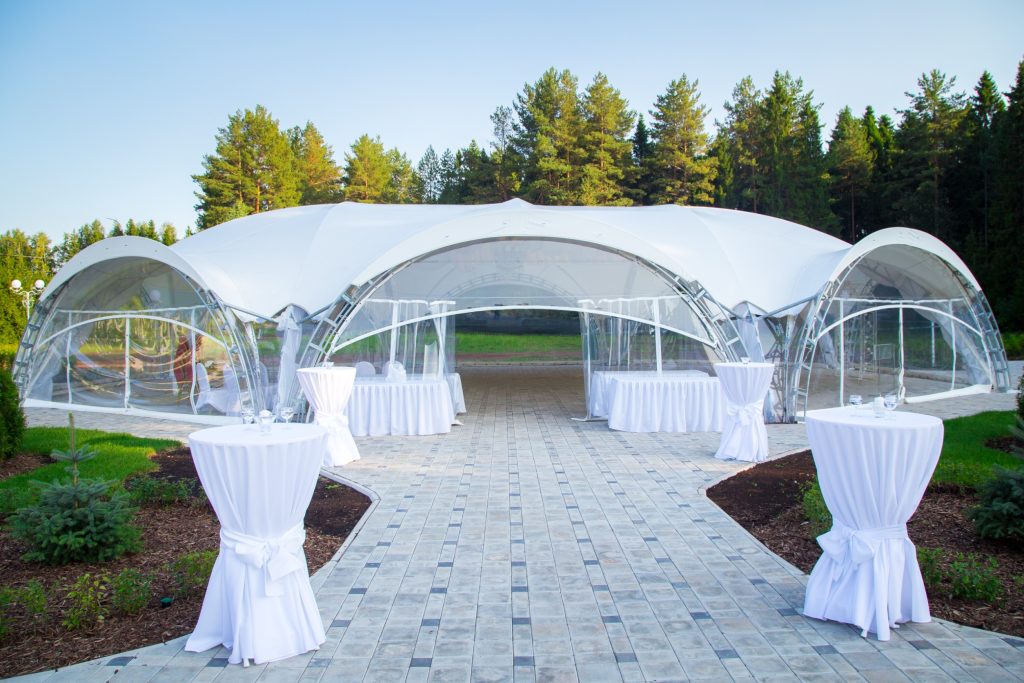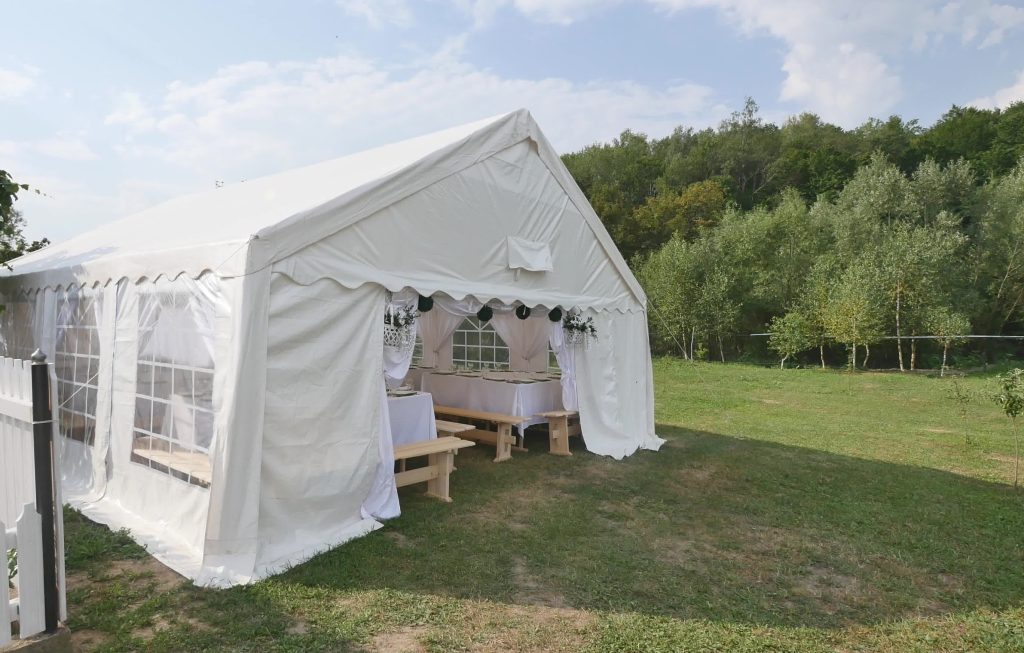 4. Swiss cottage tents:
Swiss cottage tents are lightweight, refined tents made of light canvas cloth, designed to provide shade and protection from sun rays. They come in various sizes and designs, with a 1-millimetre canvas cloth thickness. These elegant garden canopies are available in white or multiple colours, making them easy to set up and maintain.
5. Canopy tents:
A canopy tent is ideal for guests seeking shade, dry spots, or food protection. It is easy to set up and dismantle, making it suitable for barbecues, beach parties, and parks. However, it is not designed to house the entire party and all associated items. It is also ideal for most backyards.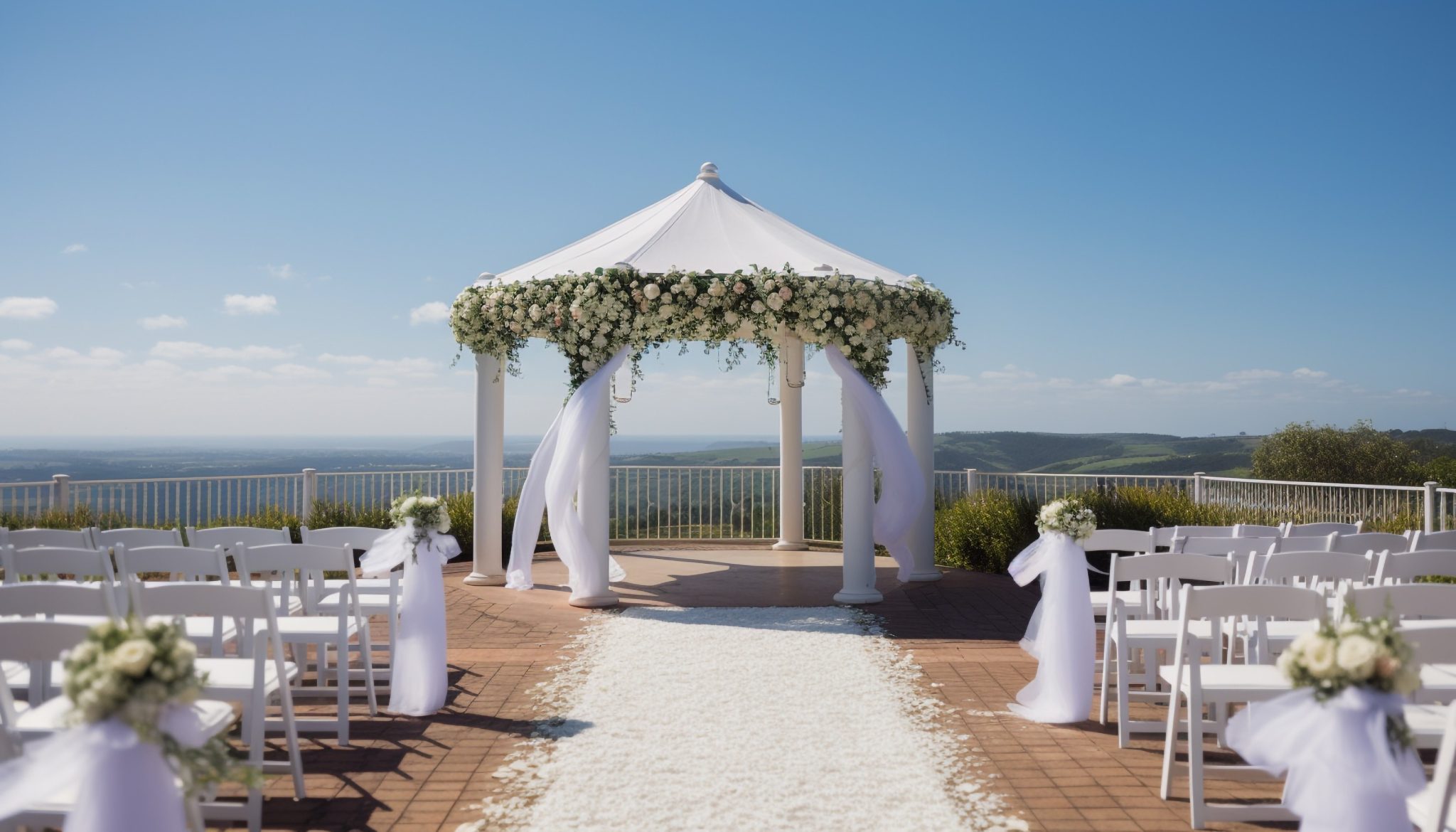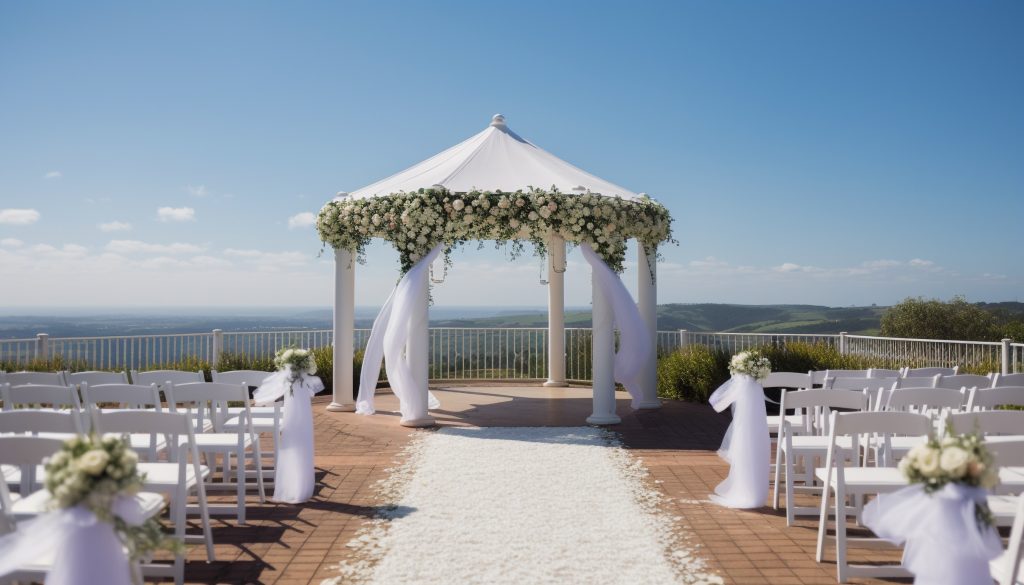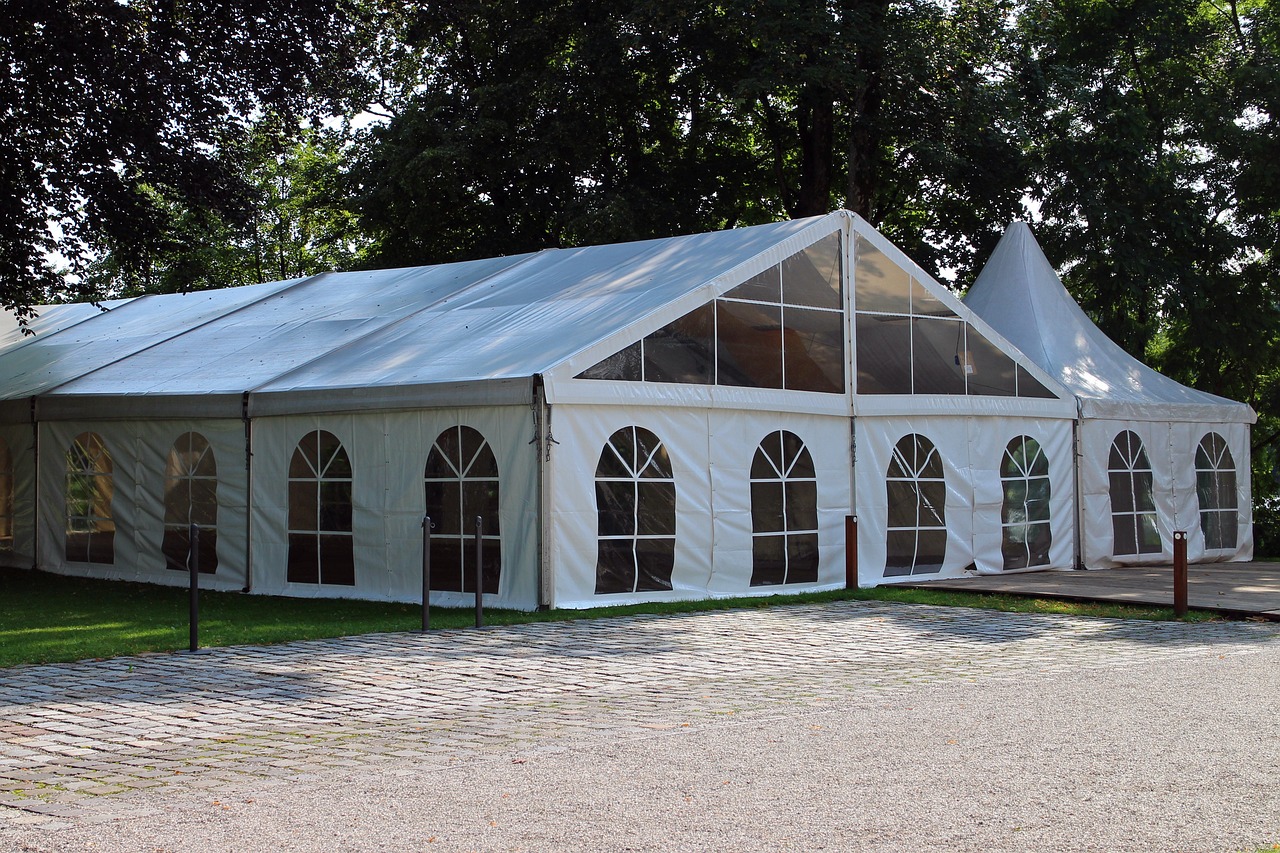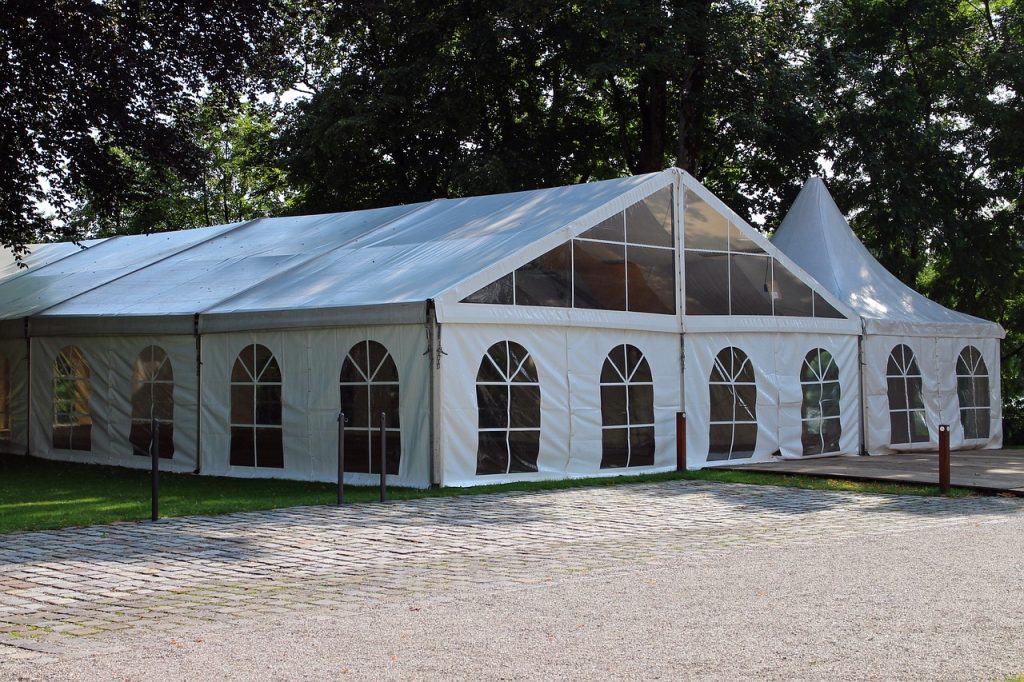 6. Marquee tents:
A Marquee tent is an ideal choice for large events like weddings, commercials, or parties. It can be customized to fit any occasion and provides ample space for guests. This tent can be set up in various settings, such as backyards, farms, or beaches, making it an ideal choice for any occasion.
7. Sailcloth tents:
Sailcloth tents are an aesthetically pleasing option for events, using a transparent canopy material that allows natural light to shine through. Available in various shapes and dimensions, sailcloth tents are ideal for hosting elegant gatherings and providing a luxurious outdoor covering for clients. This option is suitable for business owners looking to offer a luxurious outdoor covering for their clients.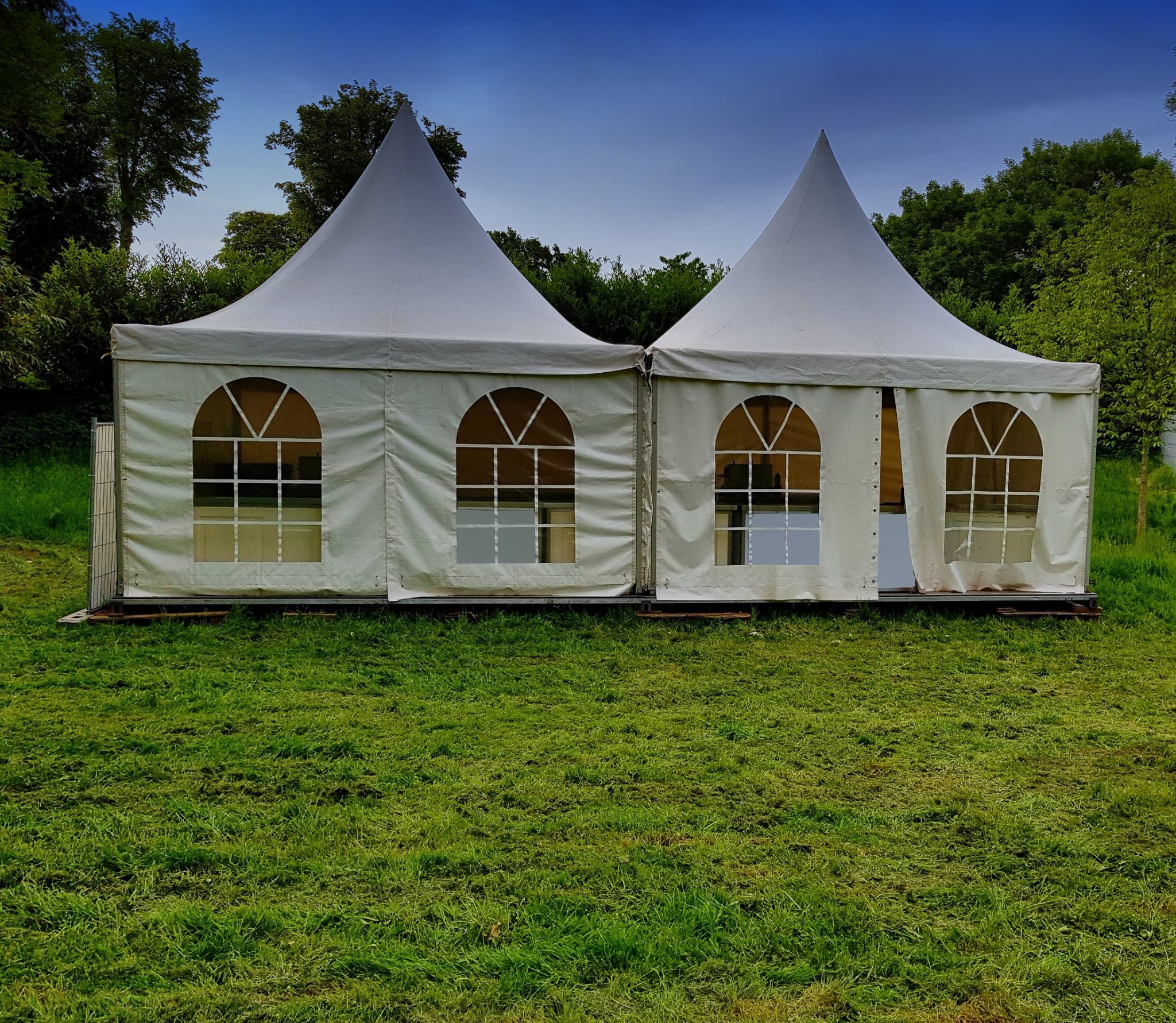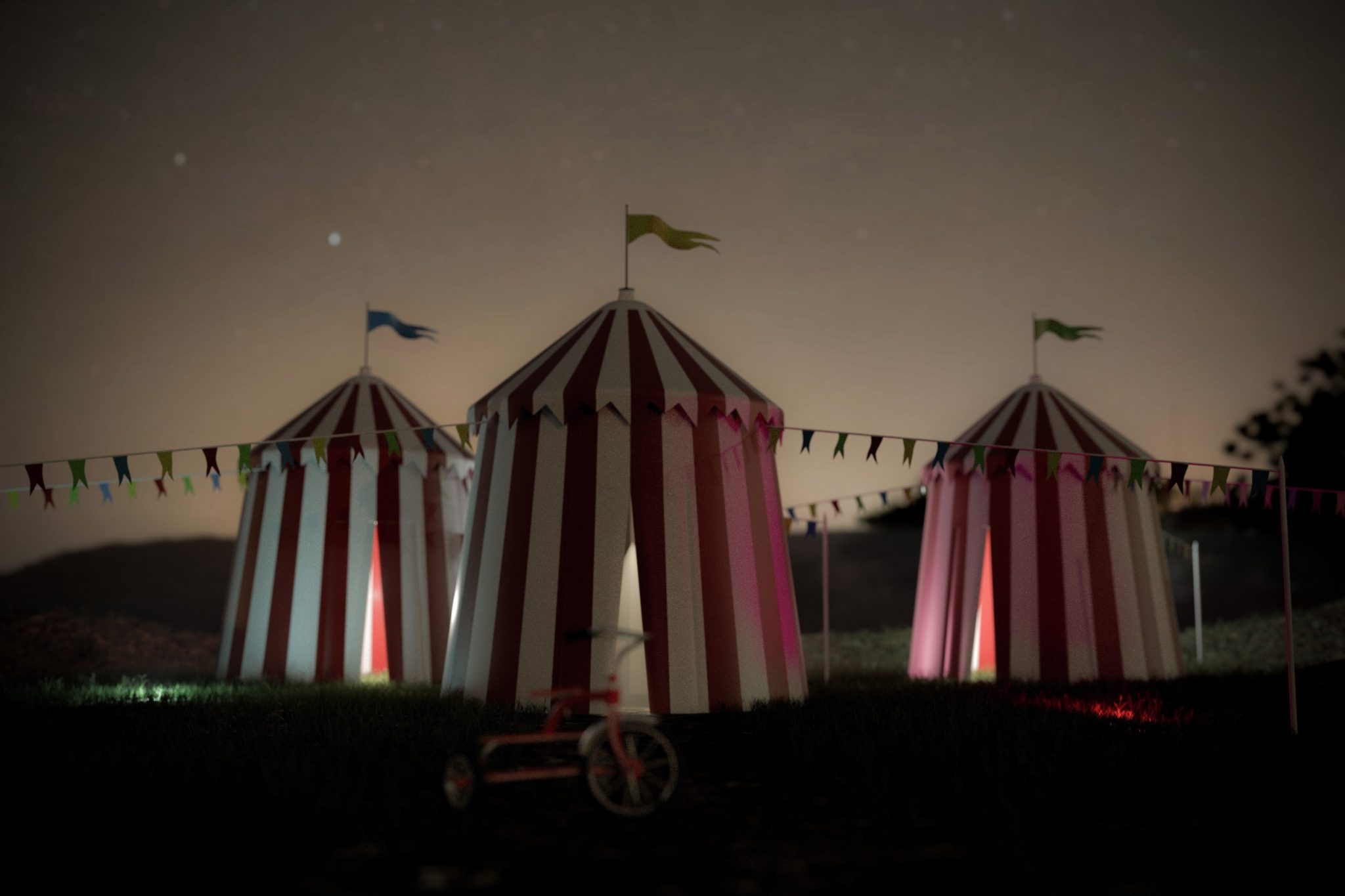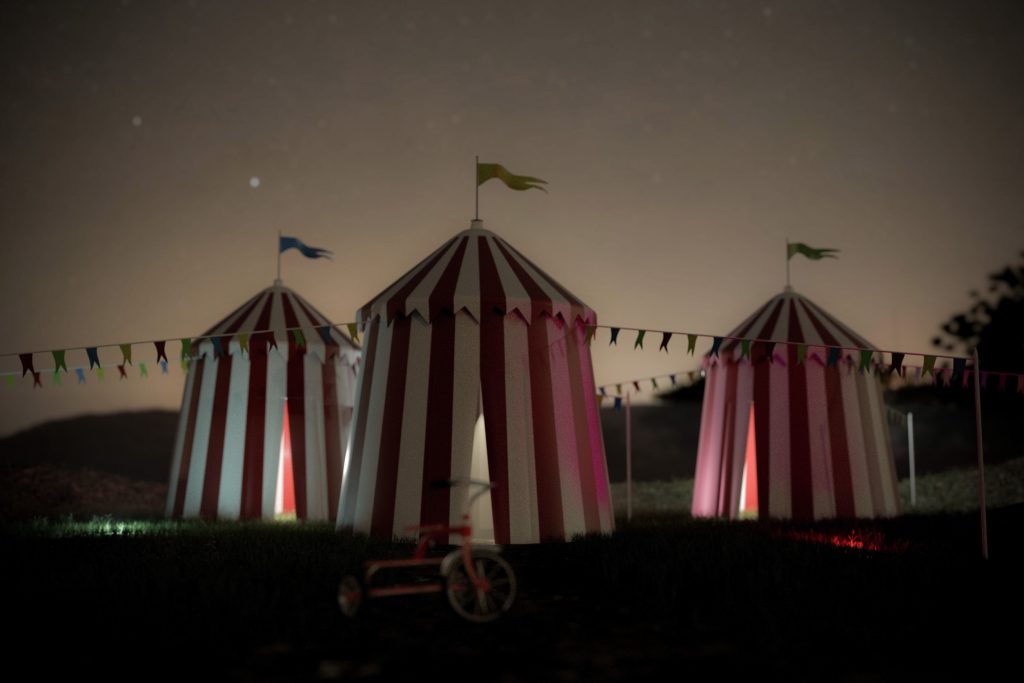 8. Circus tents:
Circus tents can transform birthday parties into an incredible, high-energy experience. This pole tent with red striped fabric offers customizable sizes and sidewalls, making it an ideal choice for a kid's birthday party. Its red-striped material and sidewalls make it a winner.
9. Tunnel tents:
A tunnel tent is a curved tent with curved poles, creating a tunnel-like structure. This tent offers ample breathing room, making camping enjoyable and allowing for more friends and family to join.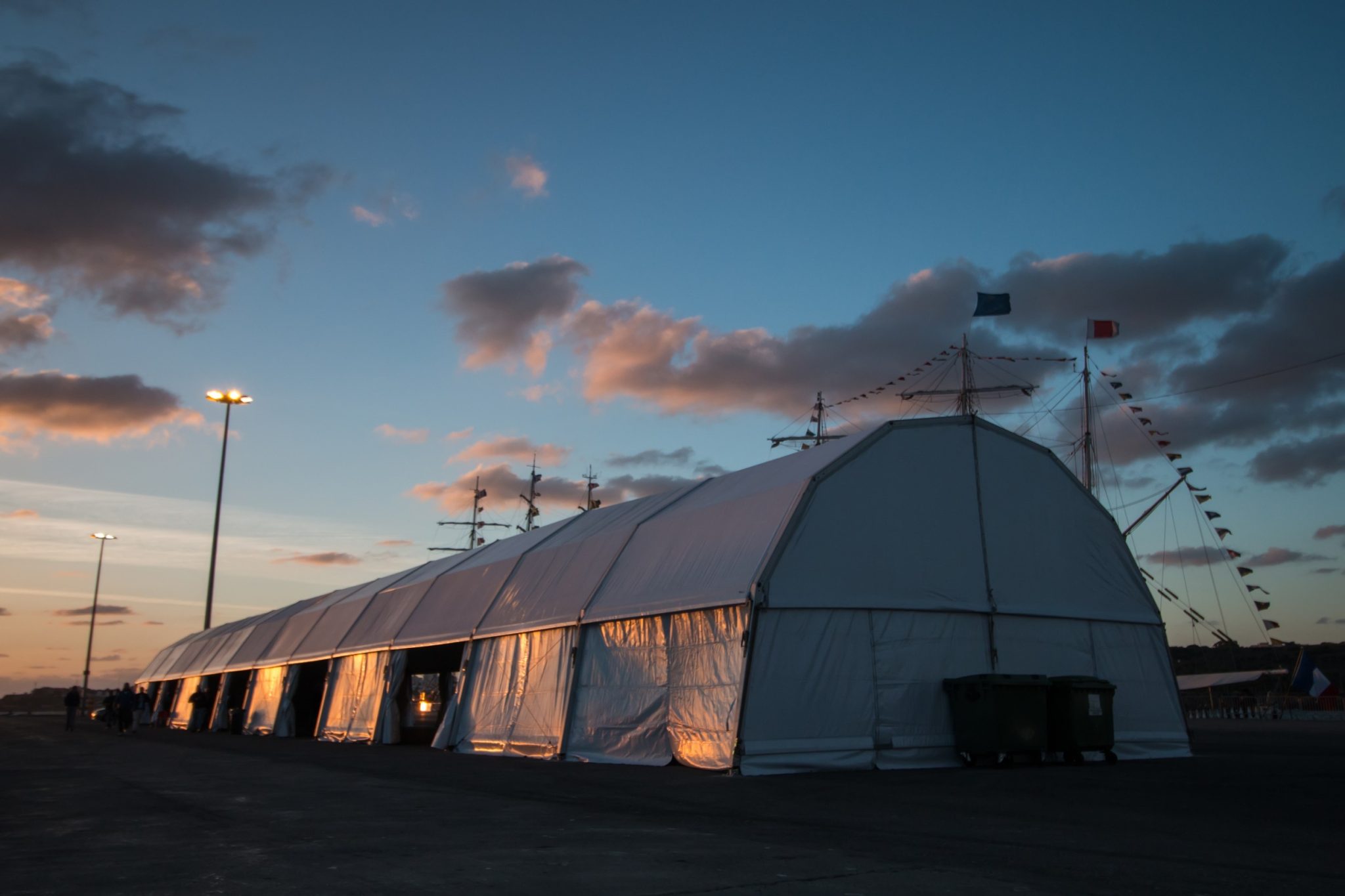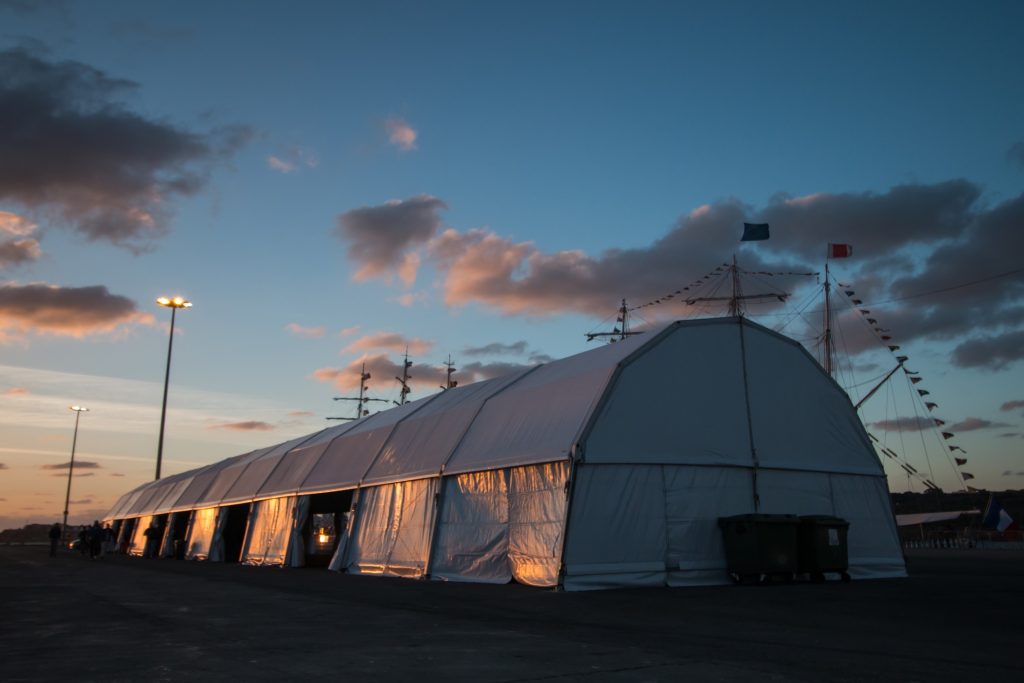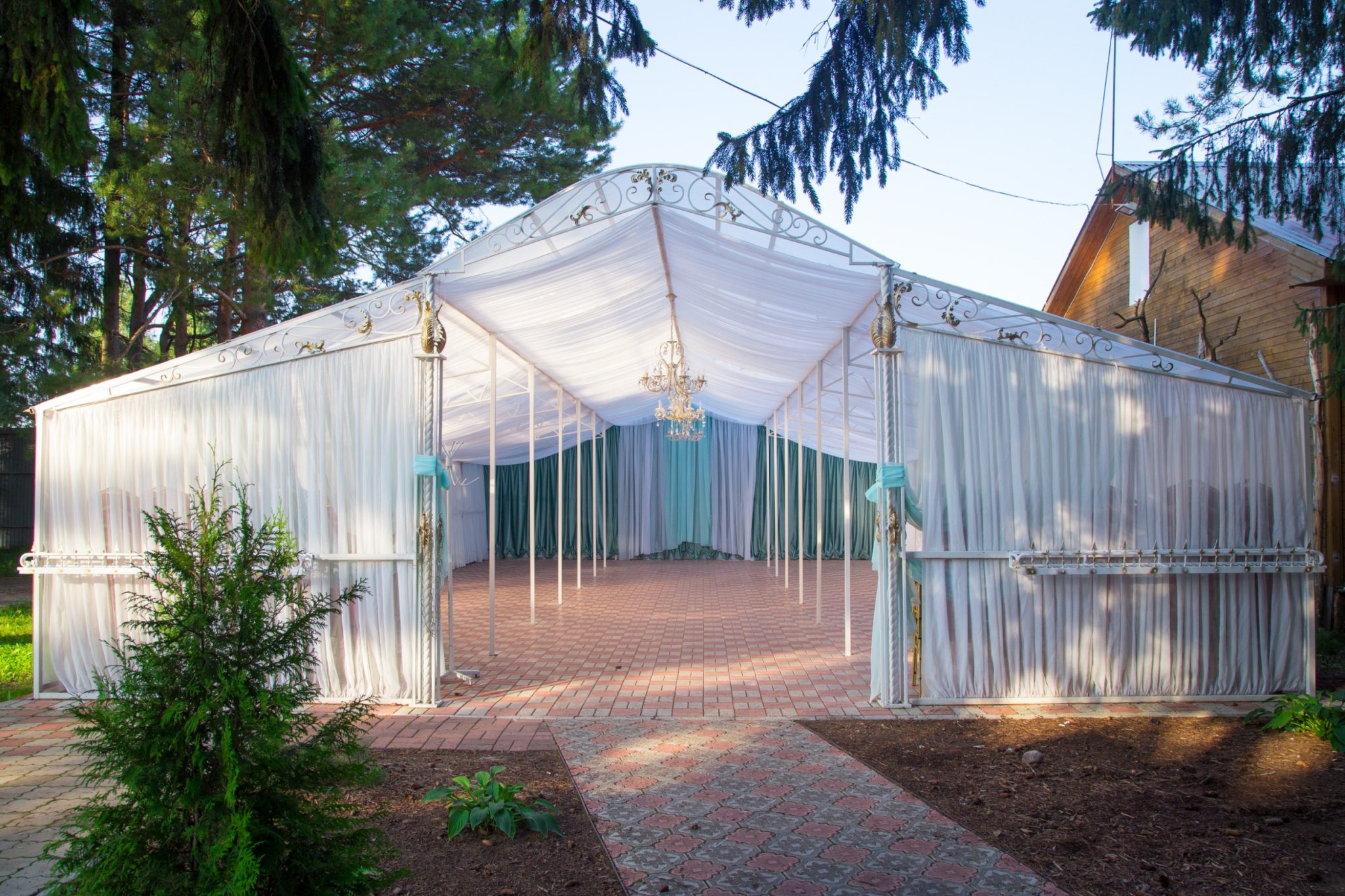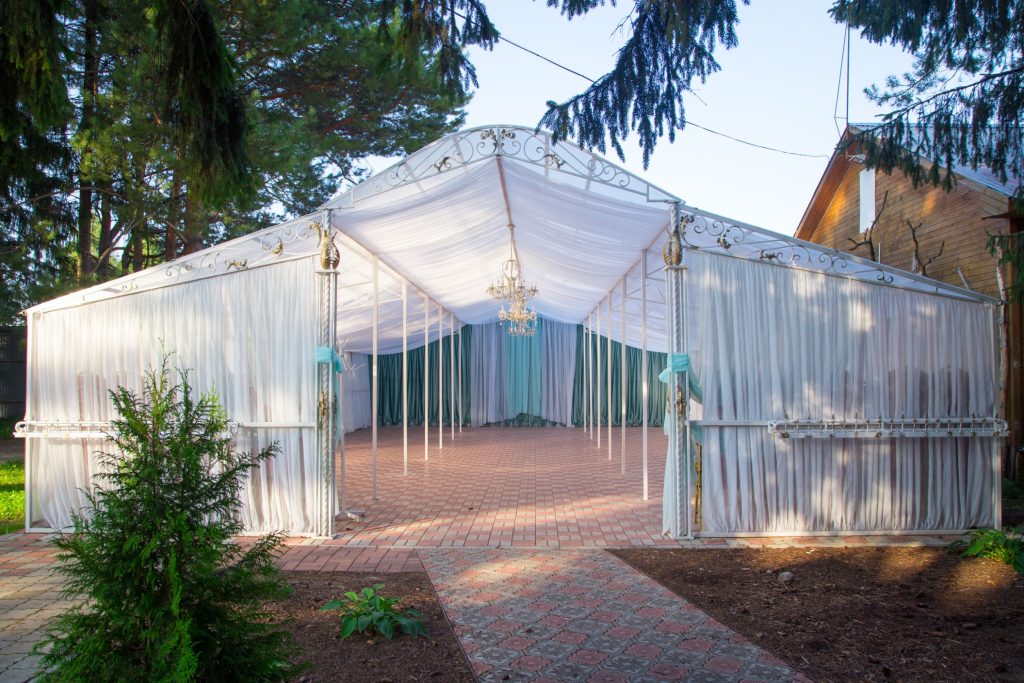 10. Clear tents:
For a safe outdoor party with natural sunlight or greenery as a backdrop, consider a clear tent. These tents are ideal for night-time events, allowing the night sky to be viewed overhead. Most clear tents come with sidewalls, allowing guests to enjoy the outdoors while being protected from the elements.
---
Factors to consider while selecting
To guarantee that you choose the best option for your event, you must consider a number of things while selecting a tent. The following are essential things to bear in mind:
Size and Capacity-
The size of the tent you require will depend on how many people will be attending your event. When evaluating the size of the tent, consider elements like seating layouts, stage setup, and any other space required.
Location and Venue-
To decide if it would be effective to set up a tent, consider the venue and location of the event. Consider elements like the stability of the ground, utility accessibility, and any limitations or permissions the venue may require.
Weather Conditions-
Be aware of the regular weather patterns in the area where your event is taking place. Select a tent that has enough weather protection and can survive difficult circumstances if you expect rain or high winds.
Additional Equipment and Accessories-
The possibilities for decorating your event tent are limitless. You can discover event tent accessories to match your style, whether you're planning a themed party, a formal wedding, or a business event. The following items are essential to have in your event tent:
Lighting-
Incorporating lighting in rental tents is a cost-effective and effective way to accessorize outdoor events. It instantly transforms the space with options like classic yellow, blues, and oranges. Remember always to incorporate lighting in your outdoor events.
Sidewalls-
Sidewalls from tent rental companies provide an enclosed space for your tent, regulating temperature and making it more formal and elegant. They can be see-through, small windows, or closed-off, allowing you to add elements like lighting, flowers, and decorations to enhance the event's look.
Flooring-
For formal events like weddings, flooring is recommended to create a cohesive space and prevent guests from exposing the tent to the uncovered ground. Most tent rental companies offer flooring services for an additional fee.
Stage-
A rental tent stage offers numerous decorating and seating options for outdoor events. It can build anticipation and draw guests' attention to entertainment. Some DJs and bands require a stage for performance and equipment setup.
Dance floor-
Whether it has flooring or not, a dance floor is essential for any tent event. It encourages guests to have fun and can be made with appropriate materials for dancing. Incorporating a dance floor into your event is relatively simple. Consider asking your tent rental company to provide one.
Heating/air conditioning system-
Ensure guests' comfort and interest at your event by properly cooling and heating. Summer events require air conditioning and cool areas for beverages. Even during non-summer months, have a few cooling items on hand to keep guests cool. Additionally, have multiple heating sources to accommodate unpredictable weather conditions. Ensure guests have designated areas to warm up when needed, even if not all tents have heating units.
Installation tools-
To set up a party tent, consider the following tools: tent jacks for medium-to-large frame tents, stake drivers for secure stakes, stake pullers for easy take-down, and a centre pole lift plate for easy pole positioning. These accessories save time and prevent bent stakes during setup. Stake pullers also help remove stakes from the ground, while a winch ensures a quick pole setup. A centre pole lift plate and winch can also help with heavy pole setup, ensuring a smooth and hassle-free event.
Safety accessories-
Lastly, safety and security should be the concern in tent rentals. An emergency exit sign helps guests know where to go in case of a fire, while a wind alarm alerts guests of potential danger and ensures tent safety. A fire extinguisher can quickly and efficiently respond to small fires, such as candles tipping over or a caterer's food heater catching fire on linen.
How to find the best provider:
Getting what you pay for is crucial when hiring a party rental company. Look for companies offering reasonable prices and check reviews and recommendations from loved ones and friends. Avoid companies that don't answer the phone or return calls immediately, as this shows a lack of reliability. Get a written quote from the vendor before committing to any service, including installation, cost breakdown, delivery, and down payment. Be transparent and competitively priced to ensure the success of your event.
Be prepared for potential cancellations and review cancellation policies to avoid surprises in the future. Many tent companies also provide tables, chairs, dance floors, stages, linens, catering, and decor. Choose a provider that can help with all your event needs, reducing confusion and making it easier to work with one vendor instead of several.
Last words
Tent rentals provide numerous benefits for event planning, including convenience, flexibility, cost-effectiveness, and customization options. They allow for location selection and create a unique atmosphere with professional assistance, time savings, and enhanced guest experience. They also offer weather protection, high-quality equipment, efficient space utilization, and stress-free planning. Tent rentals are sustainable, offering an eco-friendly approach to event hosting. Soak in the advantages of tent rentals following our above guidance for a memorable occasion that exceeds expectations.
If you want to host your next event with the help of professionals in the industry, we can help you. You can monitor your whole system and sell online event tickets with EventBookings, the best event management software in town.