When summer rolls around, everything feels brighter and happier. The days are longer, and the weather is warm and inviting. There's a certain positivity in the air during this season, a feeling of boundless possibilities and carefree joy that calls us to live every sun-kissed moment to the fullest.
The long-awaited summer months present the perfect opportunity for adults to gather friends and loved ones, bask in the golden rays, and relish life's simple pleasures. Whether you love the beach, BBQs, or just being outside or even inside, there are numerous summer party ideas for adults of different preferences. In this article, we'll explore many fun summer party ideas to help you have a fabulous time during this particular season. So, put on your summer clothes, get ready for some sunshine, and explore some fantastic summer theme party ideas together!
Exclusive Summer Party Ideas for Adults Who Love to Have Fun
Beach Bonfire Party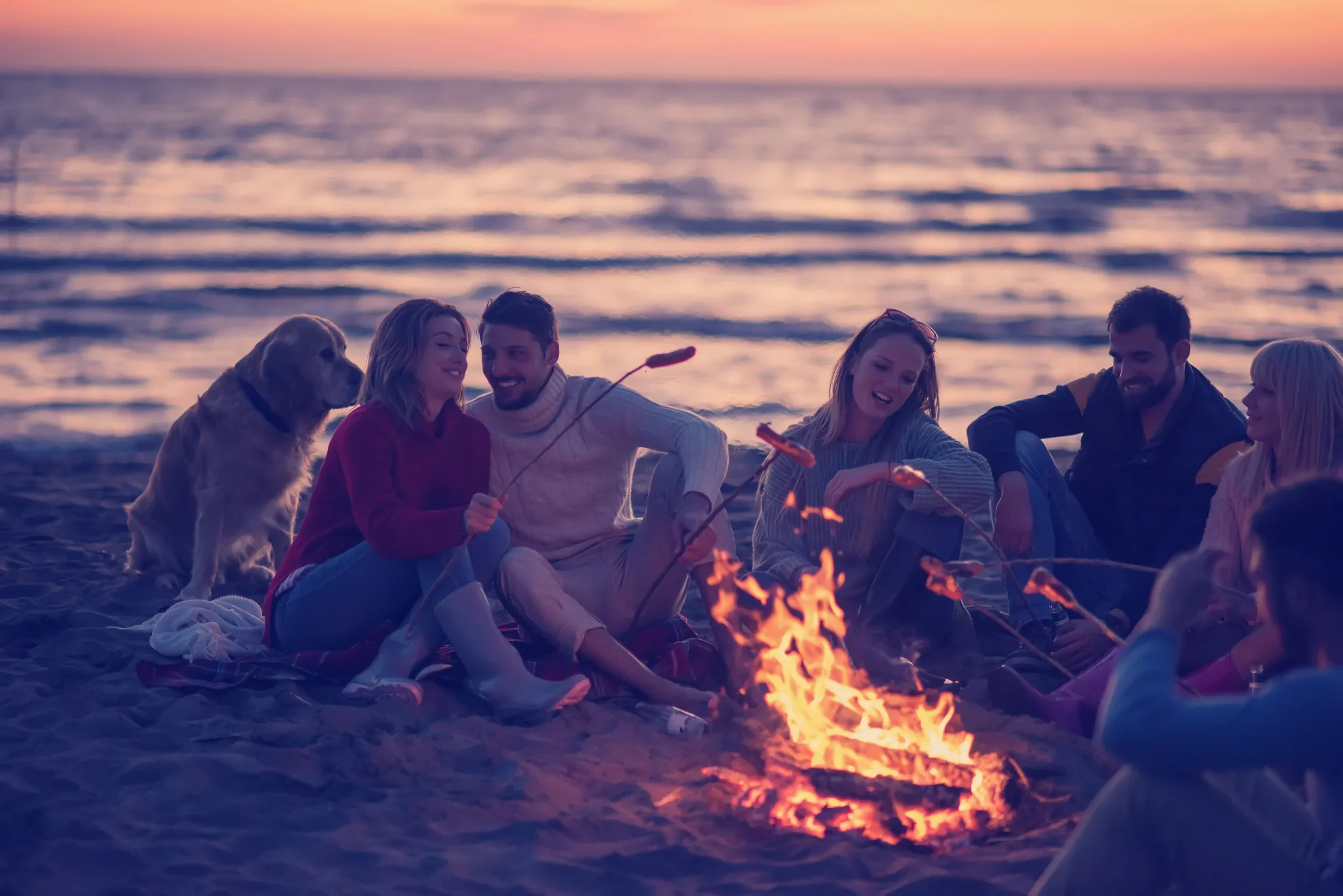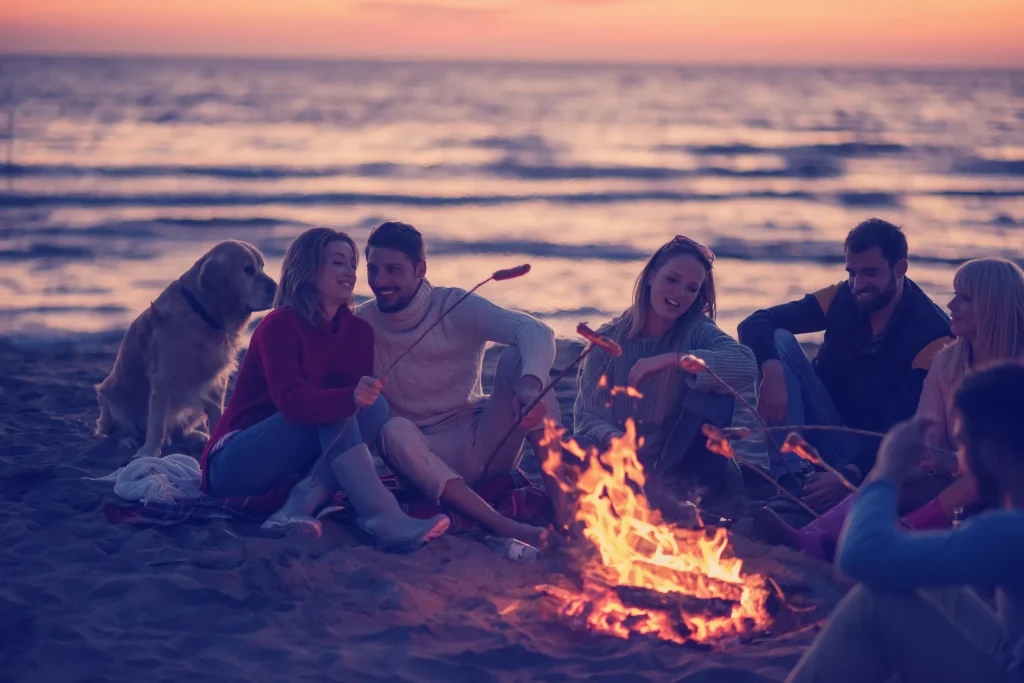 It is a super fun gathering on a sandy beach, usually in the evening when the sun sets and the stars come out. Imagine you and your friends sitting around a warm and crackling fire right by the shore, with the sound of the waves in the background. You can roast marshmallows on sticks or bring your favourite snacks to the beach. It's like a cosy campfire right on the beach! You can play games, share stories, and relax in the cool breeze. It's a fantastic way to enjoy the beach, have fun with friends, and make lasting memories. Just remember to follow safety rules and take care of the environment by cleaning up afterwards!
Garden Picnic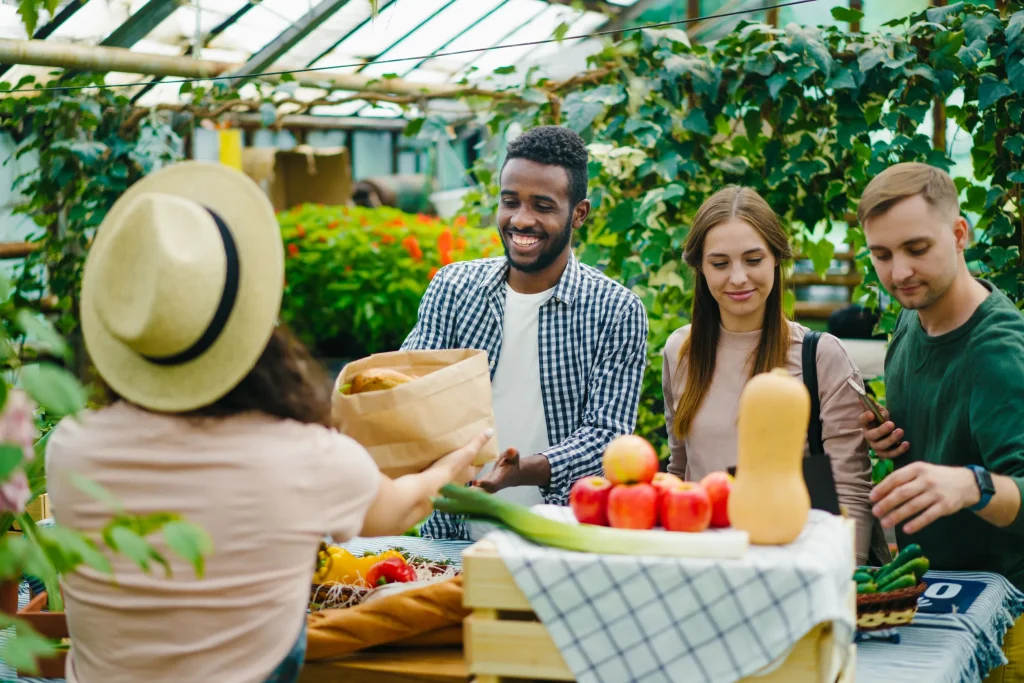 This picnic can be a delightful option for outdoor summer event ideas that take place in a garden or a beautiful park. It's like having a fancy meal outdoors but relaxed and casual. People usually bring their favourite picnic foods like sandwiches, fruits, chips, and cookies, and everyone shares. You can play games like frisbee catch or even just enjoy the natural surroundings, the colourful flowers, and the fresh air. Garden picnic parties are perfect for spending good time with friends and family while breathing in the freshness of nature. Remember to pack sunscreen and maybe some bug spray to stay comfortable!
Rooftop Cocktail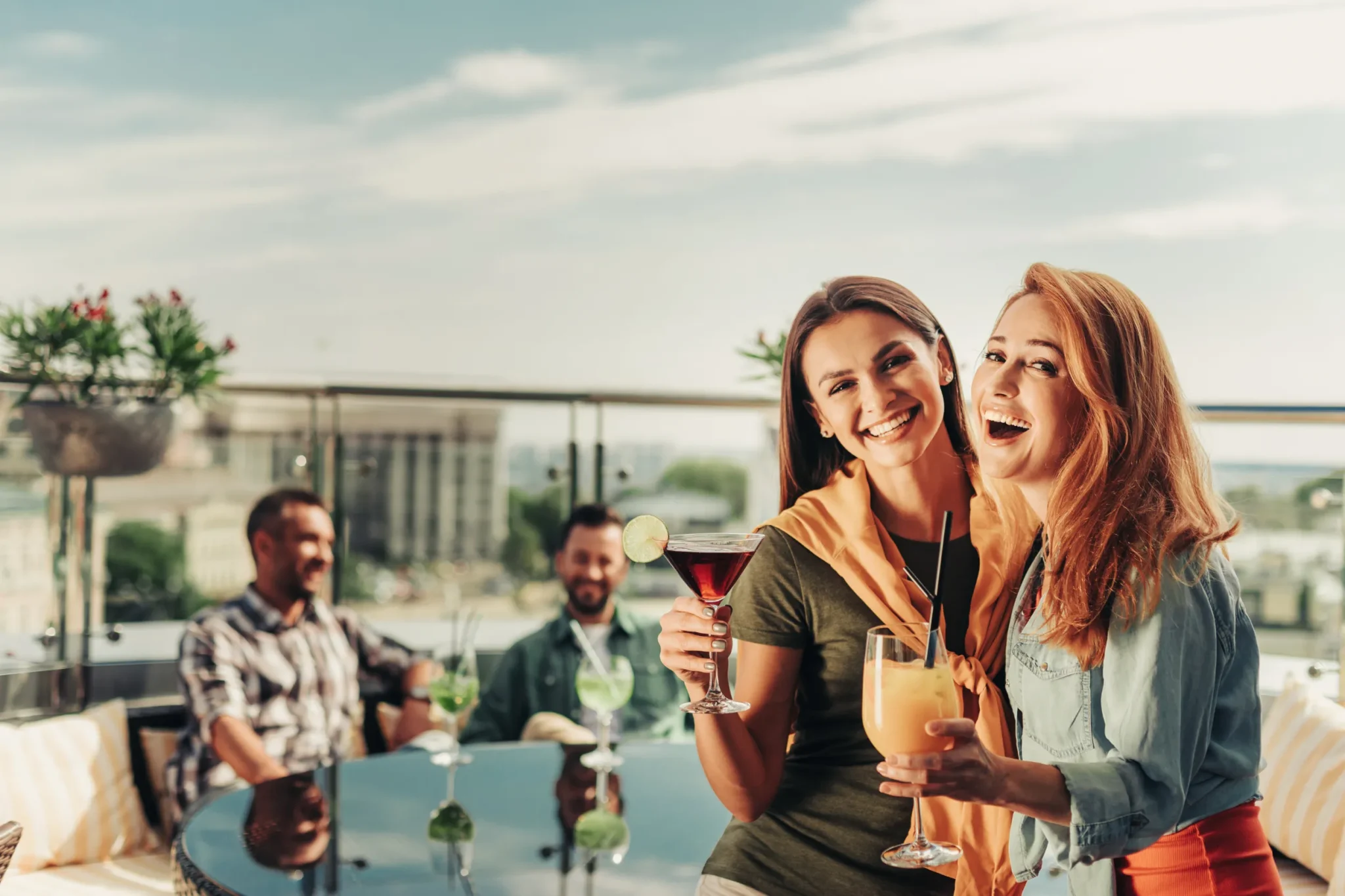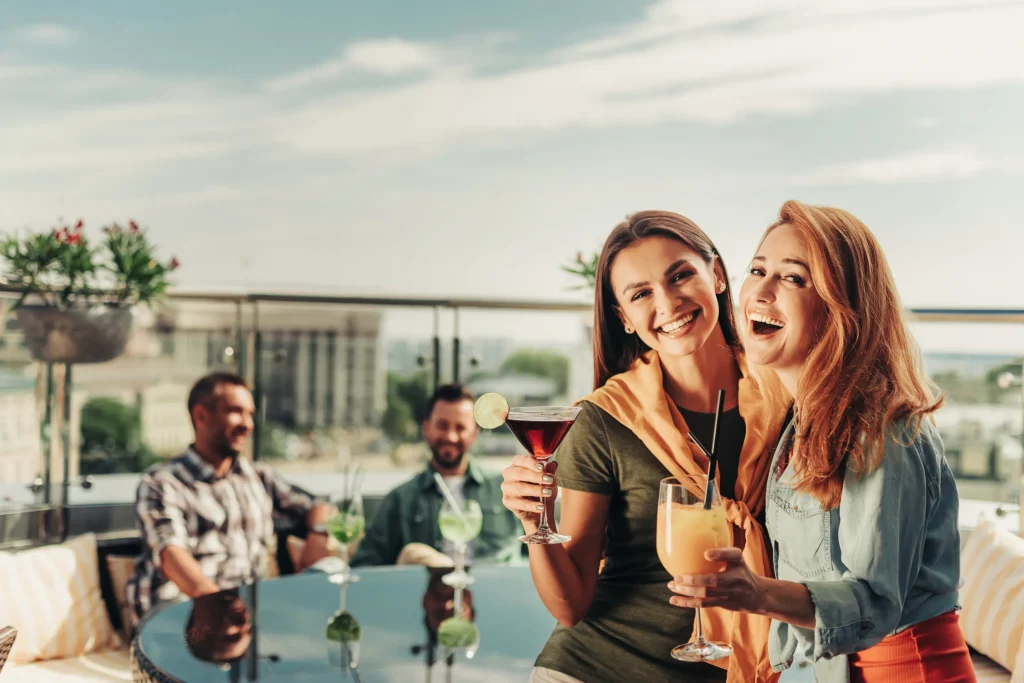 This is a stylish and fancy party option among all the summer party ideas for adults that happens on the roof of a building, often in a city with a fantastic view. It's a glamorous gathering high above the ground, and you can even add it to the end-of-summer party ideas list. People dress up in their finest clothes, and there's usually soft, romantic lighting and comfy lounge furniture. The drinks make it extra special – there's a variety of fancy cocktails and sometimes even a professional bartender to mix them up for you. You can sip on drinks, chat with friends, and enjoy the breathtaking cityscape or skyline view. It's a sophisticated way to have a good time, and the atmosphere is usually relaxed and elegant. So, put on your best outfit, satisfy your appetite for tasty drinks, and prepare for a memorable evening in the sky!
Outdoor Movie Night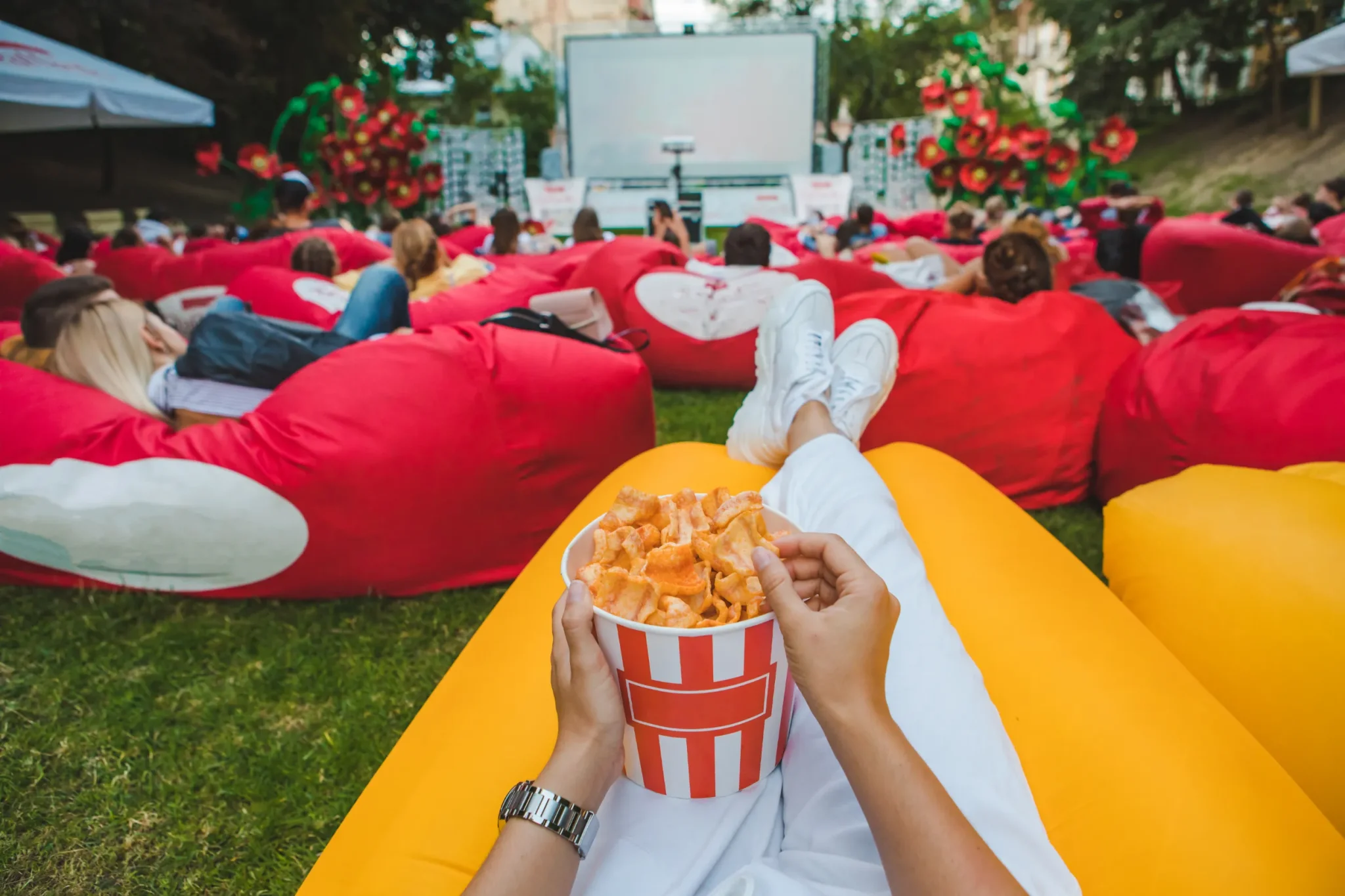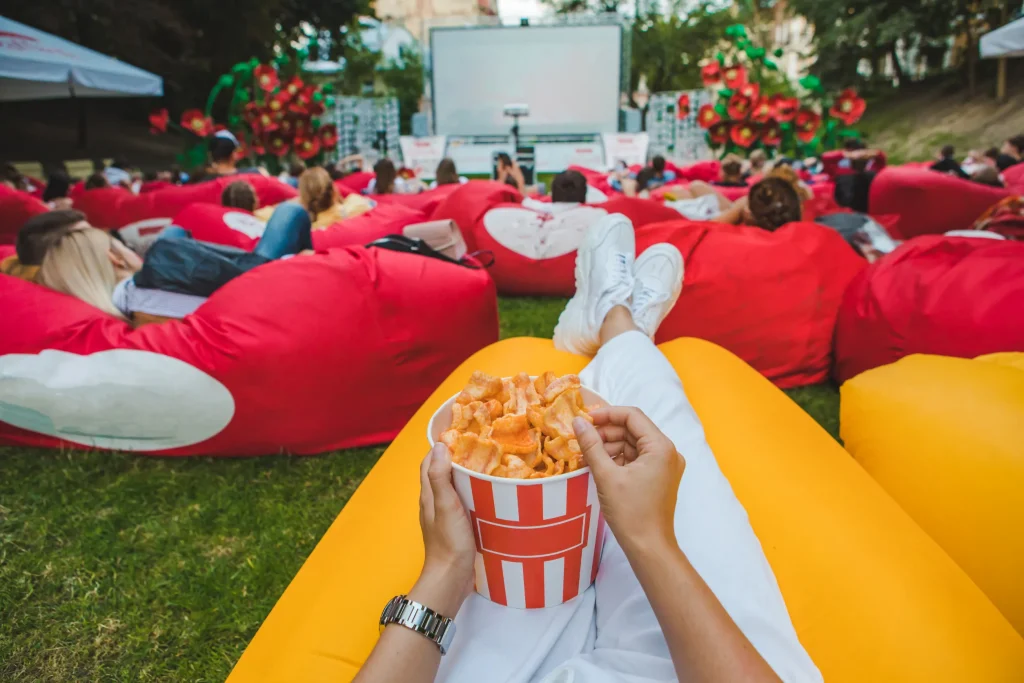 This is a fantastic addition to the list of outdoor summer party ideas. In this event, you get to watch movies under the open sky, just like at a cinema but outside. So, it's a two-in-one package where you enjoy summer's serenity and your desired movie, series or even any exciting sports match.
Here's how it works: you set up a big screen and a projector in your backyard, a park, or any outdoor space. People bring cosy blankets, pillows, and sometimes even folding chairs to sit on. As the sun sets and it gets dark, the movie starts playing on the big screen. It's like having your very own cinema right under the stars. For snacks, you can have popcorn, nachos, and all your favourite movie treats. Some people even make it a potluck, so everyone brings their go-to snacks to share.
Backyard BBQ Bash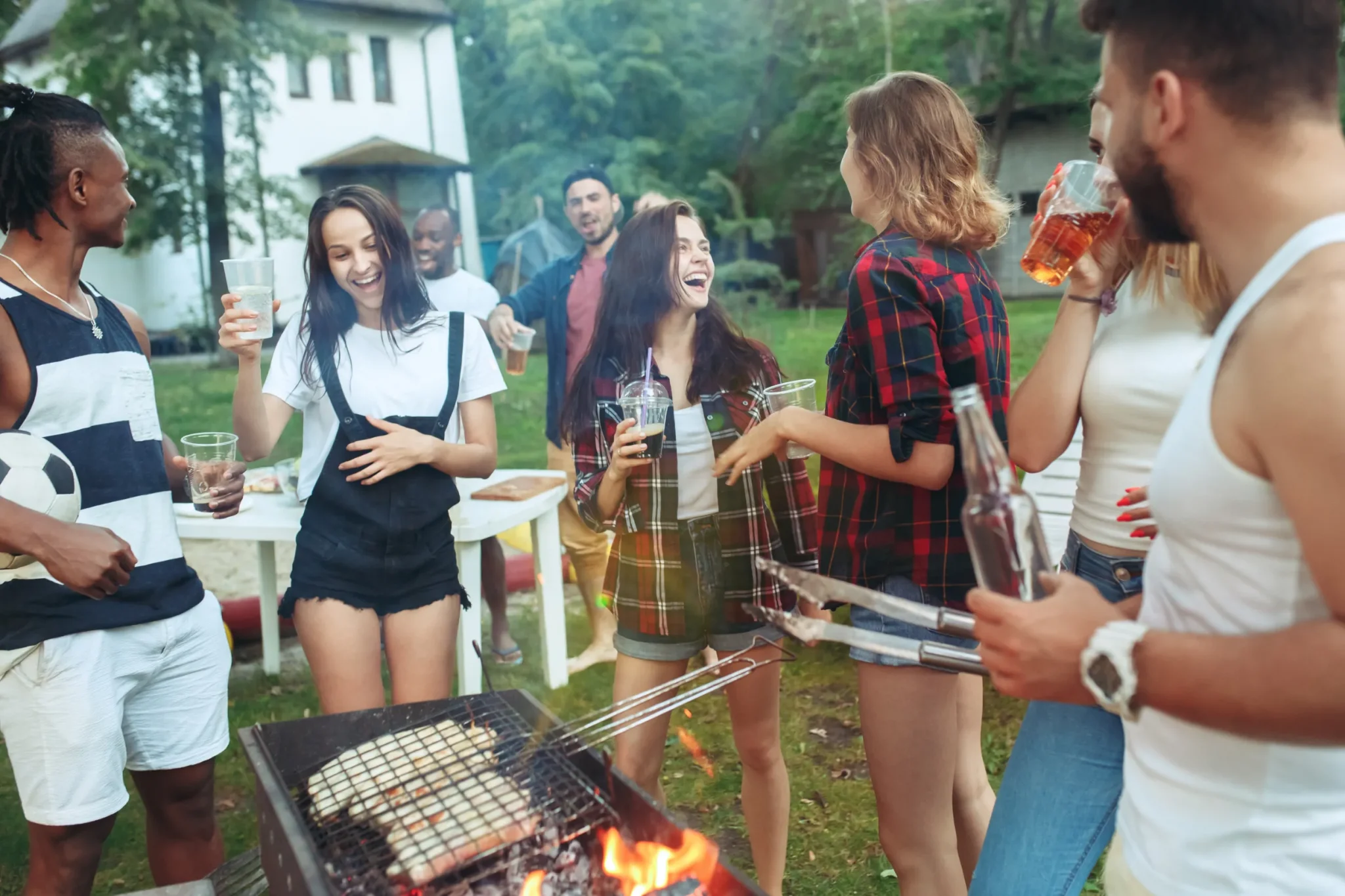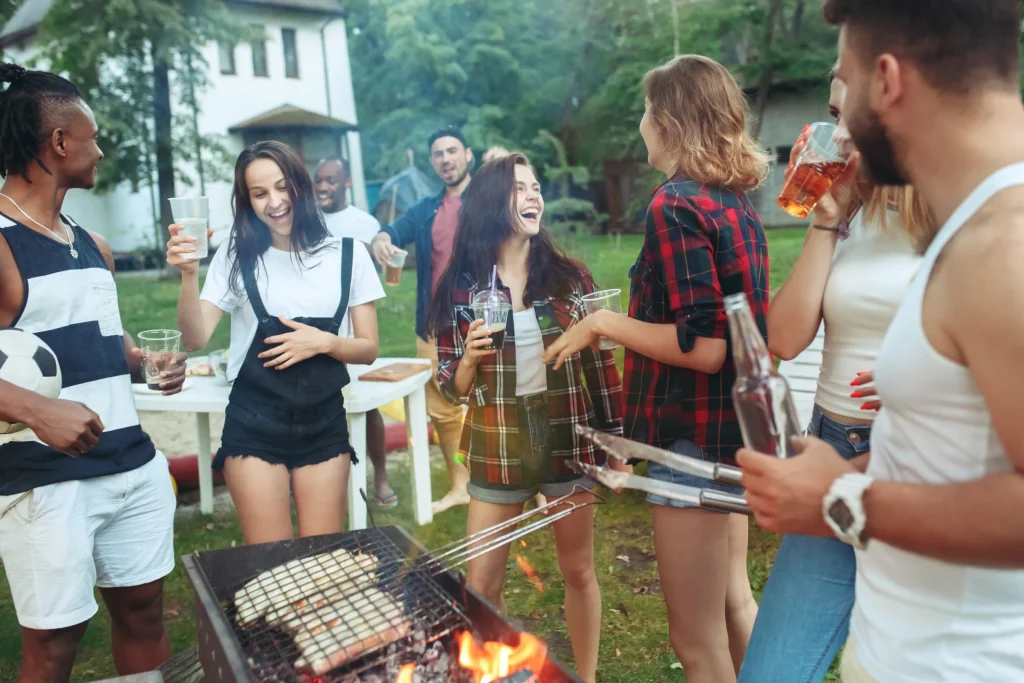 This BBQ party is a fantastic party held right in your own backyard, and it's all about delicious grilled food and good times with friends and family. Imagine the mouth-watering smell of burgers, hot dogs, and maybe even some juicy ribs sizzling on the grill. It's a bit like a picnic but with a barbecue twist.
Food is the main attraction for the summer party decorations for this occasion, but you can still add some elements to set the atmosphere. You set up outdoor seating and maybe some picnic tables to make everyone comfy. Also, if the party time is in the evening or night, you can add some fairy lights to set the environment. You can have a variety of tasty BBQ sauces and side dishes like coleslaw, potato salad, and baked beans to go along with the grilled goodies. Some people even make their own secret BBQ sauce recipes!
The best part is the casual and relaxed atmosphere. You can play lawn games like cornhole or horseshoes, listen to music, and have a blast.
Poolside Fiesta
This is one of the best outdoor summer party ideas because of all the water fun. You can swim, play water volleyball, or just float around and soak up the sun. It's a great way to beat the heat, have a blast with friends, and enjoy the summer to the fullest. Here's how it works: you need access to a pool, whether it's in your backyard, at a club, or a rental place. You set up cool pool floats and toys for everyone to enjoy. You can also have a tropical theme with colourful decorations.
Food is a big part of poolside fiesta, too. You can serve tasty Mexican dishes like tacos, nachos, and maybe even make-your-own burritos. And don't forget the refreshing drinks, like fruity mocktails for everyone and some margaritas for the adults.
Themed Summer Nights
These themed nights can be an excellent idea among summer theme party ideas. These are like super fantastic parties where everything is centred around a fun and exciting idea. It's like playing dress-up or stepping into a different world for a while.
Among many summer party themes for adults, you can have, for example, a Hawaiian Luau-themed night where your backyard becomes a tropical island with Hawaiian music, colourful leis, and yummy foods like pineapple and seafood. You can even learn to dance the hula or see who can limbo the lowest. Or you can choose themes like 1980s Retro Night, tell everyone to dress up like that and go back to the past. Even the parties can be on holiday themes like Christmas also.
These nights are all about having a blast, being creative, and enjoying a special and unique party different from your everyday get-togethers. So, pick a theme, get creative with your decorations, and have a fantastic time with your friends and family!
Camping Under the Stars
This can be one of the most incredible summer party ideas for adults who like having a sleepover adventure in nature and spending the night outdoors. Imagine being in a forest or by a beautiful lake, surrounded by trees and nature's sounds. You get to sleep in a cosy tent or even just under the open sky, looking up at the twinkling stars. Isn't that sound exciting?
This outdoor summer party is exciting for the whole day and night. During the day, you can explore the woods, go for a swim, or hike around. When it's time to eat, you can cook over a campfire, making yummy things like roasted marshmallows and hotdogs on sticks. This simple but delicious food tastes even better in the great outdoors. At night, you'll see many stars in the sky because you're far away from the city lights. You might even see shooting stars, like quick light flashes across the sky. This party can also be added to the end-of-summer party ideas. It is an excellent chance to escape from everyday life, be close to nature, and enjoy quality time with friends and family. It's a party to disconnect from screens and connect with the beauty of the natural world.
Glow-in-the-Dark Party
A Glow-in-the-Dark Party is a super fun event where everything glows and shines in the dark, like magic! Imagine a world filled with bright neon colours and cool glowing stuff. Here's how it works:
First, for this summer party decoration, you arrange the party area with unique things that light up in the dark, like glow sticks, colourful balloons that shine, and cool streamers. Next, you and your friends wear white or super bright clothes, like neon colours. When the lights go off, you all start to glow! You can enjoy yummy snacks and drinks that are colourful and even have glow sticks around them. Think neon cupcakes, Jell-O that shines, and brightly coloured drinks. Turn on some music and have a dance party with colourful lights and glow sticks to wave around. It feels like you're dancing at a neon disco! You can also play cool games that glow in the dark, like glow-in-the-dark tag or ring toss with glow sticks. It makes everything more exciting!
Adult Summer Camp Top of Form
This Summer Camp is like going back to camp, but this time, it's just for grown-ups who want to have a ton of fun in the summer! This is one of the most appropriate summer party ideas for adults who wish to relive those awesome camp memories from childhood.
You and a bunch of other adults come together at a particular campsite. There are cabins for you to stay in, and the place is surrounded by nature. During the day, you get to do various engaging activities like archery, canoeing, hiking, and maybe even arts and crafts. It's a chance to be active, try new things, and enjoy the outdoors.
And guess what? There are also campfires at night where you can play fun games like you used to in your childhood, enjoy music, and sometimes even attend themed parties. The best part is that you get to make new friends and relive the feeling of being a carefree kid at summer camp.
Farm-to-Table Dinner Party
This dinner Party is like having a special meal with your friends and family, but it's extra cool because all the yummy food comes directly from nearby farms. As summer is the perfect time for harvesting, to celebrate that, the food you eat is super fresh because it's picked right from the farms of the countryside. The main stars of the meal are the fresh ingredients, like crisp veggies, juicy meats, and tasty desserts made from the freshest fruits. It's not about making the food too fancy or complicated; it's about letting the natural goodness of the ingredients shine through. Sometimes, the person who cooks the meal or the host might talk about where the food comes from and why it's essential to support local farmers and sustainable farming. These dinners are usually relaxed and not super formal, so you can enjoy your food and have a good time with the people with whom you're sharing the meal.
Summertime Music Fest
A Summertime Music Fest is like a vast outdoor party where lots of people come together to enjoy live music and have a great time in the summer. It's all about music, fun, and being outside. There are usually different types of music, like rock, pop, country, and more, so there's something for everyone to enjoy. You can arrange your own set-up to sit on the grass and have a picnic with your snacks and drinks. Some music fests have food trucks with various yummy treats, from burgers to ice cream. It's not just about the music; there are often cool activities, like games, art installations, and sometimes even carnival rides. People come dressed in fun outfits, and there's a great atmosphere of joy and celebration.
In conclusion, summer is the season of endless possibilities for fun and celebration. Whether you prefer the calmness of nature or enjoy the excitement of a high-volume party, there's something for everyone to enjoy. So, pick your favourite, embrace the sunshine, and create unforgettable memories under the warm summer sky.