With the adoption of advanced technology and the presence of growing competitiveness, there is no denying that the event industry has been reshaped for good.
Ever since the pandemic struck, the return of live events was the goal. And luckily, now organisers can go offline as the world is returning to normal with the return of in-person events. However, the option of virtual and hybrid events is still open. Many organisers tend to keep virtual or hybrid events as part of their overall event strategy.
So when for some, physical events are the only powerful way to arrange any event, for many, the virtual or hybrid event is still their best bet!
Event Industry Statistics (editor's choice):
In the ever-changing landscape, let's check out some of the event trends to understand the current demands of the event market.
The value of the global event industry could grow to more than two trillion U.S. dollars in 2028. (Statista)
By 2027, the online event ticketing market is expected to reach USD 94.92 billion. (Mordor intelligence)
71% of organisations with 5000+ employees have hybrid events in their portfolio. (Markletic)
The party and event planners in the US market size in 2022 is valued at $3.2 billion (Ibis world)
In 2022, 63% of marketers plan to spend more on live events in the future. (Zippia)
60% of business leaders believe that events are critical for company success. (Zippia)
90% of event marketers believe that technology can have a major positive impact on the success of their events (Bizzabo)
The entertainment segment would exhibit the highest CAGR of 12.4% during 2021-2028 (Alied market research)
1. The value of the global event industry could grow to more than two trillion U.S. dollars in 2028.
The industry size was valued at 890 billion U.S dollars in 2020, and according to a forecast, it is expected to grow to more than two trillion U.S. dollars in 2028. It is growing at a faster pace. Due to the growing corporate culture, growth in the celebration by the society, music concerts, sports tournaments, and rise in the number of business events, brings the hike in the market.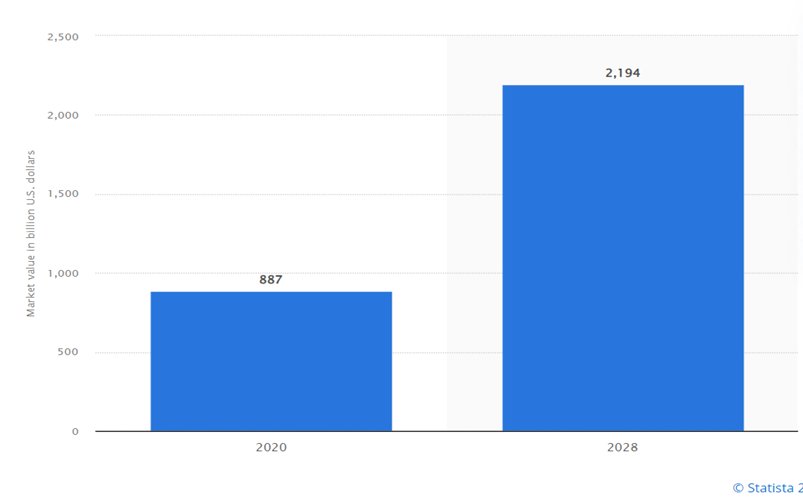 2. By 2027, the online event ticketing market is expected to reach USD 94.92 billion.
Today, both attendees and organisers desire to use seamless online ticketing platforms due to their flexibility and ease of use. Mostly driven by the rising millennial population, events of movies, sports or music are mostly booked online. Also, the event ticketing industry goes mobile. So if you are still not leveraging mobile to sell your event tickets, chances are that you are missing out on a huge opportunity.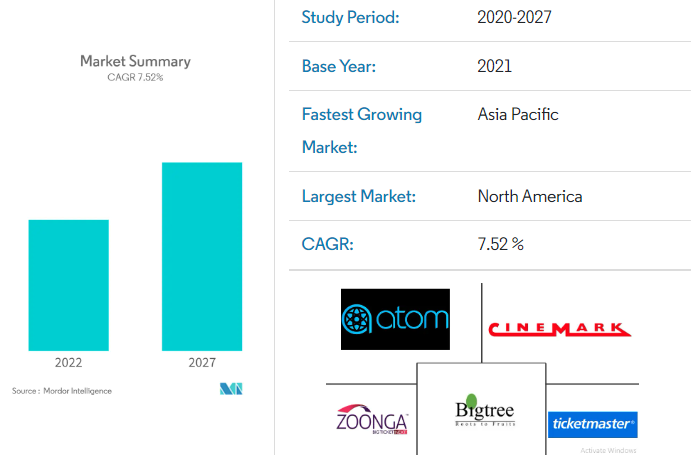 3. 71% of organisations with 5000+ employees have hybrid events in their portfolio
Over the years, the hybrid event has become an essential component of an integrated event experience strategy. The report shows that larger companies are most likely to host hybrid events. On top of that, organisations tend to combine their strategy with the right online ticketing platform as the technology of hybrid events is advancing in rapid way.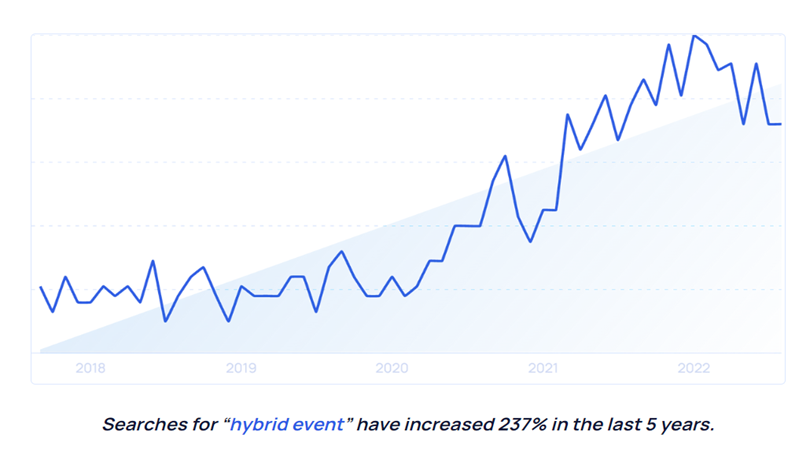 4. The party and event planners in the US market size in 2022 is valued at $3.2 billion
The party and event planning industry contains companies and individuals that organise tons of social events on behalf of households, non-profits or businesses, ranging from fundraising events to birthday parties and weddings to social networking events. And with the continuous growth rate since 2020, we can expect growth over the following years as well.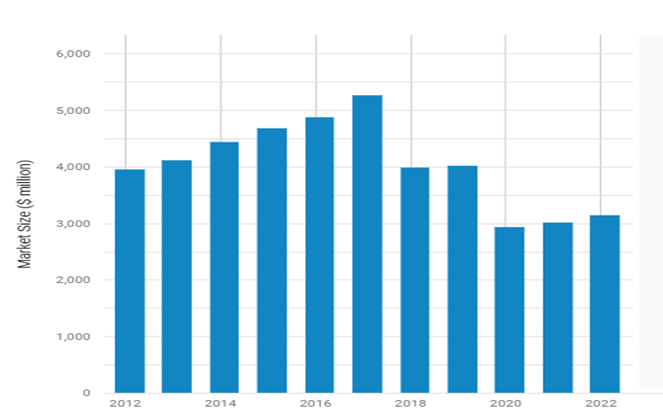 5. In 2022, 63% of marketers plan to spend more on live events in the future
The in-person event began to regain its popularity in the coming years. The American Express Meeting and Global Forecast predicted that 81% of events in 2022 are going to have in-person elements. Even though the market saw a size decline due to the COVID-19 pandemic, in 2022, the in-person industry has seen a net growth. Marketers tend to shift their spending back towards live events.
6. 60% of business leaders believe that events are critical for company success
The majority of business leaders believe that events create distinctive opportunities to form connections in an increasingly digital world, and the events are critical for their company's success. Also, it becomes easy to organise an event for company marketers with so many tools and tactics that they can employ to create their event, from event management tools to online event ticketing platforms.
7. 90% of event marketers believe that technology can have a major positive impact on the success of their events
Increasing investment in event technology has continued to thrive through 2022 and beyond. Reports show that 89% of businesses using event technology save roughly 200 hours per year. That is why the adaption of technology and software solutions and the use of event ticketing platforms is emerging, be it to gather data, boost engagement or event ticketing and management.
8. The entertainment segment would exhibit the highest CAGR of 12.4% during 2021-2028
Due to the growth in the entertainment industry, the entertainment segment accounted for the largest share in 2021, which seems to maintain its lead position during the forecast period. The report also analyses segments of other industries, including corporate, sports and education.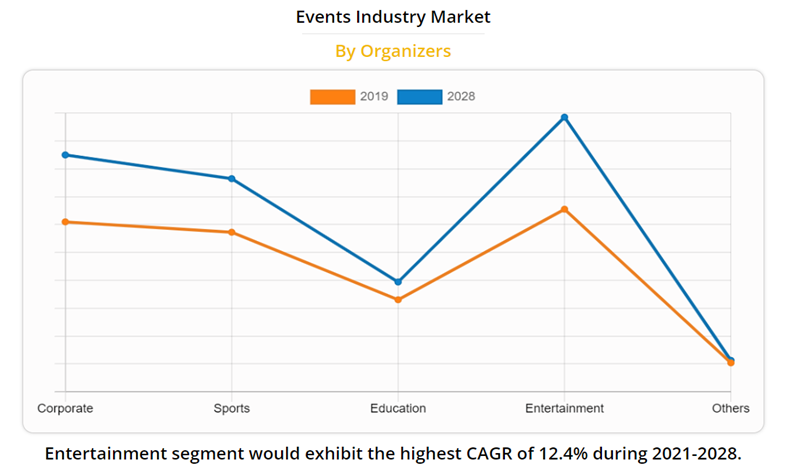 ---
Virtual Event Statistics!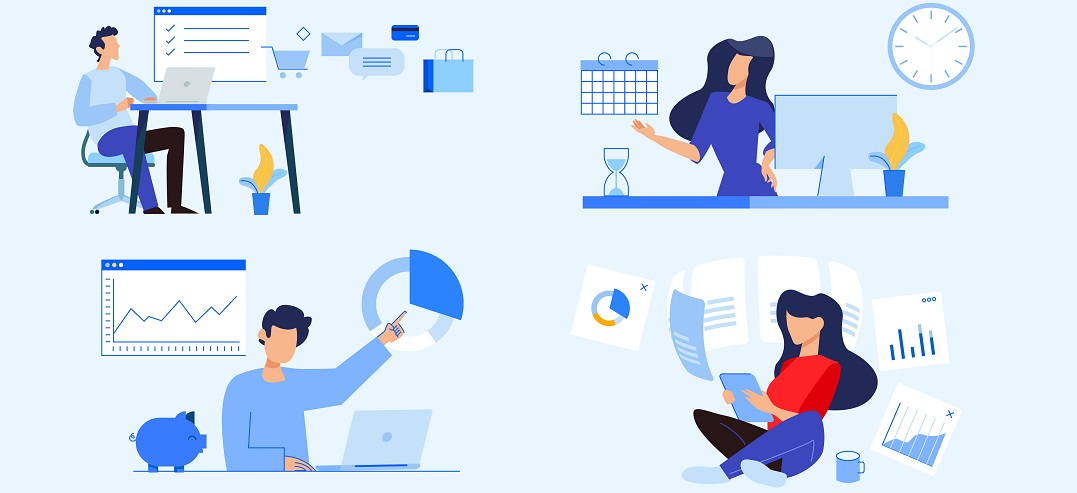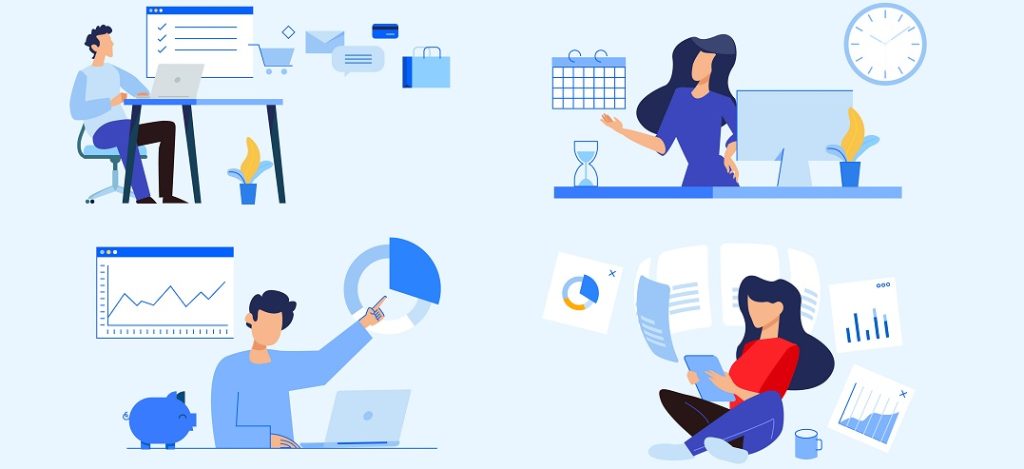 The pandemic has left a mark on the event industry that eventually impacts how events are conducted in 2022 and beyond. No wonder a huge number of organisers and attendees prefer virtual options over other event types. So let's move our focus on some emerging virtual event statistics that will help you to utilise the opportunities with virtual events.
1. 63% of respondents already signed up for two or more virtual events in 2022
This highlights the number of attendees who are expected to attend virtual events in 2022. And the rise in online attendance for virtual events shows a potential increase in virtual events in the coming years as well. When in the pre-pandemic and during-pandemic era, the virtual event was seen as an option, in the post-pandemic situation, it has become an inevitable part of the industry.
2. 93% of event organisers plan to invest in virtual events
Most of the event organisers now plan to invest a portion of their budget in virtual events as the popularity of online events has gone through the roof. According to research and market reports, the global virtual event market size could reach $504.76 billion and grow at a combined annual growth rate of 23.7% between 2021 and 2028. Also, being a great way to bring a global audience together with less hassle, planners are choosing to go virtual.
3. 60% of virtual event organisers use social media to drive significant registrations
Alongside many other driving factors, including email, website, third-party databases, sales and partners, social media is considered a crucial sector that drives significant registrants on virtual events. Organisers lend to leverage the power of social media Social to attract attendees as the channels allow for maximising efficient communication. So in case one doesn't add social media to the plan, chances of missing out on tons of opportunities hike.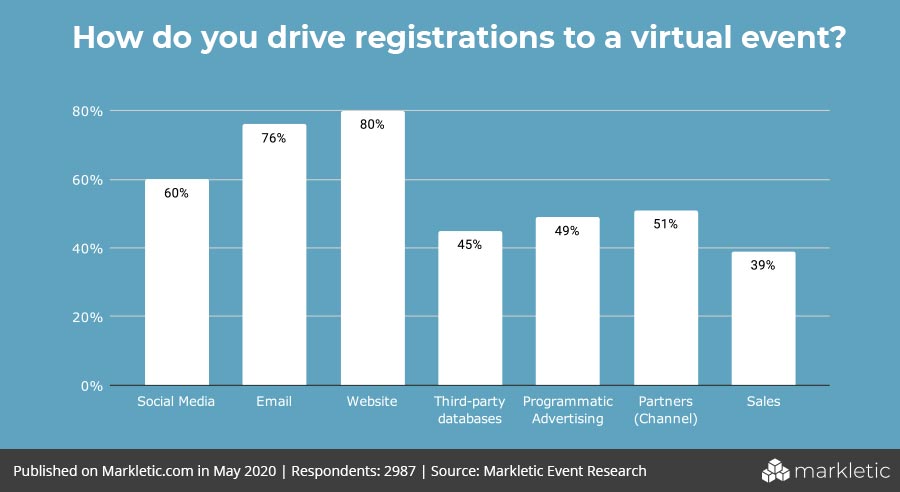 4. LinkedIn virtual event attendance went up by a record 231%
Virtual event live attendance on LinkedIn is up 231% as 150% more virtual events were created. And since the number continues to grow up, no wonder why LinkedIn launched audio-only live events to encourage more attendee participation in virtual events. The LinkedIn audio events feature is a great way to bring the professional community together to share their field of interest with people from all over the world. 
5. 49% of marketers say that audience engagement is the biggest contributing factor to having a successful event
Attendee engagement plays a central role in the success of a virtual event. It offers unique business insights that are important for growing relations with prospects and customers.
The key to virtual audience engagement is to keep your virtual audience happy until the event wraps up. All this makes it vital to apply innovative and creative tactics to level up attendee engagement games and provide an immersive virtual experience. And this does not limit to video chats and calling; some other interactive elements include polling, video sharing, gamification and more.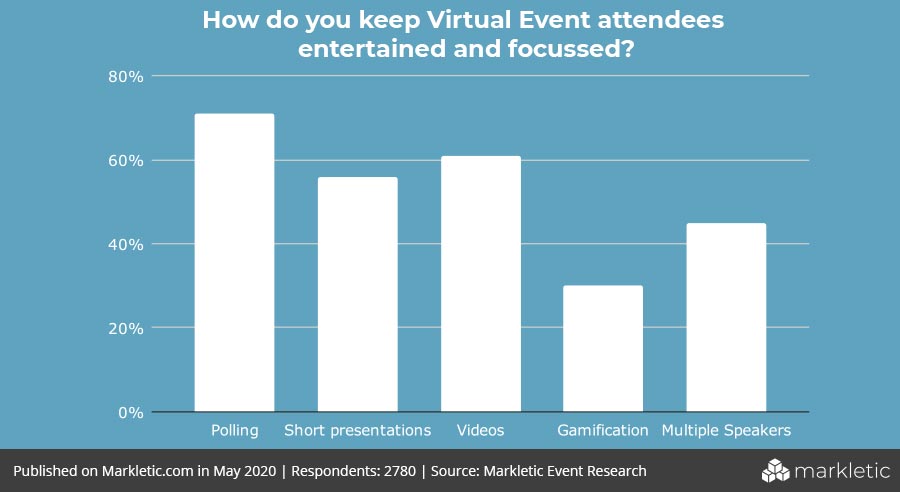 6. 80.2% of event organisers have been able to reach a wider audience with virtual events
A virtual event is not just a viable option for event organisers but also for attendees. Virtually broadcasting your event opens many doors by allowing you to reach broader demographics and maximise your customer base. Data also shows that people in large numbers are more willing to attend virtual events. Because no matter in what corner they are in the world, they can still attend and engage in an event they want to join, which cannot be done in in-person events.
---
In-Person Event Statistics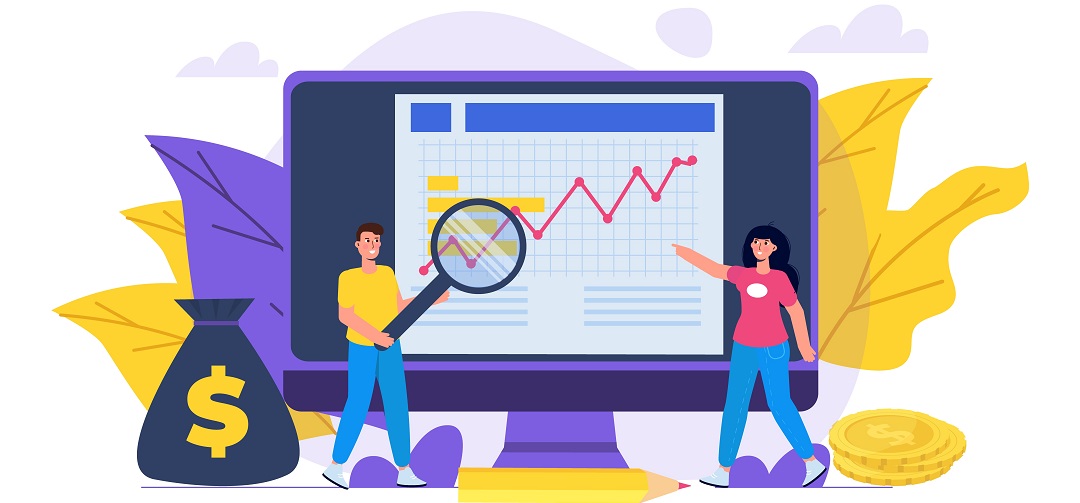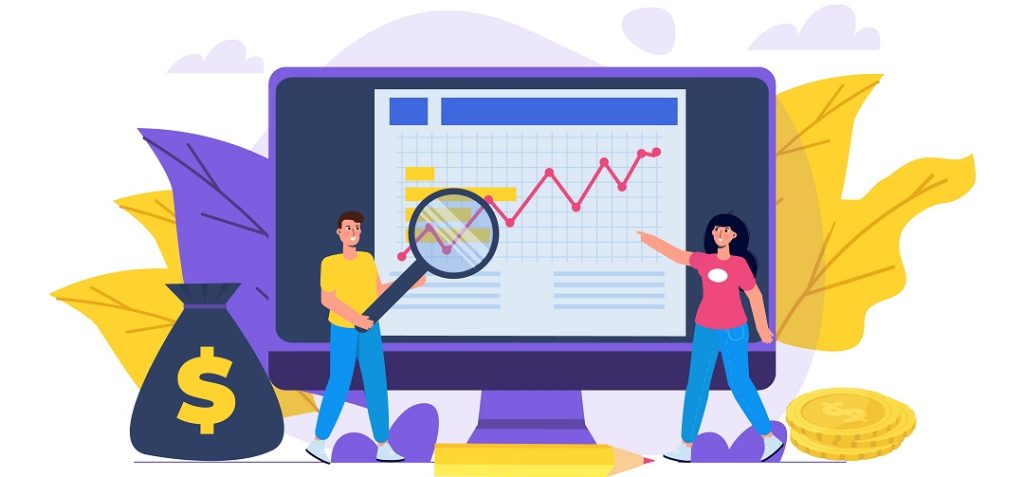 Even though the pandemic came with tons of changes and the shift to virtual happened, now the tide is turning. In-person events beat virtual events in some sort of way. For many, the virtual event doesn't connect communities in the way in-person events do, especially in the case of marketing or selling. And many think that in-person events give more flexibility in networking or engagement that establish a trust factor. So here are some current statistics of in-person events that might inspire your event strategy.
1. 78% of event marketers believe that in-person events will become increasingly important to their company's success
The power of an in-person event is that you can experience the real deal. And that is why to showcase the products or explain the services right before the target audience in person, marketers believe in person-to-person marketing. Successful in-person events not just foster lead generation but create more opportunities for marketers to establish connections.
2. 71% of event planners cited designing live events experiences post-COVID19 as a skill they need to pursue
When planners and suppliers were asked what new skill they would like to pursue, 71% said that they were interested in designing live experiences in post-COVID-19 physical environments—followed by designing digital event experiences and business continuity and scenario planning.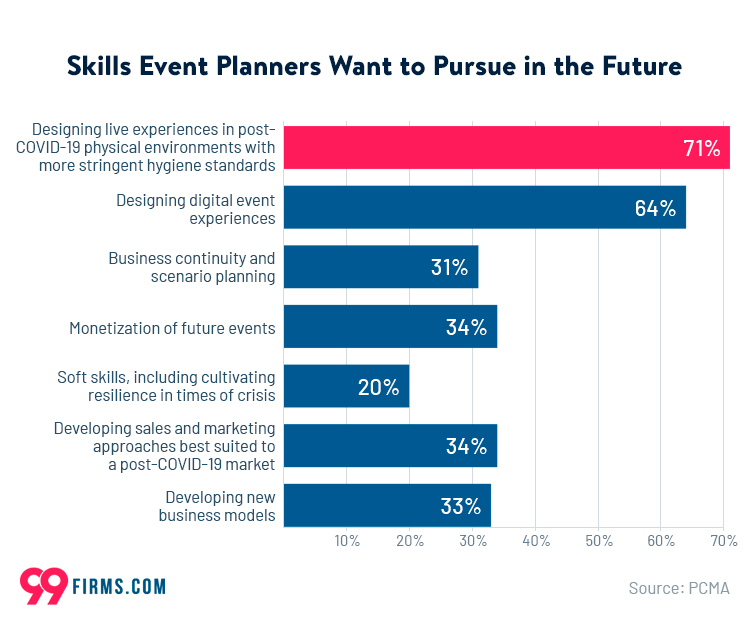 3. 48% of surveyed marketers said their companies dedicate 21% of the marketing budget to in-person events
When a majority of industry analysis shows that a significant percentage of marketers believe in live events for the success of their events, it comes with no surprise that nearly half of the respondents dedicate a good percentage of their budget to in-person events. And the return on investment from an in-person event is one among other factors of why people are investing.
4. 55% of event organisers say that COVID-19 protocols are the biggest challenges for the in-person event
According to a study, on the way towards returning to an in-person event, all the latest COVID safety measures have become the biggest challenges. Alongside the mandatory measures like requiring masks and avoiding COVID hotspots, there are many more protocols to follow. For example, requiring proof of vaccination, ensuring quality indoor event environment and more.
5. Around 97% of B2B event marketers said physical events majorly impact their business outcomes
Hosting in-person events comes with endless benefits, and that is why it remains one of the top ways to promote brand awareness. And with 97% of marketers believing that physical events are the best way to achieve business outcomes, we all witness a massive shift from virtual events to in-person ones in many cases nowadays.
---
Hybrid Event Statistics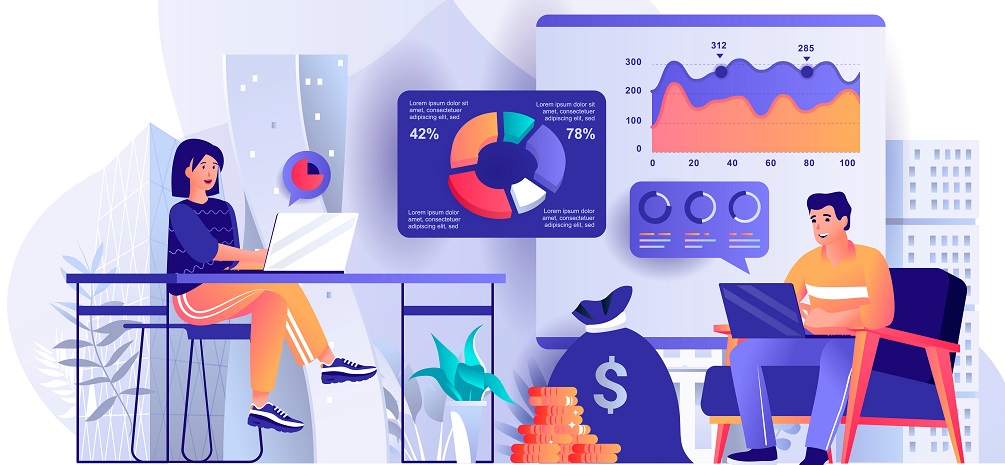 In this day and age, many marketers or event organisers are moving towards hybrid events. There is no doubt about it. After all, this can help you to get the best of both worlds. Mostly, businesses and events are now using the hybrid format for their conferences and events. For example, some companies are holding their conference online with live presentations from their executives. Expanded outreach, flexibility, increased ROI and overall event experience are some of the significant causes that add more value to hybrid events.
When 80% of global entrepreneurs have some sort of hybrid structure in place already, it is true that it is not a trend that is going anywhere anytime soon. Let's look at some of its current statistics.
1. 57% of respondents say they would rather attend an in-person version of a hybrid event than a virtual one.
In between in-person and virtual events, it is a hybrid event that blends the best of both event types. It offers greater flexibility for the audience. One research by Markletic revealed that attendees prefer to join the in-person version of a hybrid event than the virtual one. No wonder why 34% of event organisers expect to invest more in hybrid events.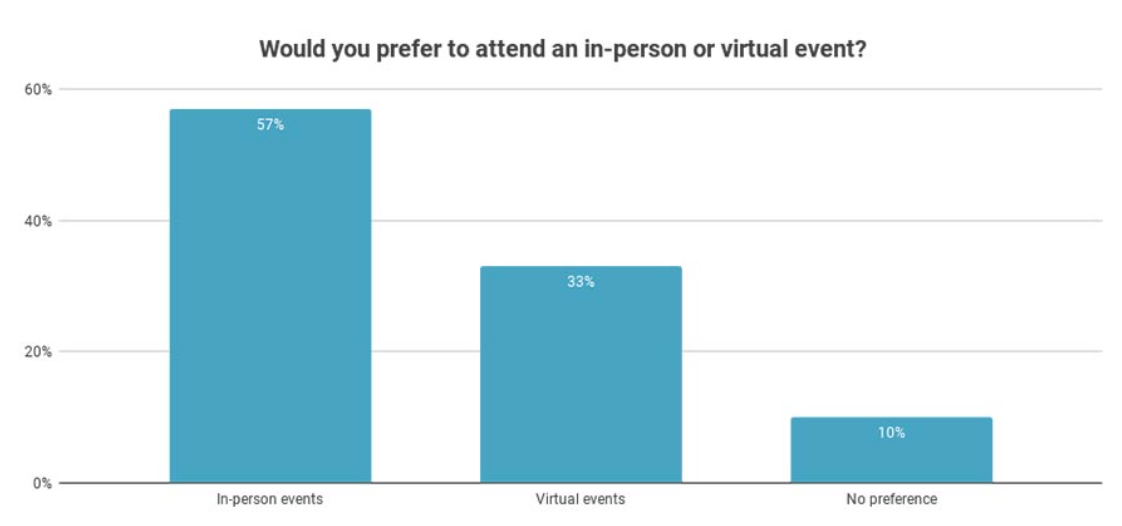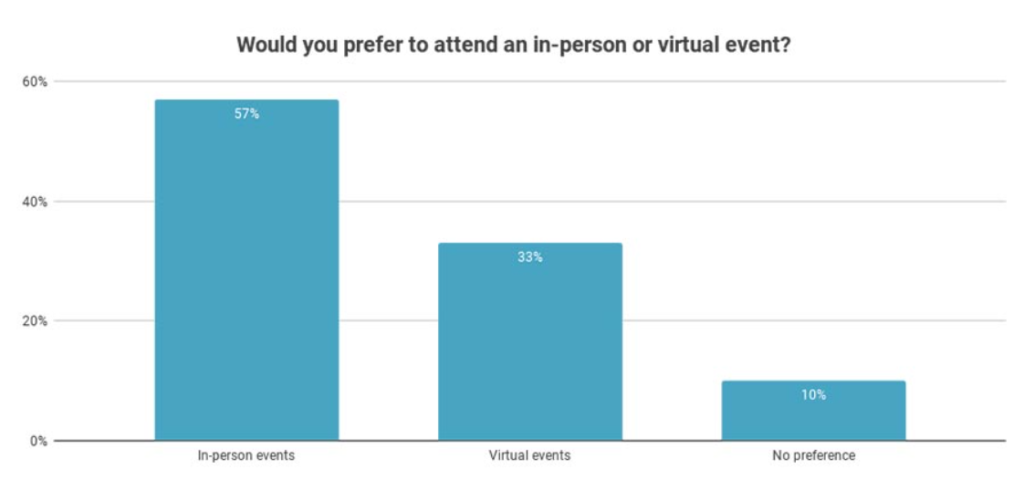 2. 71% of event marketers are already familiar with hybrid events
Hybrid seems to be the new buzzword that everyone is familiar with. Combining both virtual and physical events, organisations or companies are finding new avenues of growth and tons of untold opportunities. When many sectors have already started down the path, around 50% of marketers assume that their future events will have a hybrid dimension. As hybrid events enable one to provide a consistent experience no matter how people choose to participate, it plays a vital role in the long-term strategy.
3. Attendee satisfaction is one of the KPIs of hybrid events for more than 89% of event organisers
Attendee satisfaction is everything; it allows organisers to see what the audience enjoyed and what they disliked about your event. It gives a great deal of insight into how satisfied your attendees were. It is a great metric that shows whether an organiser could meet the expectation of the attendees or not. And through this, they can plan how to make their next event even better. That is why to measure the success of hybrid events; organisers consider attendee satisfaction as one key metric.
4. 67% of organisers believe that hybrid events are the future of the industry
Organisers can grow their event and sustainably reach a much larger and more diverse audience as it promotes less travel, less food waste, and fewer people. Also, they get the opportunity to combine both virtual and live audiences, adding engagement, networking and event experience to their strategy. So since there is a greater ability for outreach and impact in hybrid events, this adds tremendous value to hybrid events.
5. At enterprise organisations, field marketing teams are most often responsible for hosting hybrid
For field marketers, a hybrid event works best for maximising engagement between prospects, customers, partners and internal teams. Alongside global event teams, partner marketing and other community teams, the field marketing team are most responsible for hosting hybrid events. Striking a balance between virtual and live interaction and the use of virtual engagement technology makes it much easier to enhance the live experience.
---
Event Technology Statistics-
Event technology is evolving as first as the event industry itself. According to a study, event technology can increase attendance and productivity as well. Hence to pull off more than ever, organisers are looking for more digital tools and software.
From online event ticketing platforms to branded event apps, and contactless checks to live streaming, organisers combine a lot of digital event technologies to raise the bar for their events. Because of the rapid digital transformation, event attendees also expect a higher level of event production and more engaging technology while joining any event.
1. 51% of event decision-makers are satisfied with their virtual events platform, but 94% encountered issues with their platform's setup
Today, with the use of end-to-end virtual event software, it becomes easier to host events than ever. And around half of the respondents expressed their satisfaction with their virtual event platform. But from setting up to executing a virtual event, event organisers often face a lot of challenges as well. Involving attendees in live polls or quizzes to live networking through chat options to connect with speakers and hosts, there are many dos that need to be done. Hence it is suggested to partner with a virtual event platform that is user-friendly and safe as well.
2. 79% of event marketers integrate their event software with a CRM
79% of event planners responded that they are using customer relationship manager (CRM) software to manage their relationships with customers and visitors. From improving customer operations to maximising sales, companies are leveraging CRM software for multiple benefits. There are many ways marketers use CRM their event planning, such as by running email campaigns, creating a central database of the attendees, automating tasks, managing leads and many more.
3. 59.4% of event marketers are looking for a hybrid software solution that will manage both in-person and virtual events
Event marketers are expecting hybrid events to be more popular than ever. And nowadays, hybrid events are in a prime position to capitalise upon innovations. Hence to meet the demand, organisers are looking for using more digital tools and software to provide more flexible facilities to the audiences. Because to conduct the tech-enabled hybrid event, marketers need a hybrid software solution that brings out the wow factors of both virtual and in-person events.
4. Using event technology can increase attendance by 20% and productivity by 27%
Through event technologies, today organisers have access to data-driven solutions that makes event planning, marketing and data analysis more effective than ever. And these tools eventually affect the satisfaction of the audiences which ends up ensuring higher participation. Such as audience response technology and event gamification makes it easier for attendees to network which raises the productivity rate.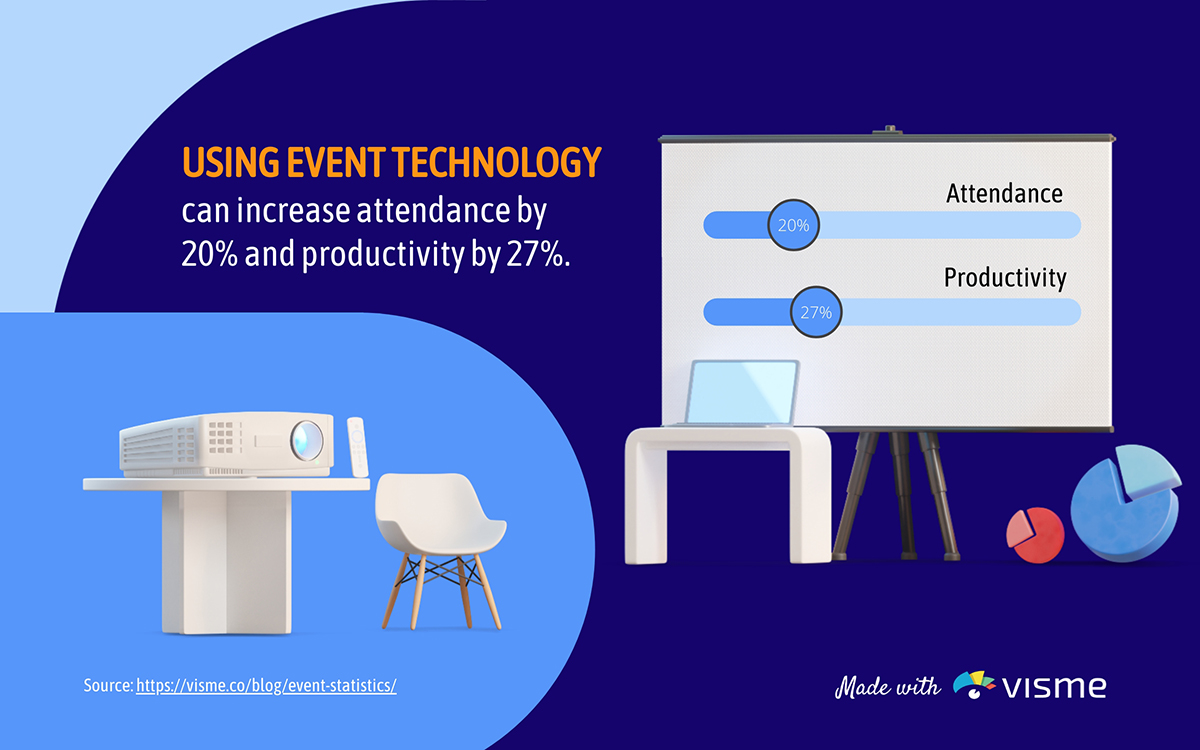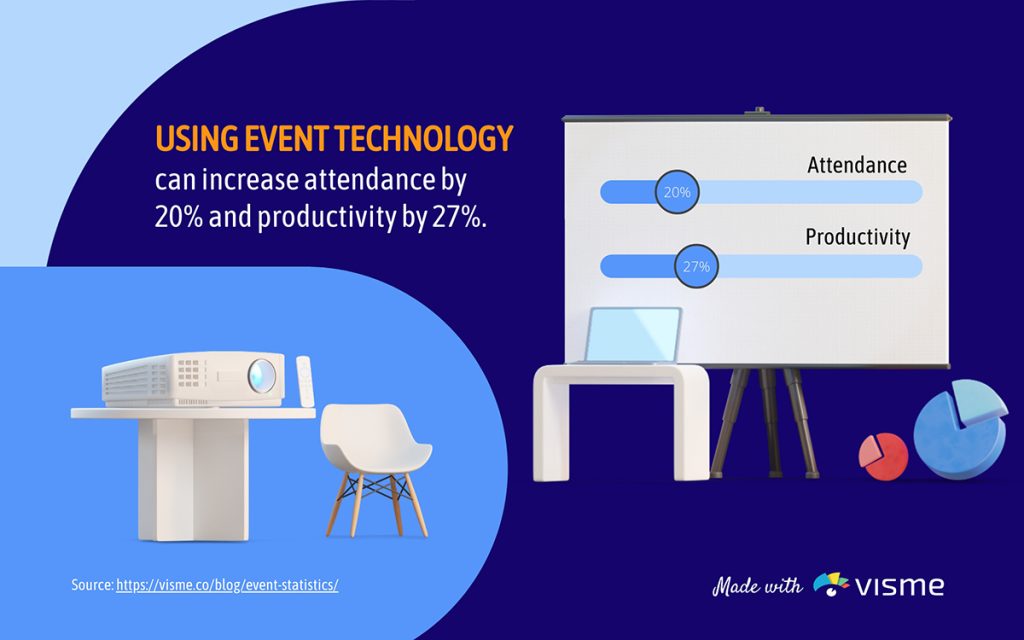 5. 53% of event marketers report they find themselves comfortable with virtual event technology
The industry is growing increasingly digitalised and more and more marketers are getting comfortable with virtual event technology. From registration to ticketing, catering to measuring event ROI, marketers use technology to automate many processes that save them a lot of stress, time and energy. And today's marketers are someone who is fond of gathering data, interpreting analytics and creating an experience for attendees. Hence technology is the trusted medium that they completely rely on.
6. 92% of marketers believe event management software makes it easier to achieve business outcomes.
When the event registration software is simplifying sign-ups, many online ticketing platforms are making the ticketing process as hassle-free as possible. Then, there is an email marketing tool that maintains the needed personalised communication with the attendees and mobile event apps that are revolutionising the attendee experience. So it comes with no doubt why marketers responded to the fact that event management software makes it easier to achieve business outcomes.
Sum up-
So whether you are an event planner, marketer or owner of a company, if you are considering creating a strong event marketing strategy, take a deep dive into the mentioned stats about the event industry field for 2022 and beyond.
And since the adaption of an all-in-one event platform has become essential to keep up with the ever-changing event trends, try out the platform, EventBookings. A powerful online ticketing and booking system that can assist you in creating, managing and promoting your event when your event ticketing is already handled. Whether it is about getting access to analytics or collecting post-event insights, EventBookings provide you with every opportunity to help your planning move forward.
Sources:
1. Statista, 2. Mordor Intelligence, 3. Markletic, 4. Ibis world, 5. Zippia, 6. Bizzabo, 7. Alied market research, 8. Vfairs, 9. Search engine journal, 10. Visme, 11. 99firms