EventBookings
vs TryBooking
Find out why EventBookings is a better and smarter alternative to TryBooking, with all the features you want.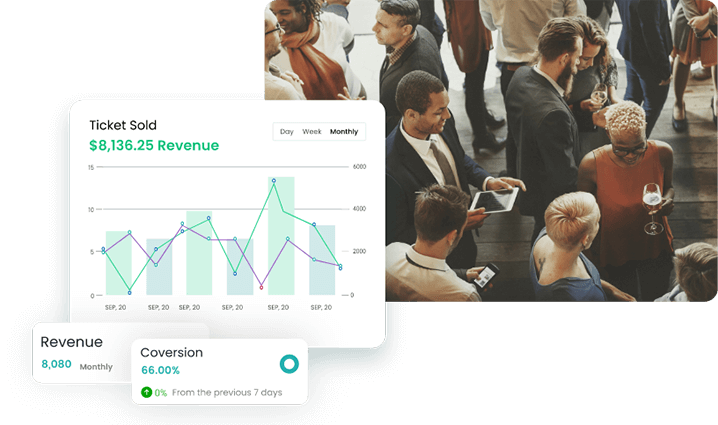 Save Thousands Switching to EventBookings
Don't just take our words for it, see how much you can save when you switch to EventBookings.
Average Entry Fee
$100.00
Pay Less Service Fees with EventBookings
Take the Ownership of Your Event
EventBookings offers a modern event registration & ticketing solution tailored for your event. Use our simple yet highly conversion-friendly event ticketing software and we will make sure it runs in your own way. Find out why EventBookings is a better and smarter alternative to TryBooking, with all the features you want.
EventBookings, the all-in-one online platform, offers you an intuitive registration and ticketing experience, where you can customise your event page and boost your ticket sales by sharing your event using the easy-to-use marketing automation tools. And to organise and evaluate your event management metrics, you can use the built-in video conferencing platform and analytics tools of EventBookings. Here, the fundamental differences between EventBookings and TryBooking are explained below.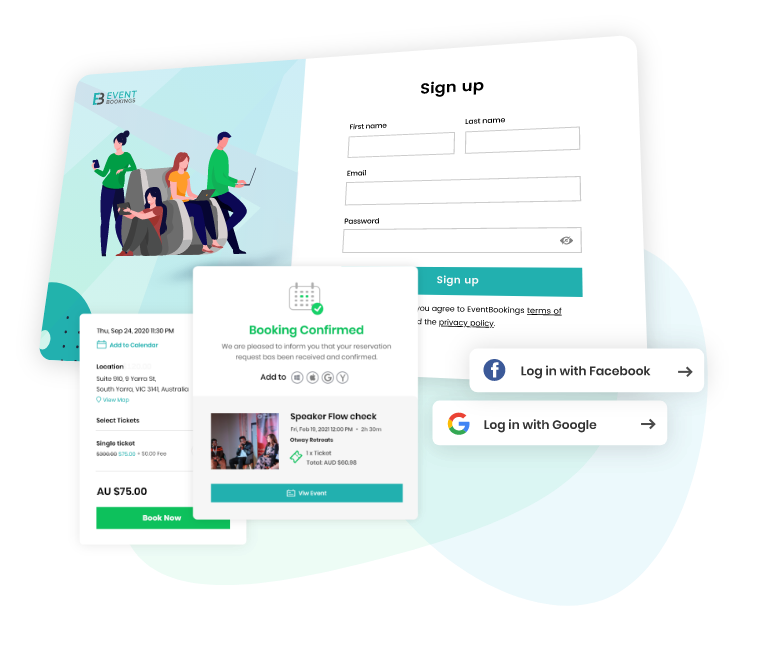 Intuitive Registration and
Ticketing Option
EventBookings offer you both single and group ticketing option, which you can customize for each ticket. And to put restrictions over attendees or create a sense of urgency among the attendees, you can set a particular time as a discount due date. We also send an auto-generated email from EventBookings containing a link to the ticket from where your attendees can download or view their tickets easily from any device.
An Event Page with
Conversion Friendly UI
With EventBookings, you can create a standalone conversion-friendly event page that effectively builds your attendee base. You can offer your attendees an immersive experience as your visitors will be facilitated with all the necessary information (time, location, ticket price and description, organiser profile) visible at the first fold of your event page. We took all the design considerations needed for you to sell your tickets with zero fuss, positioning the important CTA button strategically.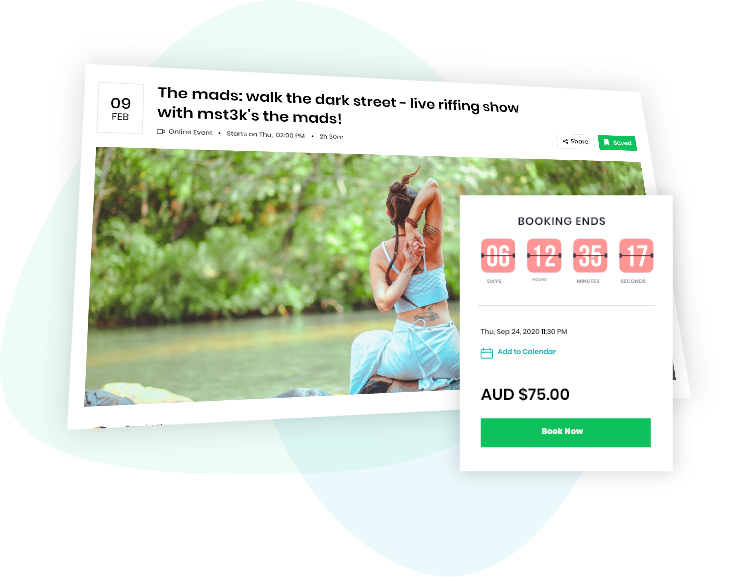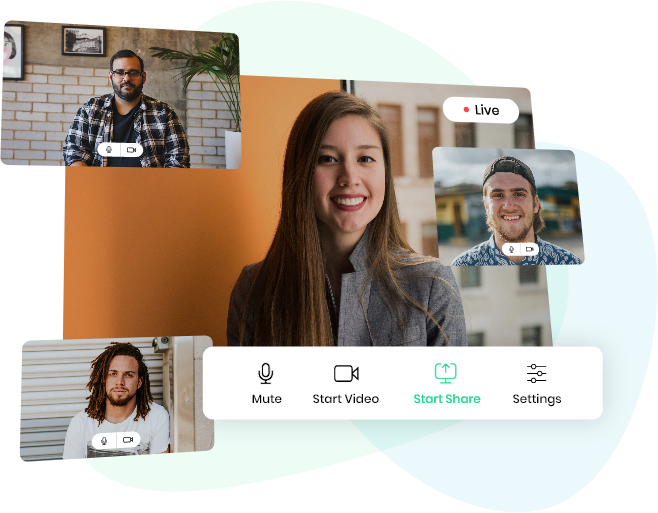 Embedded Virtual Event Platform
What makes EventBookings stand out against any other virtual ticketing platform is its embedded video hosting platform. With no hassle of dealing with third-party software, you can access the video conferencing platform of EventBookings as soon as you create your event. Also, along with live streaming, you can robust your hosting features, including live chat, polling, breakout sessions, utilising HD quality video streaming and audience engagement features compatible with all devices and maximise the audience engagement in real-time.
Creating events with EventBookings, you can utilise your organisation dashboard. The dashboard will offer exclusive insights regarding your event, from reports, subscription to conversion setup, payout and contact list. Along with getting access to certain parts, through EventBooking's dashboard, you can get an overview of your event's exclusive features which includes ticket sales, revenue earned and page views option, which are necessary to get a quick summary of an event.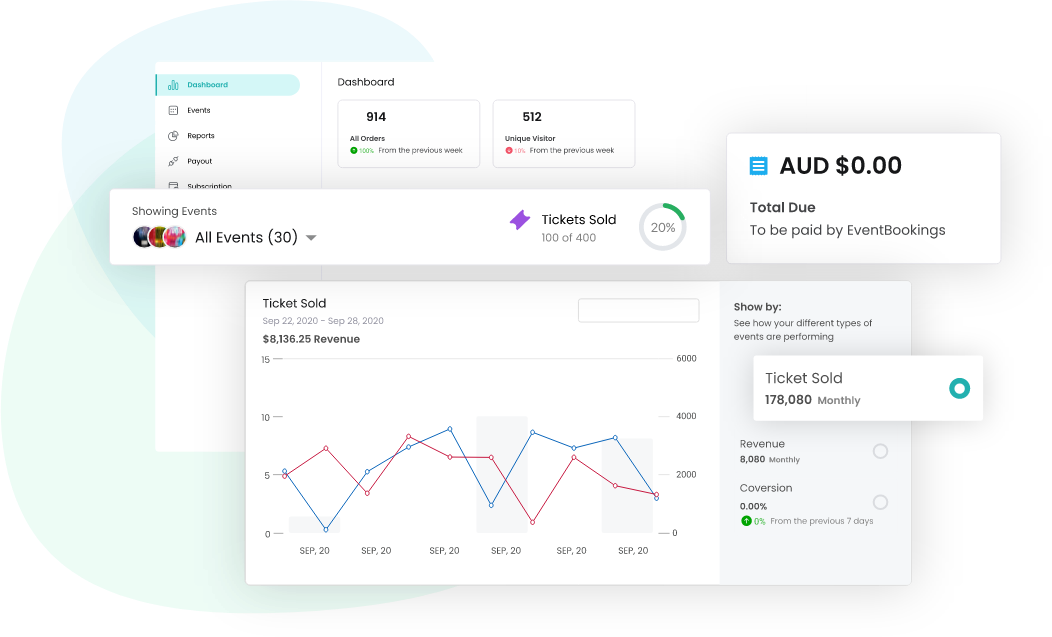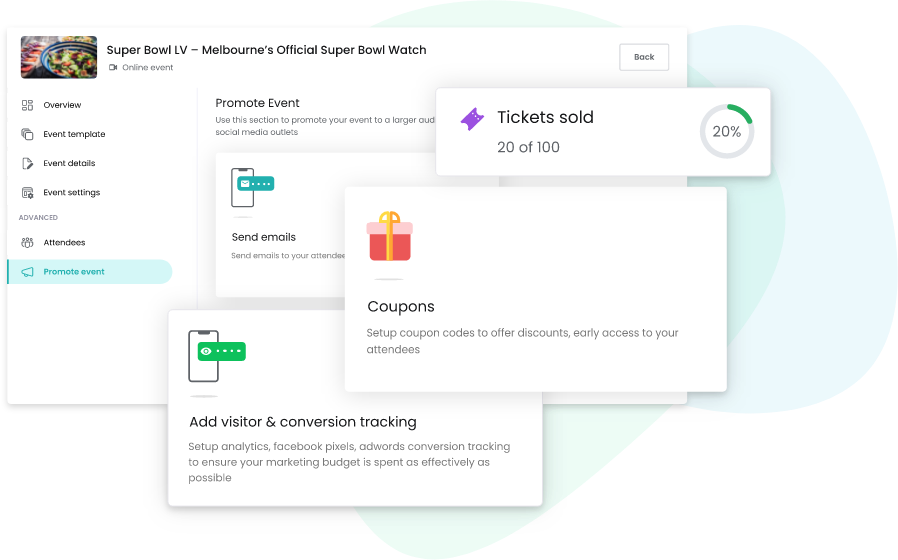 Easy to Promote Your Event
Just click the 'share' button on top of your event banner to promote your event on social media platforms including Facebook, LinkedIn, Twitter and Email or go to the event dashboard to share your event. Also, through the campaign feature of EventBookings, you can create an email campaign to send promotional and customised emails to multiple contacts all at once, scheduling appropriate times and dates to accelerate your ticket sale.
EventBookings Cares About Your Privacy
Get started for free to see how easy it is to create, manage,
and promote your events