About This Event
We celebrate Asian comedy every month! Comediasians host a night of improv and stand-up, as well as an audience improv jam.
This month's Comediasians & Friends night features...
We're the UK's premier pan-Asian improv group, and we're on a mission to bring laughs from the diasporASIA to the UK comedy scene! We do a playful mix of short and long form improv and host a monthly night of Asian comedy in London.
Improv Jam featuring you!
We're running an improv jam for part of the night where anyone in the audience can come up on stage with the Comediasians! We welcome anyone and everyone to the jam and especially encourage Asian-identifying people to give it a go.
Hannah is an East Asian female stand-up comedian based in London. She has been performing stand-up comedy for two years, using a storytelling style. She makes jokes about real-life situations, particularly tough, unfortunate, and unwanted ones. Hannah believes in the power of laughter to help us heal and transform misfortune into strength. Apart from performing comedy, she is also an actor, stuntwoman and a professional MC.
Rohan is a 24 year old comedian with little to say and a lot of words to say it with. He has taken his unique brand of critically-assessed stand-up all over the UK and has written for Radio 4Extra. He is a 2Northdown New Act Finalist 2022, So You Think You're Funny Finalist 2022 and came 3rd in the Max Turner Prize.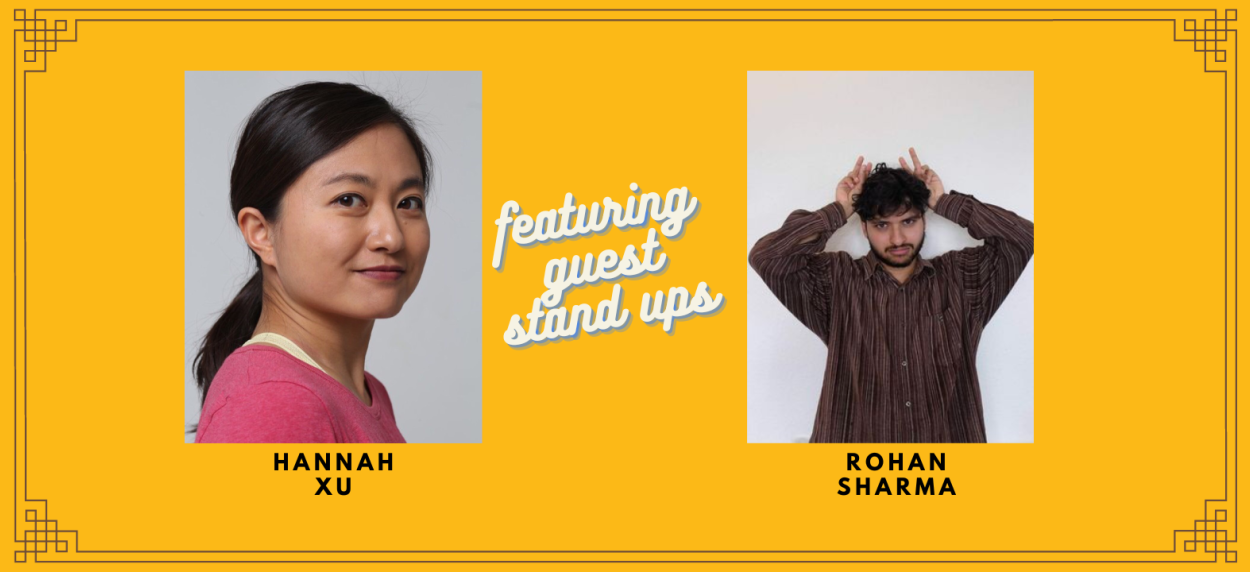 ---
Event Summary
Tickets: £8, £6 concessions
Time: Doors open 7:45pm / Show at 8pm
Where: Hoopla Improv Theatre at The Miller, 96 Snowsfields Road, London SE1 3SS
Nearest Station: London Bridge
---
Follow us!
📱 @comediasians on Instagram, Facebook, Twitter/X, Threads

🎭 Check out our Linktree for all our upcoming gigs
📰 Sign up for our mailing list to get the latest news on all our gigs

✉️ Email us at comediasians@gmail.com
---
Image descriptions
First image has eight members of Comediasians, in our pan-Asian wonder, on stage making funny faces and gestures at the camera.
Second image has headshots of our two stand up guests against a Comediasians yellow background.
Location
Location
Hoopla Impro, London Bridge, England, SE1 3SS, United Kingdom
Get Direction
About Organizer

Comediasians
Hosted 6 events