Register to 'EventBookings Affiliate Program'
and share the earnings!
On sign up, you'll receive a unique link, tracking all event organisers who've signed up on your recommendation. With our easy sharing options, promote your affiliate link across socials, websites and anywhere else online you see fit. Even directly send it to other event managers and industry influencers.
Those who register using your affiliate link will receive 5% off in service fees for all active events. While you, earn a substantial 7.5% commission on all total profit EventBookings makes from each created event.
Affiliate signup is absolutely free. The registration cost $250 has been waived for both local and international affiliate marketers. Grab this opportunity today and start sharing your affiliate link.
Discover the Benefits of Our Affiliate Program

Easy sharing options
Share your affiliate link and promotional banners across any social platforms and websites with no hassle! Don't hold yourself back from sharing directly to your targeted affiliates!

Gain a 7.5% commission
Promote your affiliate link and earn 7.5% commission of the total EventBookings' profit on all partnered events.
Free affiliate signup
Join EventBookings affiliate program with the quick online registration process, completely for free!

Receive no limits on your profit
Catch up with the fastest growth of marketing with an unlimited flow of profit on your way!

Exclusive discounts for top performers
Be one of the top performers and enjoy the increased payout options and exclusive discounts throughout the month!
How It Works
01

Join Us

Click the "Join Today" button on the banner or look for the "Sign Up" button at the bottom of this page to get started! Once joined, you will be able to access your affiliate dashboard and track your earnings over time.

02

Promote Your Link

To connect with other event organisers, include your affiliate link on socials. Our site also allows the easy creation of banners and promotional emails. Don't be shy!

03

Earn Money

Get up to 7.5% commission on total profit made from events created by your affiliates. You and your affiliates can also benefit from our more extended "cookie life period" policy.
Key Features of Our Affiliate Program
Quick and easy sign-up(How to)
Share a program you can trust
Partner with a leading event ticketing platform
A longer 'cookie life period' for end users
Relax with affiliate support
Lifetime membership
Manage Your Account
with the Best Affiliate Software
Post Affiliate Pro software comes packed with great features, has a significant impact on your sales & business and improves your SEO rankings.
It is intuitive, effective, fast, and infinitely expandable and scalable. The system will provide you access to the merchant panel, and your affiliates to the affiliate panel to view their stats and manage their promotional materials.
About EventBookings
EventBookings is an affordable and hassle-free online event ticketing platform which allows you to create tailor-made virtual ticket booths that take payments, allocates seats, and collect guest information as per your specifications. Our effectively free-to-use online ticketing software boasts a range of user-friendly features and is perfect for any type of event across all industries.
Quick signup
Branded Event Page
Easy Event Promotion
Pass on the Service Fee
Easily Verifiable Tickets
Detailed analytics
Tab 1
You can sign-up for free and activate your EventBookings account with just a few clicks. You'll also have the option for one-click sign-up using your social accounts.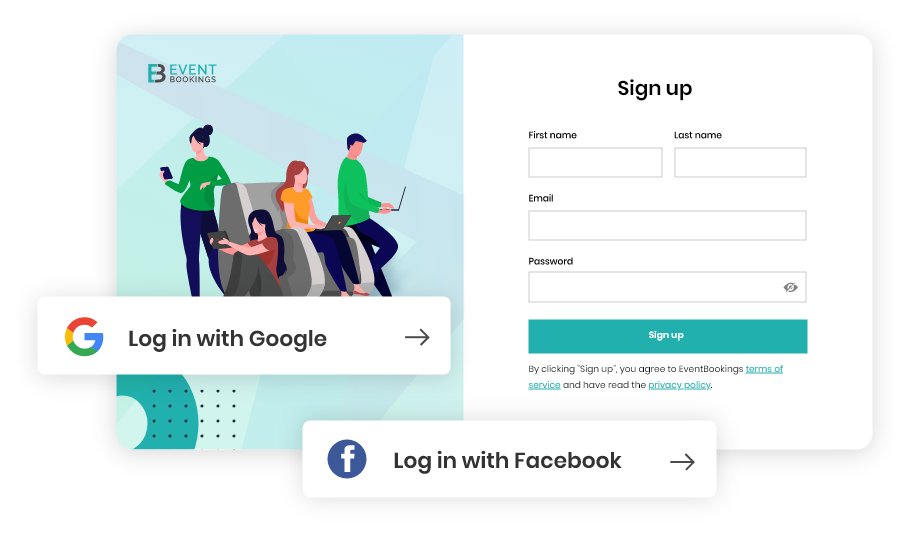 Tab 2
Tab 3
Tab 4
Tab 5
Tab 6
Frequently Asked Questions