Complete Event Ticketing Platform with Host of Features
Event Page
Custom event page showcasing your brand
Create your visually enriched branded event page. Customize your event page to reflect your brand using your very own logo, featured images, and social buttons.
Since EventBookings' service fee is charged on a per-ticket basis, you can easily choose to pass the service charge onto the attendees or absorb the estimated cost yourself by using our pricing calculator. With pass it on option, you let your attendees pay the service fee along with the ticket price. In absorb option, on the other hand, you can make the attendees pay for the tickets, and you receive the cost of each ticket and pay the service fee to EventBookings yourself.
EventBookings ensures that your event page looks perfect when viewed from different devices (e.g., mobile, iPhone, iPad, tabs, etc.). Your banner image, booking button, social sharing options, and map are all placed perfectly to give a great first impression to potential attendees.
Ticketing
Ticketing solutions to maximise your sales
Offer multiple levels of pricing and adjust ticket prices at any time according to the demand for your event. Create tickets based on the audience coming to your event. This works especially well when you want to show cheaper tickets as a great deal, and give more expensive tickets VIP appeal. The best seats in the house or special access can be given to those with a specific category of ticket.
The platform gives you a number of ways to entice attendees. Offer early bird pricing or provide discounts to certain customer groups for cheaper tickets. You can choose to give a fixed amount as a discount, or give it as a percentage. Control the scope of your discount by applying it only to those who buy VIP tickets or group tickets. Entice people to buy tickets to your event in advance with a discount on early purchase. You may also decide to give that last-minute discount to get those extra sales.
Introduce group ticketing to increase audience numbers and decrease cancellation. Most people prefer going to events in a group. If one individual expresses interest, it's likely that others will follow. You can customise how many seats will be there in a group ticket, and the number of tickets a single person can purchase. There is no restriction around all seats in a single group being adjacent, giving attendees the freedom to choose their seats.
With this option, you can not only restrict the total number of tickets for your events but also limit the number of tickets each attendee can purchase. Even in the case of group ticketing, you can restrict the total number of tickets per group. On top of that, you can easily set up how many group tickets per attendee can purchase at a time, for any ticket type. For instance, if you want to add multiple ticket types, you can customise your group ticketing restrictions for each type.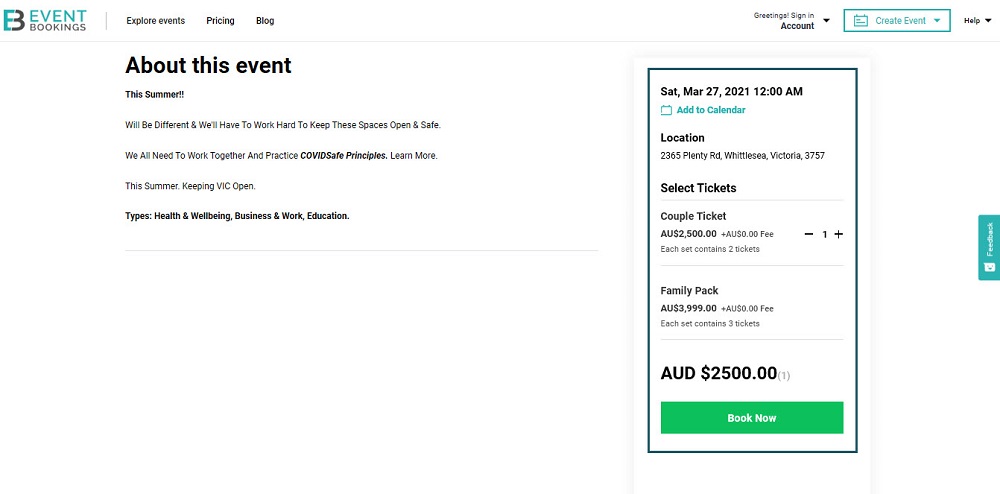 Management
Management systems designed to save time
Recreate an existing event with our clone event feature. Now, rather than filling out the setup form and creating a seating arrangement from the beginning, you can duplicate a previous event and change some minor details, and in seconds your new event is all set. For similar events, this can save you time while also producing separate reports for both events.
Your Dashboard allows you to easily view each event's revenue, ticket sales, page visits and additional analytics information. You can filter by day, week, or month to find an accurate data of your ticket sales and total revenue. You can also generate smart reports from EventBookings' updated reporting module. Make use of live downloadable reporting such as sales reports, attendee lists, or booking details. With more functional trend indicators and data visualisation organisers will have better insight into the event. You can also restrict event access to certain eligible groups.
Use EventBookings' scanner app to check-in guests. Available for both iOS and Android, it allows you to match up tickets and guests so that only those with genuine tickets are admitted. The app makes a record of scanned tickets so you can match them up with your attendee list. This can help you find if any guests failed to show up and, if necessary, you can offer a refund.
Eventbookings now has an all-in-one, fully integrated online event and video conference platform. Rather than signing up to a third-party video conference solution, now, you can access our software as soon as you create an event. With HD video streaming and audience engagement features compatible with all devices, you can have live interactions with your guests and audiences globally.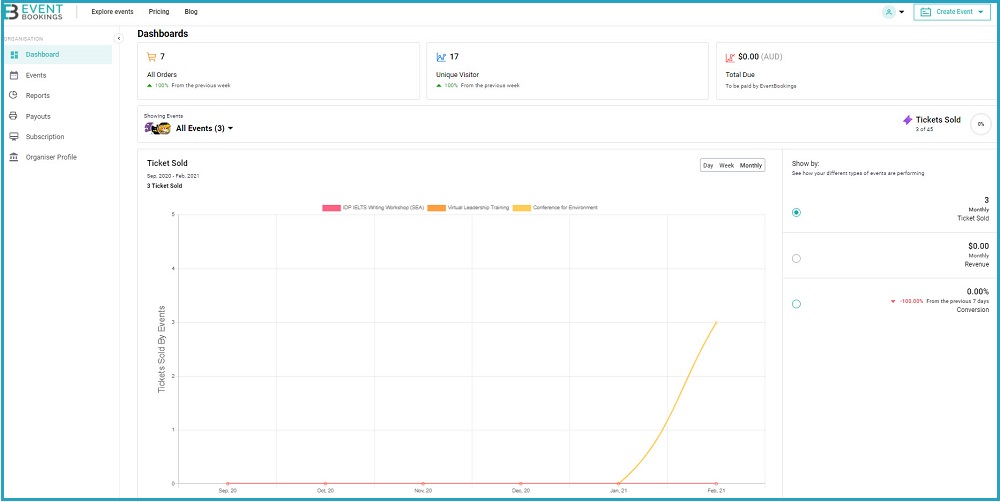 Promotion
Easy to promote, boosting sales
EventBookings makes it easy to promote your event by prominently displaying your social media icons. Visitors coming to your page can share your event with friends and family through popular social media platforms, and they can follow your social accounts for notification on upcoming events. Just copy, paste and share your event page via social media and email, or embed it within your organisation's website.
Coupons allow you to customise different pricing strategies, amplifying your ticket sales. Create multiple coupons with different offers. Offering discounted VIP codes to attendees who have been coming to your event for years builds goodwill and can entice them to attend again. You can also try out some last-minute coupon marketing to increase the size of your audience.
Capture important information about attendees with custom questions. Drag and drop customisable fields to manage attendee registration and pre-booking information forms. This data can be crucial for future events. This simple yet decisive feature is vital for event marketing campaigns. In the case of group ticketing, all members of the group will get to fill in individual information.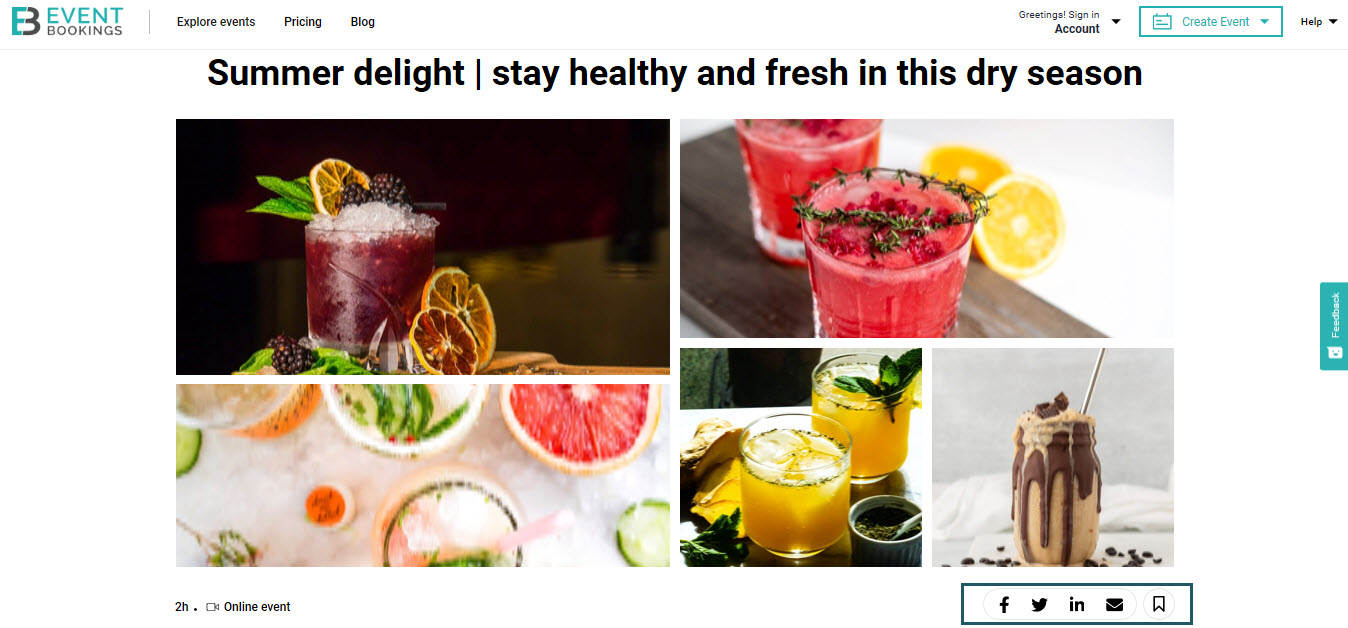 Attendees
Trusted, secure, and easy to use
At EventBookings, we ensure that all your payments are safe and secure. By using our payment gateway, you can easily get a hold of your earnings. EventBookings uses PCI compliant payment gateways and has a full privacy policy to ensure that your information is securely stored. Your information is not shared with any other organisation.
Awareness issues are a big reason decreasing guest numbers at your event. We've integrated popular online calendars (Outlook, Google, Yahoo and Apple) where attendees can add events and get alerts when nearing the event date. Cross-platform access can help the attendees manage their busy schedule and reduce the chance of them missing your event.
Navigation to your event has been made easy with the integration of Google Maps. Add in the venue of your event and attendees will be able to easily locate the event destination using Google Maps. By going to the event page, attendees can find the map navigating them to the event location. The feature has been made user-friendly for both desktop and mobile devices.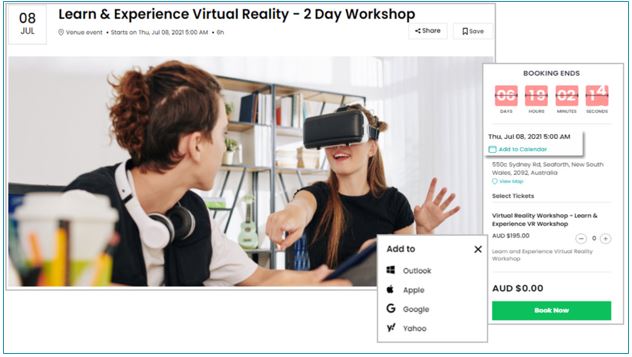 Support
Always here to help answer your question
Our dedicated support team are at hand to help you resolve any issues received by phone or email. We always try our best to make your event creation and ticketing experience as trouble-free as possible. If you have trouble figuring out how to set up your event or have a complex requirement, we're more than happy to help you out and provide advice. If you are more comfortable with another payment gateway, then we can help you integrate it with our system. For any general query you have, feel free to contact us.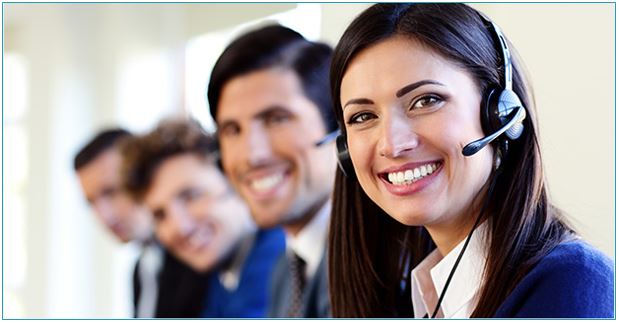 Our simple and affordable online event ticketing system makes creating your desired event page and managing events effortless and absolutely hassle-free. Sign up today and try our exclusive features for free